Sunday 5th April 2020
Richy's Blog
If you would like to comment on Richy's blog, please use the Guild
Facebook page.
Saturday 4th April 2020
It was a beautiful day today. Bright sunshine, warm temperatures. At any other time I would consider it nothing but a blessing. On this occasion though, it was bittersweet. Partly because I feared it would draw those who seem to think that this is a holiday rather than a medical crisis and that the beaches and parks would be filled with people mingling in numbers and potentially adding another few weeks onto this dull but necessary lockdown. Also though, because it would have been wonderful conditions for the South-East District Ring and Walk Outing around the Shotley Peninsula which we should've been on today.
Nonetheless, it allowed us all to get out into the garden, with Alfie and Joshua electing to have their lunch outside and Mason and I to take our daily exercise by getting rid of some glass at the bottle bank and take a wander in the beautiful countryside that we are blessed to have just a few minutes walk away from home.
Meanwhile, one ringer was practicing change-ringing from Suffolk as Jimmy Yeoman joined others from North Yorkshire, Surrey and West Sussex in ringingroom.com to ring an extent of Plain Bob Minor, whilst today's Random performance features a Suffolk connection for the second day running, with former Debenham ringer Robert Beavis ringing the sixth to a quarter-peal of Plain Bob Major at St Philip and St Jacob in Bristol almost precisely a decade ago on 10th March 2010 and which was a first on eight for Carolyn Wilson. The band also included Matthew Dawson who was a youngster on Rambling Ringers when the Munnings family first joined the tour in the mid-1990s and who I have had the pleasure of ringing with a handful of times in the last few years, most recently in the peal of Bristol Surprise Maximus at the Norman Tower in November. Beavis periodically returns to his home county, most recently peal-ringing within our borders over the first weekend of the year and it is nice to catch up with him when opportunity allows. He is always fun company!
On that same day just a few weeks over ten years ago, I was ringing in a successful quarter-peal of Peter's Tree Surprise Minor prior to the weekly practice at Pettistree. This is a tricky little blighter, something that took us a few attempts to successfully quarter and peal. However, our ultimate score of the 5040 just before the end of the year is now recorded on a peal board along with previous peals of Pettistree Bob Minor in 2006 and Pettistree Delight Minor in 1996, dedicated in December 2011 and now hanging between the tenor and treble ropes in the ground-floor ringing chamber of this familiar six. Sadly the Surprise Minor method couldn't be named Pettistree as there was already a Pettistree Surprise Major that doesn't 'legally' extend from the method we were ringing, but the band here is still quite rightly chuffed about this trio of peals.
No such activity is currently possible of course – which has hit this extremely active tower more than most – but Ruthie and I at least occupied ourselves by eventually working out the second round of Suffolk 'towers from above' quiz that SGR PR Officer Neal Dodge put on the Guild's Facebook page.
It was great fun, but I hope Neal doesn't mind me saying that I would've preferred to have been out ringing in this beautiful sunbaked county of ours today.
Please post any comments on the
facebook page.
Top
Friday 3rd April 2020
In line with previous mentions in the absence of ringing to mark the occasion, Happy Birthday to Mary Garner, who has done so much for the Suffolk Guild but whose help and guidance during my time as Ringing Master when she was Secretary was invaluable. She has been a good friend in ringing and a regular peal companion (including our forty-one Surprise Minor spliced project) and along with Mike Whitby the driving force at the success story that ringing at Pettistree is.
Appropriately, she also features in today's Random performance from BellBoard which comes from within our borders on 23rd October 2009. That was the day that ringing Reverend Geoffrey Clement got married in his parish (or one of them) of the time, Holbrook. It was celebrated with a quarter-peal of Plain Bob Minor on the 8cwt six conducted by mother-in-law Kate Eagle and also featured Sandra Pereira (Mary's predecessor as SGR Secretary) and her husband John, as well as John Malster and Alan McBurnie. I owe a lot to Geoffrey who helped me out a lot at a difficult time, but he is now down in Oxfordshire leading the Wychwood Benefice and sadly not ringing as much these days. Although none of us are I suppose!
On the same day we didn't do any ringing, but it was a busy day of quarter-pealing in the county, with a 1272 at Ashbocking, a 1296 of St Clement's College Bob Minor at Rushmere St Andrew, whilst my father Alan and brother Chris rang a 1320 of Cambridge Surprise Minor at Sproughton before the latter set off on Stephen Pettman's ringing trip to Italy and Plain Bob Doubles was rung at Wissett in thanksgiving for the life of Peter Eagle-Bott who had been so instrumental to the rehanging of the wonderful ground-floor ring in a round tower.
In the here and now, Simon Rudd shared an impressive effort on handbells that is well worth watching, but of course such activeness in ringing chambers is not allowed currently, to the extent that the Central Council has felt the need to release a statement saying that even single-bell tolling at churches at Easter is not possible. Disappointingly – though entirely rightly – bells will sit silent this year at a time when usually they will be breaking out in joy after the traditional silence of Holy Week.
And unfortunately they are also silent for Mary Garner's big day. Happy Birthday anyway Mary!
Please post any comments on the
facebook page.
Top
Thursday 2nd April 2020
In the absence of any quarters or peal to mark the occasion, Happy Birthday to Brian 'Bunny' Whiting, Suffolk Guild Chairman from 1998-2003 and current Trustee of the SGR's handbells and The Vestey Ring. His compositions of particular lengths are mightily useful for marking birthdays and anniversaries, but beyond that are generally much rung across the world with a composition of Yorkshire Surprise Royal used for a peal in the USA at Washington Cathedral earlier this year. More personally he has been instrumental in my learning of the art from helping me craft my skills in Surprise Major on Tuesday nights at Offton in my ringing youth to being a reassuring presence when I have called peals.
It is also the ninety-seventh anniversary of the formation of the Guild, which means it is just three years before we are due to celebrate its centenary. God willing we will be well over our current traumas by then and I imagine arrangements for five-yearly dinner are already underway for such a big once-in-a-lifetime event as hopefully we will be keener than ever to celebrate after this is over. It may still a seem some way off, but if experience is anything to go by it will be here before we know it and as I mentioned yesterday it is important to have something to look forward to in these current times of indefinite sameness. Albeit today that was broken up by Pettistree ringer Daphne Rose's appearance 3hrs23mins into Mark Murphy's BBC Radio Suffolk show and the applause for the NHS, that in Shelland even involved Janet Sheldrake and Gordon Slack ringing the back four of The Millbeck Ring!


In these times of sameness I have also found myself looking back as well as forwards and today's Random performance from BellBoard took me back to 8th September 2009 via a 1320 of Cambridge Surprise Minor at Highclere which was rung as part of the Andover District Quarter-Peal Fortnight. On the same day we were having one of those 'dull' days that now seem quite exciting, with MOTs, trips to Tesco and bumping into work colleagues. It was an even more thrilling day for Naomi Shaw and Maggie Ross – who it was nice to catch up with this evening - who were ringing and calling their most methods in a QP of Doubles at Halesworth.
Meanwhile, in the here and now, there was more sad news – though not connected to coronavirus as far as I am aware – as it was announced that Past Master of the College Youths Andrew Stubbs died today. Particularly during my time ringing in Birmingham but also many times since, I have enjoyed the company of a man with a quick, dry wit who was a well-spoken charming gentleman and a super ringer too. I remember his gentle jesting of me when I forgot to take any paper or pens to my first Central Council meeting amongst much else. Already a sad occasion, that we can't properly see him off at the moment makes it even sadder.
All being well, in the not too distant future we can properly celebrate his life, as well as the formation of the Suffolk Guild and the birthdays of people like Brian Whiting.
Please post any comments on the
facebook page.
Top
Wednesday 1st April 2020
The general premise of an April Fools prank is that it is essentially ridiculous, but eminently believable to anyone caught unawares.
Although announcements made that ringers would get their own personal tailend to take around with them for hygiene reasons and the 32cwt ten at All Saints in Maidstone were to be augmented to twelve with a flat sixth and extra treble proved to be seasonal japes and humour is perhaps needed now more than ever, the general consensus seemed to be that no April Fools prank – however elaborate – could top the current situation where billions of people worldwide can't leave their house, no towerbell ringing has occurred in the UK for a fortnight and today it was confirmed that the most famous tennis tournament on the planet at Wimbledon has been cancelled for this summer.
So much has been cancelled or postponed in the coming months, including the Ringing World National Youth Contest in York. There was some rather harsh criticism that this hadn't been done earlier as indeed I heard there was of the National Twelve-Bell Striking Contest committee for what was perceived by some to be a late abandonment of that competition. The latter was trying to prevent a highlight of the ringing calendar that so many had spent months (and in the case of the hosts, years) preparing for at a time when the advice from the government was nowhere near as strict as this and when it was harder to gauge exactly what was and wasn't safe to do weeks later. To put it into perspective, it was still cancelled two weeks before the contest was due to take place and at the same time as football in this country was suspended.
The demands for an immediate abandonment of the former seemed even harsher, considering it was still three months away, was something that hundreds of young ringers were looking forward to and – like all ringing events – requires no presence of or distracting preparation from the emergency services, which is a big reason of why bigger events even as far ahead as the Christmas Market in Bury St Edmunds eight months away have been cancelled. It was always accepted that the RWNYC was in all likelihood going to have to be cancelled (or at least postponed, which seems to be the hope of the organisers), but at some point we're all going to need something to look forward to and I hope we're not unnecessarily cancelling events that could be cancelled further down the line if and when it becomes obvious that it won't be safe to go ahead and might otherwise have been able to go ahead. Stopping the disease spreading so quickly and on such a large scale is absolutely imperative and unless a much needed vaccine comes far sooner than anticipated we're likely to need to continue with restrictions on and off and proceed with care for probably at least six of the next twelve months. However, it has been recognised that mental wellbeing is also important and so as soon as it is safe we need things to look forward to, both in ringing and beyond.
For now though, I was pushing the Random button on BellBoard again and this time bringing up a 1260 of Plain Bob Minor at Padiham in Lancashire on 30th June 2014, which was a first quarter-peal inside for Simon Butterworth. It was a notable landmark for him on the way to ringing many more quarters and peals, but on the same day Ruthie and I went to St Mary-le-Tower practice.
In those early months of Alfie's life, we took him out with us on Monday nights with his Granny Kate whilst Grandad Ron went to bagpipe practice across the town. Sadly we couldn't join our fellow ringers at the pub afterwards as The Cricketers doesn't allow under-eighteens in after 9pm, but we were welcome at The Mulberry Tree where George and Diana Pipe's son Stephen was behind the bar and so that became the norm for a few months, although on 30/6/2014 we were unable to stop, but it was definitely a snapshot of our circumstances at the time.
Meanwhile back in the here and now, Ipswich Area Rep Jonathan Williamson was on BBC Radio Suffolk on friend-of-ringing Lesley Dolphin's show talking wine and just about fitting in before the 3pm news! Guild PR Officer Neal Dodge managed to occupy us this evening with his quiz on the SGR Facebook page that asked people to guess the identity of Suffolk's churches from shots of them on Google Maps. And take a look at Ringing Room, a site that allows ringers from separate locations to ring together. There has been much experimenting via Facetime, Skype, Zoom and the like to ring handbells, but the time lag has proved difficult to cope with and so although this site isn't using actual bells, it has been allowing for a number of performances on BB, including two multi-continent touches of Plain Bob Minor and Major, which were also unique for being rung with band members in different days as New Zealand was already on 2nd April!
Incredible stuff, providing it wasn't an April Fools!
Please post any comments on the
facebook page.
Top
Tuesday 31st March 2020
There have been better months. George Pipe's passing, coronavirus and then the subsequent cessation of ringing and indeed just about everything else have all occurred over what has felt liked a tortuously long March. What began with the positivity of a successful quarter-peal of Bristol Surprise Maximus at The Norman Tower, ended with us stuck at home working and home-schooling as we have had to almost a fortnight now, in the process missing George's funeral which had to be carried out in the presence of a few close family members.
Unsurprisingly BellBoard was extremely quiet and so I reached for the Random button again, this time calling up a 5152 of Ytterbium Surprise Major at Heywood in Lancashire on 24th June 2009. It was the fiftieth peal on the bells for Robert Pettifor (who has since rung a further five there) and conductor Andrew Sibson's 1350th peal in total (he has now rung 1,565).
On the same day, we were ringing at Pettistree amid a heatwave, but otherwise it was a fairly unremarkable day personally and probably more widely. Indeed, it is the following that would be far more remarkable as that was the day that Michael Jackson died. Indeed it was to be a week where his death was to dominate the headlines, whilst we were to attend the funeral of Guild member John Banks and I rang a quarter-peal at Orford in memory of eighteen-year-old Thomas Marshall from the village, who had died in a an accident a fortnight earlier.
It seems this month hasn't got the dominion over being dreadful.
Please post any comments on the
facebook page.
Top
Monday 30th March 2020
Aldeburgh Festival today became the latest event to be cancelled due to the coronavirus pandemic. Although we've never strictly been to the festival which is actually based around Snape Maltings six miles away from the coastal town the festival is named after, I have actually partaken in it with a quarter-peal of Single Oxford Bob Triples on the 11cwt eight of St Peter and St Paul in 2012, as well as a plain course beforehand of Five Rings Triples, a method composed as part of the celebrations of that year's London Olympics. And of course the second Sunday peal there in June is usually rung for it. It is another sad reminder of how much is being lost to Covid-19, before you even consider the loss of life.
Ringers are becoming increasingly ingenious in keeping the art going whilst we are being isolated from other ringers though. Two families are leading the way due to ability and the good fortune (if one could call it that) of being quarantined in the same house as a readymade handbell band, with the Pipes of Cambridgeshire ringing a peal of Stedman Triples on Saturday and the Perrins of Australia ringing one of seven Surprise Major methods spliced today.
However, if you 'only' have three handbell ringers in the house, what do you do? Why, create a robot of course. At least if you are the Firmans, as Rosie Robot joined Jennifer, Katharine and Graham in ringing sixty changes of Plain Bob Minor down in West Sussex. I'm not sure how it is being done exactly and it is currently 'just' one handbell, but judging by the explanation in the footnotes on BellBoard and YouTube it seems it is due to have a left arm, presumably allowing the three of them to then ring on eight. Clever stuff!
Funnily enough, the Random performance from BB today is also a handbell performance, albeit a more traditional one with a 5040 of seven Minor methods rung in Longthorpe by a trio of ringers including the talented Emma Southerington who I rang one peal with, of Bristol Surprise Maximus at Saffron Walden in 2007.
On 7th December 2010 when she was taking part in her 1hr50mins in hand, we weren't doing any ringing. Being before 24/7 parenthood though, we were going out socialising together not something we can do very easily these days. Indeed it isn't something that anyone can do at all in the UK at the moment. Including those who like to go to the Aldeburgh Festival.
Please post any comments on the
facebook page.
Top
Sunday 29th March 2020
Technology has certainly made quarantine more bearable. One wonders how we would've all have coped even just twenty years ago with a situation like this. For all its faults (and there are many), social media has allowed for constant interaction with people across the world, including the ringing community. Email and the internet has allowed me to continue to earn a living from home. And today it allowed us to speak face-to-face via video to people we would typically see on a Sunday morning.
It allowed us to catch up with our friends from church Gregory and Charlotte and their daughters – and our Goddaughters – Ava and Bea when we would usually be enjoying a cuppa and biscuits together in St Mary's Church Centre, but earlier we joined in a mass chat with other St Mary-le-Tower ringers at the same time as we normally gather at the currently-closed Costa Coffee following service ringing on the 35cwt twelve. It was arranged by our learner Karina Wiseman and featured some who ring elsewhere on the Sabbath morn, but who are all part of regular ringing at SMLT, apart from Simon Rudd who was once Ringing Master there and who was calling in before joining a similar virtual coffee with those he rings with at St Peter Mancroft in Norwich.
That still left the rest of the day to occupy ourselves without leaving our property though, a task hindered by weather that veered from sunshine to wind, rain, hail and even snow. Welcome back to British Summer Time, whatever that is worth currently!
There was much available online to occupy ringers in the coming, ringingless weeks. The norm at this time of the month would be for me to encourage readers to take a look at What's On to see what ringing events they could support in the following month. Sadly of course there isn't anything for April and almost certainly not for May either. Today, Jennie Paul – who I did much ringing and socialising with during my time in the West Midlands - very kindly shared with the Bellringers Facebook page the April Challenges their band has been set. There is something for all thirty days from writing out a method and taking a selfie of one's self practicing handling at home to finding a bell related pub and sending in a photo of your local church. Well worth trying, particularly if you have a band you are trying to keep together at this time.
For this twenty-ninth day of March though, I found myself again pushing the Random button on BellBoard, which today found a 1260 of Plain Bob Triples at Bishops Lydeard in Somerset rung on 12th July 2016. It was a first on eight for Neil Escott, but otherwise there isn't much I can say about the QP itself, other than it being a notable achievement during the Bath & Wells Association Quarter-Peal Month that saw an impressive thirty-six successes. However, it is a date that I didn't need to look up on this blog as it was the day after Joshua was born. Therefore, it was one of getting used to our new circumstances and greeting family, including the ringing ones like my mother and father and my wife's mater Kate.
Meanwhile, thank you to Bruce Wakefield for pointing out another Suffolk article in this week's Ringing World, with his piece on the Reverend Canon Kevan McCormack's recent retirement as Rector at St Mary-the-Virgin in Woodbridge, for which we rang a couple of quarters for recently.
Something that is now easy enough to read about, with or without technology, however great that is currently!
Please post any comments on the
facebook page.
Top
Saturday 28th March 2020
If someone hadn't eaten bat soup in Wuhan and thus started the spread of coronavirus (thus goes the popular, though completely unsubstantiated theory) across the world and if everything had gone to plan, Ruthie and I would have left the cherubs sleeping peacefully at mother-in-law Kate's where we would've just spent the night and set off at 6am for Walsall to ring for Ipswich in our National Twelve-Bell Striking Contest eliminator. In the real world probably a bit later! Either way we needed to be there by the 11am draw, but would hope to make it for the bacon butties being offered up by the extremely hospitable locals from 9.30-10.45am, whilst perhaps taking in the ringing between 10.15-10.45 for the judges David Dearnley and Ian Hill to get a feel of the bells they were judging other people's efforts to ring upon and to test the recording system.
In the absence of anything actually happening at the venues that also included Aston and Chester, some resourceful ringers did a virtual draw and on the basis of that we would've been ringing second at noon, meeting a quarter-of-an-hour before as the Birmingham team were showing us all how it should be done. During our half-hour slot we would have up to fifteen minutes of practice and then fifteen minutes to ring our test piece of half a course of Cambridge Surprise Maximus. If we rang as well as we did when we practiced there just over a month ago we would've been pretty chuffed with efforts and essentially fulfilled our brief of at least putting in a good show.
From my experience there would be relief that we had done our bit and that we could now take advantage of the bar, which would've opened at 11.30am. I daresay we would've partaken in some lunch, probably from the baguettes, sandwiches and cake available in the church. Much catching up would've been done with fellow participants and friends from across the country whilst listening via a feed to competitive ringing continued upstairs on the 25cwt twelve. At some point after that I expect my wife and I would've checked into The County Hotel a few hundred yards from St Matthew's where we would all be gathered.

Results would've probably been announced around 4ish, with the Brummies, Cambridge and St Paul's Cathedral qualifying for the final at Sheffield Cathedral and us finishing fourth (according to the virtual results!), before the bar reopens. Result. Those sticking around may have ended up in the superb Black Country Arms which we thoroughly enjoyed and which seemed to prove a favourite with other teams who had managed to fit their practice in before the country ground to a halt. Curry was mooted and I expect we would've partaken before eventually retiring to our overnight accommodation.
Some of the competitors and friends that we might have expected to meet up with today was the Cambridgeshire branch of the Pipe family who instead used the free-time and isolation in a household of four accomplished handbell ringers to ring a peal of Stedman Triples at home in Willingham in memory of David's Uncle George. Incidentally, it appears that my report on the George W Pipe Trophy is in this week's Ringing World, which I sadly had to change with George's death. I hope it does him and this wonderful competition justice.
Meanwhile, we found ourselves sorting out the garden and pushing that Random button on BellBoard, which today brought up a peal of Surprise Minor rung on the Woodlands mini-ring in Keele on 1st December 2010, which was the 250th peal rung on the bells for the North Staffordshire Association. I did fair bit of ringing in the south of the county, particularly at Cannock where fellow Rambling Ringers Geoff and Linda Pick have run the ringing very successfully for many years, but the north was not somewhere I tended to venture (bar a lost peal attempt at Newcastle-under-Lyme), so I can't really tell you too much about this 5040.
However, as the blog points out, on the same day I was ringing at another mini-ring, The Wolery. On this occasion the usual reliable treble ringer Michael Edwards was unable to make it due to the snow and so a younger George Salter was called upon at the last minute to ring behind to 1hrs39mins of eleven Doubles methods in only his seventh peal. I recall this happening on a couple of occasions at least and of course George has gone on to some phenomenal achievements in the art thanks to his tremendous ability and his considerable proactiveness, but I hope he feels these early efforts helped set him on his way.
I don't know if he was due to be in Chester supporting his fellow Bristol ringers in their eliminator, but I know I certainly wish we had been in Walsall.
Please post any comments on the
facebook page.
Top
Friday 27th March 2020
There was freedom of sorts in our household today.
Having injured his paw earlier this week and subsequently taken medicine and undergone his own isolation, it was finally safe for Charlie our cat to be released outside into the sunshine.
Also though, after completing my week-long quarantine from the rest of the human race (bar Ruthie and the boys), I could now go out, which was fortunate as we were in considerable need of more food. I've never felt so nervous about going to a supermarket, from wondering if I would be stopped by the police to what would await me when I got there. Through the news there have been many tales of empty shelves and crowds of people not social distancing, some of which had led to arguments and even fights. There was none of it on my trips to Aldi and Tesco today though. Both saw huge, spaced out queues with only limited numbers of customers allowed in, but it was all very orderly and I was able to get pretty much everything that we needed and it was frankly far less stressful than every previous trip I've made there with the children!
Still, for all this, it was otherwise largely a day trapped on our property, although again the nice weather allowed for plenty of outdoor time for Alfie and Joshua in the garden.
We had intended to have been at George Pipe's funeral at St Mary-le-Tower this afternoon of course, as so many others had. Many from across the world did reminisce about George from 1.30pm (when the funeral was held) via Zoom in an online gathering organised by Past SMLT Ringing Master Simon Rudd and although we couldn't join in due to work and children, our thoughts were definitely of George and with Diana and the family today. As has already been announced, it is planned to hold a celebration of his life when circumstances allow, so watch this space!
I imagine in ordinary circumstances there would have been much ringing dedicated to GWP, but as usual in these times BellBoard was sparse, with the most notable performance being a quarter-peal of eight Surprise Major methods spliced on handbells by the Perrins family in Australia. However, the 1272 of Plain Bob Minimus in Shropshire which was a first QP in hand for Gail and Matthew Lawrence caught my eye too, having done much ringing with this lovely couple during my time living, learning, working and ringing in the West Midlands. Well done Gail and Matthew!
Again though, I am drawn to the Random button on BB, which today brought up a 1253 of Grandsire Cinques at St Woolos Cathedral in Newport in Gwent. It features some characters familiar to me, such as Matthew Higby and Robert Caton, the latter of whom I have fond memories of from trips to Lundy Island. One name which will be most familiar to most readers though is Molly Waterson, who was ringing locally with her brother Ben and mother Gill when I learnt to ring and who has made some welcome visits back here in the last eighteen months or so since Gill sadly passed away.
However, I can't tell you much about what I was doing on 19th September 2002 when this quarter in Wales was rung as it is pre-blog, but I know I was still in the Black Country and it was a time that was quiet for me from a ringing perspective for various reasons. Indeed, at this point my previous peal had been some five months earlier on 13th April with a 5184 of Double Norwich Court Bob Major at Kinver in Staffordshire and it would still be two months until I would ring another peal which was a 5008 of Stedman Cinques at St Philip's Cathedral in Birmingham on 16th November.
Meanwhile, President of the CCCBR Simon Linford's latest blog is worth a read. Whilst recognising the current situation, it is an appropriately upbeat piece, touching upon the installation of a ten at Dordrecht in the Netherlands and an exciting project to develop "the next generation of mobile belfry" in readiness for 2021. When God willing we will all be enjoying new freedoms.
Please post any comments on the
facebook page.
Top
Thursday 26th March 2020
Ringers are finding all sorts of ways of staying connected with the exercise whilst we aren't allowed to travel to ring with others.
Today saw Alex Tatlow run a competition on the Suffolk Guild's Facebook page challenging members to identify four towers from the drawings he did of them and jolly popular and amusing it proved too!
FB was also host to a challenge from Matthew Higby to recognise the towers in one hundred and fifty pictures on the Bellringers page that even as a prize of £25 for the person who guesses the most by 1st April or first names them all!
On BellBoard, in addition to some call-changes on her piano by Lesley Barrell here in Suffolk, there were two separate performances of Plain Bob Minimus with just one ringer each ringing four handbells (Fairwarp, Hayes). Perhaps by the time restrictions are lifted Simon Melen might be joined by today's performers Michael Shaw and Graham Long for a performance on twelve. Although a rerun of Simon's peal (YouTube video) of Orion Surprise Maximus of December with just the three participants may be a bit ambitious!
And I came across a page from the Cambridge District of the Ely Diocesan Association online which lists a number of activities to watch and/or partake in that is well worth looking at if you want something ringing related to pass the time.
There is so much fun stuff to do and useful things to undertake in preparation for a return to ringing, God willing in the near(ish) future. Such as constructing methods by place notation. This is the framework of a method that outlines which bells stay in place in each change and thus affect the order. For example, Plain Bob Minor is x16x16x16-12. That translate as every pair of bells crossing over (x) every other change/row and in between the bells in first and sixth place stay where they are for that change/row, a pattern that continues until the treble gets to the back. The dash (-) just means that pattern is reversed until the treble gets back to lead and the 12 after that tells you that at the lead end when the treble leads the bells in first and second place stay where they are for that change/row. You can construct any method in this way (such as the aforementioned Orion Surprise Maximus), so have a play around either with the Visual Method Archive or better still with paper and pencil.
For today we were occupying ourselves in a variety of ways, although rooted in the now familiar routine of me working upstairs whilst Ruthie home-schooled the boys downstairs (incidentally she has been doing incredible work looking after them day after day in trying circumstances). A new sports centre (for want of a better phrase) delivered today courtesy of mother-in-law Kate was a welcome focus in the sunbaked garden and doubled-up as PE and the day was rounded off with an encouragingly raucous applause for NHS workers at 8pm.
And again I found that – even if not of interest to whoever (if anyone) is still reading this now that its main subject matter has been stopped – finding out what the day's random performance from BB gave me some small sense of anticipation. Today, it was a 1296 of three Minimus methods with the tenor behind at Twineham in West Sussex from 3rd December 2011. Initially I was slightly confused by the footnote until I looked back even further and found that Jo Worsley and Alfred Kimble had previously rung quarter-peals of call-changes.
On the same day – so the blog tells me – we were attending the South-East District ADM at Hollesley when the controversial Martin Creed 'All The Bells' Project was a topic of conversation. This was an ill-thought-out attempt to get bells ringing all at once for the then forthcoming 2012 Olympic Games in London, but seemed to have been set-up without any dialogue with the Central Council and potentially dangerously seemed to be offering ropes to any Tom, Dick and Harry anywhere just by signing into the project's website. Mercifully it was adapted under much pressure from ringers and the CCCBR and by the morning of the opening of the Games nearly eight months later provided some decent PR for the art.
The ADM on the 3/12/2011 was more notable for handing over of the SE Ringing Master's role from my wife's mother Kate Eagle to Tom Scase. Tom has since become the Guild's RM and whilst Mrs Eagle isn't able to get out to District or Guild events as much these days, the is still active as Ringing Master at Ufford and a regular at Pettistree and through her child-sitting duties has allowed us to make much ringing and indeed was due to look after Alfie and Joshua this weekend whilst we were in Walsall for the National Twelve-Bell Striking Contest.
Meanwhile, back in the here and now there was much needed good news with the birth of a daughter for Offton ringer Caroline Goodchild and her husband Will yesterday. Congratulations to them both!
I think I know what will be occupying them at this time!
Please post any comments on the
facebook page.
Top
Wednesday 25th March 2020
Many Happy Returns to Stephen Pettman. Not only has he been Suffolk Guild Ringing Master twice, but for years has represented us on the Central Council of Church Bell Ringers and has helped many a local ringer progress, especially through peal-ringing and I've enjoyed marking his significant birthdays of fifty years with a peal of Yorkshire Surprise Maximus at Grundisburgh followed by a curry at Saffron - once a regular haunt for us - and sixty years with another peal at the wobbly little red-brick tower, followed by another curry, this time at Bombay Nite in Felixstowe. God willing we can celebrate his sixty-fifth in a year in similar style.
No ringing for the occasion this time of course though and again very little to report on from BellBoard. Therefore I found myself pushing the Random button on the site and today came up with a 1376 of Yorkshire Surprise Major rung at St Mary's Cathedral in Sydney in Australia on 6th March 2013. I think we often take for granted having so many towers and so many ringers really close to hand, especially as in places like Australia and the USA where the nearest tower and band can sometimes be several hours away, but thanks to the likes of George Pipe there is some impressive ringing that takes places from these far-flung corners of the ringing world.
According to my blog, on the day the aforementioned QP in the Antipodes was being rung, we were reflecting on the life of Barry Pickup the day after he passed away. He is much missed on the ringing scene in the county, especially for his considerable skills on the end of a bellrope.
Meanwhile this afternoon saw a bit of a break from the new norm as I briefly featured on BBC Radio Suffolk. This station has been a massive supporter of local ringing, but on this occasion the exercise wasn't the purpose of the conversation with presenter James Hazell 3hrs 40mins into his show. Instead, I'd been invited on after responding to requests for song choices via Facebook a couple of nights ago and choosing One Day Like This by Elbow, the song that Ruthie and I had as our first dance to on our wedding day.
It was an upbeat day therefore, with a lot of happy memories.
Happy Birthday Stephen!
Please post any comments on the
facebook page.
Top
Tuesday 24th March 2020
With restrictions in the UK now limiting gatherings to no more than two people (bar of course households where more than two already live, such as ours) following last night's announcement and BellBoard expressing a wish that the void left by a cessation of tower-bell ringing isn't filled with performances rung with the help of a computer, today's columns were remarkably sparse, although a Page family handbell peal of Plain Bob Minor showed what is possible if you are quarantined in the right house!
We'll have to get used to this for the time being obviously, so time for another random performance, which today comes courtesy of a quarter-peal of Grandsire Triples at Broughton under Blean in Kent. It was an achievement laden effort, being a first of Triples as conductor for Ali Ducker, first Triples inside for Kate Bispham, first Triples away from cover for Brian Coleman and first as cover for Mike Rannard.
It was rung less than a year ago on 17th May, a largely unremarkable day from a personal ringing-perspective as the vast majority of Fridays are. Although once this vast period of nothingness is over (please let it be over one day!) I hope I never grumble about being bored again! There was a 1260 of Doubles on the county's most westerly ring of bells at Exning, but otherwise for me it was no doubt a day of anticipation (remember that?!) for was to lay ahead the following day.
For that was the day of the Suffolk Guild Striking Competitions at Polstead and Lavenham, the last to be held in the familiar format of the six-bell and eight-bell on the same day, with a new layout planned for this year of the Mitson Shield and Lester Brett Call-Change Trophy being competed for at Yoxford on Saturday 16th May and the Rose Trophy on Saturday 19th September at Horringer, nominally as part of the SGR Social. Obviously that has all been thrown up in the air and with today the Olympic Games – which were due to start on 24th July – in Tokyo postponed for a year and more pertinently the Ridgman Trophy cancelled due to coronavirus and the peak of the bug here anticipated to still be some way off, it seems hard to imagine anything in May going ahead.
I pray that whether they be held later in the year or simply abandoned until 2021 like much of 2020 has been, the striking competitions are approached with a renewed enthusiasm from across Suffolk by a membership who may now be realising how fortunate we were to have the opportunity to partake in such occasions. Last year's was a marvellous occasion and hopefully the next one will be, whenever it is and providing more than two of us can gather together!
Please post any comments on the
facebook page.
Top
Monday 23rd March 2020
For all that we are bored, hankering for going to places and missing people, football, singing and ringing, we are extremely fortunate in the current circumstances. John Ives has now shut for the 'duration', but Ruthie has been assured that she will still be paid. Although my work selling advertising space to schools here and across the world has not been hampered by the mass shutdown of my clients, I have still been able to speak to a few either by phone or email and can do my job from home and hopefully some of those I work with in the Far East will be returning in the next couple of weeks or so. And although it's far from ideal for the boys to be missing out on their regular education and particularly that Joshua's vital final last few months before he is due to start school has been severely disrupted (indeed maybe even curtailed), at least we haven't got children who were meant to be taking important, life-changing exams in the next couple of months. Ultimately though, it is for the right reasons, even if the restrictions – especially the near-lockdown measures announced by Boris Johnson – appear OTT to some.
However, having the entirety of what is left of our lives for now being carried out in a three bedroom house does lead to some very strange overlapping of these aspects of life. At one point whilst busy working away in what is currently doubling up as our bedroom and my office, Joshua burst into the room, threw his toy badger at me and ran off giggling. With Charlie our cat also injuring his paw this week with impeccable timing, I also had to have a brief break from international educational marketing to help my wife to force-feed him his medicine. Meanwhile downstairs Mrs Munnings was busy educating the boys, joining Alfie for some cosmic yoga and baking cakes.
It all helped to pass the time, but of course what wasn't helping us pass the time was ringing. The St Mary-le-Tower ringers have kept in touch via WhatsApp (with my younger, tech-savvy wife being my representative!) since the shutdown a week ago, but in the end it is no replacement for gathering in the famous old ringing chamber to ring, socialise and drink together as we would normally have done.
Quite when we will return is open to wildly differing conjecture, but if it is in the next twelve weeks (which whilst an absolute age still seems optimistic currently), we shall have to do it without our peers who are over seventy years old, as those in that age-bracket begin to self-isolate for that lengthy period of time.
Thus, I may be offering up daily random performances from BellBoard for some time. Today's is a reminder of the magnificent fundraising effort Bellringers Strike Back Against Blood Cancer, led by ringer Julie McDonnell who was sadly diagnosed with chronic myeloid leukaemia and which raised millions of pounds. The performance that leads me to the subject on this occasion is the 1346 of Julie McDonnell Delight Minor rung at Deerhurst in Gloucestershire – conducted by Simon Webb who I have done much ringing and socialising with both when I was living in the West Midlands and when he has come to Suffolk after I returned here – on 6th December 2017.


On the same day according to this blog, I was bonging behind to a peal of Plain Bob Triples at The Wolery, whilst Ruthie was helping set up the sale at the shop and mother-in-law Kate took the boys to a carol concert, the type of activities that feel like a different world right now. Ringing in the little blue shed has been stopped like at everywhere else and as with the few months at the start of last year when not much ringing was done in Old Stoke whilst David Salter recovered from his stroke, I shall miss it. When on song, the ringing here is amongst the best I do, a real pleasure, but I have to admit my 5040 blows in eighths on 6/12/17 gave me thought to contemplate what I had done in peal-ringing and what else was being done across the UK during that Advent week of just over two years ago. Which was of course a heck of a lot more than we are doing currently.
God willing we will return in the relatively near future and for now we can count ourselves lucky if a lack of ringing is the worst that occurs from all of this for us.
Please post any comments on the
facebook page.
Top
Sunday 22nd March 2020
Generally this week has been odd. Today though, has felt the oddest for us ringers. Gone was the usual rush to get the boys ready and out the door to get to ringing this morning, whether that be at St Mary-le-Tower or Woodbridge. I love a lay-in and there is a sense that whilst we're asleep it is eating into these excruciating hours of not being able to go anywhere. However, we missed seeing people. Ruthie missed singing. I missed ringing. And of course it was a particular pity that we couldn't celebrate Mothering Sunday properly, although I did speak with my mother on the phone.
Of course we weren't alone in not being able to do any ringing. Although there were quarters rung in Australia (including one at Adelaide Cathedral in celebration of George Pipe's life and featuring Matthew Ball who rang with us in Ipswich for a while in the 1990s), across the UK thousands of towers which would normally be ringing out stood silent, as did the churches they ring out for. In complete contrast to the day that today's random performance on BellBoard comes from, with the quarter-peal of Cambridge Surprise Minor at Ampney Crucis in Gloucestershire being rung on 11th November 2018. I didn't need the blog to tell me that this was the day that ringing remembered the one hundredth anniversary of the end of the First World War. Here in Suffolk all bar three of the county's ringable towers were rung in a spectacular effort, with us helping out at the aforementioned SMLT and Woodbridge and later at Iken in its wonderful setting.
Today couldn't feel more different.
Please post any comments on the
facebook page.
Top
Saturday 21st March 2020
This afternoon I should have been attempting a peal of Stedman Cinques at St Mary-le-Tower in memory of George Pipe, with a very good band that organiser Ian Culham had done extremely well to get together in such a short space of time. It is the first of many ringing engagements that were on our now sparse-looking calendar to be cancelled in the wake of coronavirus' devastating spread in the UK, which has now killed 233 on these shores. A peal attempt at The Wolery on Wednesday has been called off for example and next week of course we were due to be in Walsall for the National Twelve-Bell Striking Contest eliminator, the week after I had intended to partake (at least as much as children would allow!) the walking ringing outing on the Shotley Peninsula for the South-East District which had the potential to be a wonderful day out if the weather is good. The Suffolk Guild AGM at Woolpit and Drinkstone has been postponed and one suspects in May the SE District and Guild Striking Competitions at Pettistree on the 2nd and Yoxford on the 16th will also fall by the wayside, all of which I had hoped to attend. I had rather ambitiously begun arranging a peal attempt for the sixth anniversary of Alfie's birthday next month, which is upsetting not to be able to do.
God willing at least some of these can be revisited later in the year in one form or another, but of course it is hard to plan anything at the moment. The latest forecasts seem to suggest that the best case scenario may be that we go through these lengthy periods of social isolation and distancing off and (mainly) on for the next year to eighteen months. Maybe longer. Perhaps ringing will be possible in the times when restrictions are lifted, but who knows how much warning we would get of that and how long those periods of blissful relative freedom last, meaning that even as I consider arranging peals for the seventy-fifth anniversary of the birth of my father in June, the fourth anniversary of Joshua's birth in July and fortieth birthday of my brother Chris in November with a peal in December and the SGR considers (if it is) putting on the AGM and Striking Competitions (the Rose Trophy was already planned to be a separate event to the six-bell and combined with the Social on 19th September at Horringer) later in 2020, there is huge doubt as to when or even if we will be able to so with any sense of certainty.
It is all early days and on this first Saturday since the restrictions were put in place, BellBoard was not filled with extraordinary peal successes (with others around the country apparently planned in memory of GWP), but rather more performances involving ringers being industrious in getting their ringing fix. That included the first on BB from Suffolk since the different world we were living in last weekend, as Guild Chairman Rowan Wilson celebrated her birthday with a 256 of eight Surprise Major methods spliced rung accompanied by Abel and twelve changes of Plain Hunt on Six over zoom with Tim Hart and Jed Flatters, complete with a video that showed them doing pretty well in the circumstances!
Meanwhile there was another fine bit of ringing from YouTube doing the rounds online, again of the Birmingham band, this time at Tewkesbury Abbey from a month ago as part of their preparation to regain the Taylor Trophy, which of course they won't get the chance to do.
And today's random performance from BellBoard is the most recent to date, with a quarter-peal of Plain Bob Minor with cover on the back six of the 20cwt eight at Sonning in Berkshire, rung just two years ago on 1st April, which in 2018 was Easter Sunday. According to the blog, on that day I was privileged to take a phone call from George Pipe about my article in the Ringing World on the inaugural twelve-bell striking competition named in his honour. However, the aforementioned QP offers little of interest to Suffolk ringing, bar very tenuously that the only peal of Sonning Surprise Major rung in the SGR's name was at Lavenham on 25th October 1995 and featuring none other than George W Pipe. He is a man who features at almost every turn in the county's ringing and had such a positive effect on ringing here. Which is why it is such a pity that we couldn't ring a peal for him on the county's heaviest ring of bells today.
Please post any comments on the
facebook page.
Top
Friday 20th March 2020
With a few coughs and sneezes in the house and after today no nursery or school for the boys for the foreseeable future and Ruthie off work next week anyway, we took the precaution of all staying at home today. For me that meant another day on the bed trying to contact schools around the world and in the UK who are either already closed or preparing to close because of the coronavirus pandemic, with the only light relief being picking Mason up for the weekend.
However, apart from that and all the various developments in this whole sorry saga, George Pipe featured very prominently. One was in a sad sense as John Loveless emailed myself and Suffolk Guild Public Relations Officer Neal Dodge (who's role is harder or easier than ever before depending on how you look at it!) to confirm that the book launch of his eagerly anticipated biography of George which was to have taken place on 30th May has been postponed, with the plan being to coincide it with a service of thanksgiving for the great man, whenever that might be able to happen.
On more upbeat notes though, it was lovely to see a peal rung on the 6cwt six of Yass in Australia rung in memory of GWP and accompanied by an amusing tale, whilst I also found myself corresponding with Ringing World editor and ringing friend Will Bosworth about the article I have sent in about last month's George W Pipe Twelve-Bell Competition. With the quarter-peal and peal columns - not to mention reports on most ringing activity – due to dry up soon, these are are going to be tough times for the RW. Will has been pleased with the response for content to fill the gap, but is understandably worried – as so many are about so many things – that if this drags on it will be difficult to expect the ringing family to keep coming up with stuff, especially with nothing much actually happening on bells. Still, he is determined that it won't go under and frankly I believe that they have an extremely good man in charge to ensure that it won't. That said, please help if you can in the coming months, even if – like me – you don't subscribe. This is still a valuable window on the art, especially for those who don't have internet access, so please do support it if you can. I plan to contribute if I am able.
Perhaps it will be filled somewhat from what has become the norm this week, such as handbell ringing, performances across multiple locations and people using modern day technology, including fellow Rambling Ringer Steve Askew who between him and computer programme 'Beltower' rang a 5152 of the 'standard' eight Surprise Major methods.
Meanwhile, today's random performance from BellBoard is the closest to home thus far in the ringing wastelands of my COVID-19-era blog, being as it is from Essex and most specifically Rayleigh and a quarter-peal rung on 30th October 2011 which was Simon Smith's first of spliced Doubles.
According to this blog and BB, I was ringing in the first quarter-peal for Sean Antonioli on that day, a learner who I had a big part in teaching. Appropriately it was at St Mary-le-Tower where he had learnt after he and his now wife Louisa were drawn in by the sound of St Lawrence bells, which at that point had just been rehung. Eight months after his first QP – rung during that year's South-East District Quarter-Peal Fortnight – I was absolutely honoured to call his first peal, also at SMLT and incidentally featuring George Pipe. Understandably the birth of his children and growth of his family eventually saw him drift away from the art, which was a pity as apart from being a really nice chap, he was picking the exercise up really well.
Perhaps when we exit (or transition from more likely) this age of overcautious reactions to coughs and sneezes and we can ring again, Sean and/or other talented 'lost' ringers could be tempted back in?
Please post any comments on the
facebook page.
Top
Thursday 19th March 2020
The consequences of coronavirus' spread across the UK have unfolded at an incredible speed. Just a week ago I was writing this blog in a tone that appears almost incredulous that football and ringing should be disrupted and I think I was. Whilst accepting that things would change a bit and that some quite dramatic actions might eventually be taken, I don't think I ever imagined that just seven days later that I would be working from home, John Ives where Ruthie works would be on reduced hours, football here had been stopped (until at least 30th April as announced today in the second date given for a possible resumption since last Friday) and ringing would have ceased completely for all bar those with Mobel on their electronic device, able to ring handbells across Skype or have a household of ready-made handbell ringers.
From what Prime Minister Boris Johnson was saying in what has become a daily 5.15pm press conference, he hopes that we will be turning a corner in twelve weeks if everyone does as they should, but even if that were the case (and many might argue that is optimistic) then I expect things will still be some time off returning to anything resembling normality. Or at least what was normality up until about a week ago.
That of course likely means no ringing until well into the summer at least, but the Central Council have compiled some ringing films and documentaries on YouTube which can hopefully help fill the void a little.
And another day of no ringing also calls for another daily random performance from BellBoard, which today is from 1st January 2014 with a 1260 of Grandsire Triples at the Curfew Tower at Windsor Castle. These are the bells one hears on the television coverage of big royal events at the residence that the Queen escaped to just today as she looked to get out of a London that is apparently due (although not according to the PM this afternoon) to go on lockdown. Events such as the weddings Prince Harry to Meghan Markle (remember them?) in May 2018 and Princess Eugenie to Jack Brooksbank five months later and various royal birthdays and occasions for example. This one from six years ago was of course rung for New Year, but also in memory of two band members who had passed away not long previously.
From my blog I can see that we went to practice at Pettistree and retired to the Garners' afterwards with The Greyhound closed as it usually is following the festive period and I was musing on what the year ahead might bring, including the birth of Alfie. And getting it not too far off. Although of course 2014 was a lot more predictable than 2020 is proving thus far...
Please post any comments on the
facebook page.
Top
Wednesday 18th March 2020
With this year's National Twelve-Bell Striking Contest cancelled at the weekend and Euro 2020 postponed by a year yesterday, today saw the Eurovision Song Contest and sadly the Suffolk Show struck off the calendar for May. Although ringing hasn't been represented at the latter since the 2011 show, it is further evidence that just about anything that anyone could be looking forward to is understandably abandoned. Unless you look forward to months of living like a hermit.
Internationally there were signs that it isn't just ringing in the UK that is coming to an end due to this global pandemic, with the peal at Lindfield in Australia – the only one recorded on BellBoard in the entire world today – the first on the bells, but the last ringing on the 2cwt five until further notice.
Even in the UK, what is hopefully the last rogue quarter-peal band have decided to bring their non-essential activities to an end two days after most of the rest of the country with their 1260s at Ruishton and West Buckland in Somerset both referencing it in their footnotes. Although it seems that ringing continues on what they believe is the virus-free Alderney. Elsewhere there were more handbell performances of Minimus – something I think we'll have to get used to seeing – and others were getting around the restrictions (including one that includes a link to an interesting article on ringing by video link) to achieve ringing in various ways, such as the 1320 of Plain Bob Cinques and a 1260 of Plain Bob Doubles by the Joynsons and a ringing simulator in Gloucestershire. Others highlighted another 'piece of the day' with a showing of Birmingham's practice visit to St Mary Redcliffe in Bristol for their entry into last year's National Twelve-Bell Striking Contest eliminator, which was uploaded onto YouTube a year ago today and is well worth a listen, especially in these ringingless times. A superb bit of controlled, well struck ringing.
Here in Suffolk though, it was the absence of ringing that was most noticeable, as having achieved a 100% success rate with pre-practice quarters in 2020 thus far (and indeed barring Christmas Day a record going back to mid-October) up until a week ago, there was nothing from Pettistree where the bells at this extremely active tower – like everywhere else – sit silent for the foreseeable future.
It also meant another evening in the house at the end of a day that I spent the entirety – bar a trip out to the bin – in our abode as I started what could be a lengthy period working from our house. I have done some working from home in the past, but only really just to keep on top of things when I have been out of the office unexpectedly either looking after a poorly son or if I myself have been ill. This was completely different and I wasn't sure if I was going to manage or not and indeed it took a little while getting into my stride figuring out how my laptop does things differently to my Mac at work which is set up for what I do at John Catt on a daily basis. It was also a little odd working from my bed, being the only spot I was ensured some peace and quiet with Ruthie and Joshua quite rightly having the run of downstairs. Still, I was getting quite used to it by the end, which is fortunate as this may be the norm for some time, especially with the announcement that schools and nurseries throughout the country are to close indefinitely after Friday.
For all that it was unfamiliar surroundings to earn my salary from, I was keen to stick to familiar timings for starting, finishing and lunch as much as possible, which allowed for some time to select my daily random performance from BB. Today's is the 5024 of Bristol, Cambridge, London and Superlative Surprise Major spliced rung at East Farleigh in Kent on 12th August 2003. Obviously too early for the blog which didn't start until 2007 so I couldn't tell you what I was doing on that day (I was still living in the West Midlands, which is about all I can tell you!), but I can tell you that a young(er) George Salter listened to another peal there when he went down to the area for the 2014 Central Council of Church Bell Ringers' Annual Meeting in nearby Maidstone, at least according to his excellent report of the trip on this website. That performance over sixteen years ago was notable for being Michael Birkbeck's three hundredth in the medium. Since then he has been busy in peal-ringing, with the 5089 of Glasgow Surprise Major at Horton Kirby on Saturday being his 762nd according to the magnificent PealBase.
Unfortunately of course that is likely to be his last for some time as coronavirus continues to wreak destruction upon people's plans. Sadly that includes George Pipe's funeral on Friday 27th March. One of the countless sad consequences of COVID-19's alarmingly fast spread is that George's death has been overshadowed somewhat by subsequent events. Friday afternoon next week should have seen hundreds of ringers – including countless numbers of the finest on the planet – converging from across the country and probably the globe to ring at St Mary-le-Tower and St Lawrence and to celebrate this great man's life, but now it has had to be downscaled to a shortened service with his close family only. God willing a service of thanksgiving incorporating the launch of his biography by John Loveless will be able to take place when circumstances allow, whenever that may be.
As with so much else, we just have to wait.
Please post any comments on the
facebook page.
Top
Tuesday 17th March 2020
These are not good times for someone trying to write a daily ringing blog. Even ringing-related events such as the Quiz Night of Saturday 28th March in aid of the Stowmarket Bells Project. However, hopefully keeping abreast of developments with our reaction to coronavirus and how that might relate to ringing and more pertinently when we might be safe to start again may keep it vaguely of interest. "Why start now?" I hear some of you ask.
Besides, it will be interesting to see how ringers use their unwanted free time when they would have otherwise have been ringing. The CCCBR guidance last night gave ideas of what one could do and I would certainly recommend looking through those, including the YouTube clip from 2009 of the St Paul's Cathedral Guild producing some hypnotic Bristol Surprise Maximus in New York. Personally I am considering finally getting to grips with handbells, if I can get my hands on a set. I am fortunate to have a wife who is proficient in the medium and who knows, maybe a son or two might give it a go, but we haven't all got a family of Surprise Major handbell ringers in the same house as the Cambridgeshire branch of the Pipe family have, although 60 changes of Plain Bob Minor were rung in Glasgow, 48 changes of Oxford Treble Bob Minor in the city of the same name and a quarter-peal of Plain Bob Minimus was rung by the Westmans in isolation in Derbyshire all on handbells.
Meanwhile, full marks to Matthew Blurton who used Mobel on an iPad to ring 120 changes of Westminster Surprise Minor while in lockdown in Tenerife and to those who rang a quarter-peal of Plain Bob Minor through Abel from three different locations in Oxfordshire. And for amusement value to whoever put up the comedy 'performance' of Covid Nonuples!
It's harder to know how to feel about the towerbell ringing today though. I can't judge them and I won't. I would like to be ringing too, even though I wouldn't usually be ringing on a Tuesday anyway and we are in unprecedented times where there is still uncertainty about what exactly we can and can't do and what is actually safe. However, as alluded to yesterday, with businesses taking significant financial hits (though hopefully helped in the long-term by announcements made today) and others working from home – myself included tomorrow as I was asked to do by John Catt Educational today - in order to stop COVID-19 spreading too fast for the NHS to cope with, it probably isn't a good look for ringers to be travelling out for 'non-essential' social gatherings, seen to be defying medical advice on a serious life-threatening illness for many, potentially infecting places that wouldn't otherwise have been infected. All done with no intention of causing harm I'm sure, but we have all really got to consider minimising risk where we can.
It did at least give me something directly ringing-related to mention on today's blog, but I might not be so lucky in the coming weeks. Therefore, I'm hoping to start a daily look at the first performance that comes up for me on the Random button of BellBoard. Today's is a 1320 of Norwich Surprise Minor rung on 9th June 2012 at Aldford in Cheshire, which was Patrick Deakin's first of Surprise Minor as conductor. On the same day – according to this blog – I was ringing for a wedding at Grundisburgh and commenting on the welcome return to the art of Joanna Crowe, all whilst Ruthie was having her hen do. Patrick has meanwhile become a very talented ringer since, judging by BB and Pealbase, having conducted peals of Bristol Surprise Maximus, spliced Minor and spliced Major, so his effort nearly eight years was a notable one in his progression and I'm glad to highlight it today.
Nonetheless, these aren't going to be good times to write a ringing blog!
Please post any comments on the
facebook page.
Top
Monday 16th March 2020
Monday 16th March 2020 – the day that ringing stopped. The day indeed that just about everything in UK stopped.
With the announcement from the Prime Minister Boris Johnson this afternoon that all non-essential travel and contact in the country should stop, ringing – along with many other activities such as going to pubs, restaurants and theatres – really had no choice but to collectively cease for now. Until when, nobody knows, but weeks or months seems likely. In these unprecedented times though, who can tell?
The updated advice from the Central Council was essentially as close as you are going to get to an order not to ring or the first ban on the art in peacetime. Of course its not actually and even the government guidance is not binding in a legal sense – for now. Ringers can still ring if they want and I expect some stubborn ringers might. I can understand that. I hate this idea, much like I detest everything stopping when a flake of snow falls. Still the reaction of some to this is annoying, but there is a very real danger to a large proportion of our membership and I think in every sense it would be unwise to continue, both from a health perspective and also in how it appears – it wouldn't be a good look for the art if the general population were sacrificing going out socialising and to work if we continued, even with hygiene precautions put in place. We have to take this seriously, as each daily update of the number of deaths is given. Please, please do take notice of this.
St Mary-le-Tower practice is likely to have been some of the last regular ringing to have taken place in the UK for some considerable time. By the time the news had been digested some were already committed to going along and the attendance was noticeably devoid of over-seventies, my father included as they prepared for their twelve-week isolation in the coming days.
Even before this evening's latest turn of events we had decided that after ringing we were going to avoid going to The Cricketers – or indeed any pub – for our post-ringing refreshments and so having climaxed the practice with some nicely rung Cambridge Surprise Maximus (one of the many – albeit completely insignificant – disappointments of all of this is that we have really progressed in our Surprise Maximus ringing in recent months) and ringing all twelve down for the foreseeable future (including ringing the back ten down in peal, ending with me having the final word on the tenor, as captured on Mike Whitby's Facebook thread), we cracked open the beer left over from last month's George W Pipe Twelve-Bell Competition held here and reminisced about ringing as if it was consigned to history for good on a poignant evening. We then bade farewell, promising to learn Bristol Surprise Royal and Maximus for when we return and to keep in touch, but of course unsure when we would see each other again.
It is an extremely sad day.
Please post any comments on the
facebook page.
Top
Sunday 15th March 2020
These are strange times indeed.
This morning at church we were met with compulsory hand sanitising, the Peace was done with waving and gestures rather shaking hands and we took Communion without wine, whilst the boys were disappointed that the usual tea and biscuits had been forsaken, although we placated them with our own tea and biscuits when we got home.
Then later in the day we were at St Mary-le-Tower practicing for a striking competition that isn't going to take place. Not that the inevitable news that the National Twelve-Bell Striking Contest has been cancelled for the first time in its forty-five year history had been confirmed when we practiced. It is a dreadful shame for all concerned, especially the hosts who were very excited about hosting and in our case at Walsall we found to be extremely hospitable and of course having taken the plunge to enter for only the second time this century that the event is now not happening is massively disappointing. Ultimately though, I think it is the right decision in these extraordinary circumstances.
At least it meant that we had done some ringing today as having met Kate to take Alfie and Joshua back from her after their sleepover at hers last night and service ringing at Pettistree this morning, I was too late to ring ahead of the aforementioned service at Woodbridge. And for all that in a competitive sense it is to no avail, we were delighted with our efforts this afternoon as we got our first four star twelve-bell performance on Hawkear, with the potential for the contest not going ahead prompting us to realise just how much it had served its main purpose of raising standards here. Thank you to my Mum and Dad for looking after the boys whilst we rang.
Across in west Suffolk meanwhile, well done to Ben Keating on ringing his first quarter-peal of Double Norwich Court Bob Major in the 1312 rung at The Norman Tower and to the entire band who rang their first blows of Beaconside Bob Minor in the 1260 rung at Buxhall as despite some places in the UK stopping ringing, the exercise continued within our borders.
However, each day brings something new with coronavirus and particularly in regards to how society deals with it and today brought news that over seventies are going to be asked to isolate at some point in the coming weeks, with the period of isolation bandied about being four months. For all that there are lots of youngsters doing lots of exciting stuff in the art, this would deprive us of a sizeable proportion of those who regularly ring. I hope I am wrong, but it also appears to make it less likely that the Guild AGM will take place next month. COVID-19 is and will be bringing much devastation to big and especially small businesses, before we even mention that people are dying from this and so ringing is incredibly unimportant, but it will be a huge pity if ringing has to be scaled back so severely. Whatever needs doing has to be done though. Watch this space.
After all, these are strange times indeed.
Please post any comments on the
facebook page.
Top
Saturday 14th March 2020
With everything happening (or not happening in many cases!), we had a reassuringly busy day today on the Pettistree Quarter-Peal Day. This was a change to our original plans of an outing to Norwich (nothing to do with coronavirus, but rather because the main focus of our visit to Norfolk's county city was the Mancroft Ringing Discovery Centre – which today won the ART Award for Excellence in Recruitment or Retention – was already booked up), but an extremely enjoyable and productive day of ringing closer to home as we travelled the South-East District, with hand sanitiser constantly at our side and much more hand washing carried out than on a typical ringing outing.
Accompanied by some general ringing, there were four quarters, although we didn't ring in all of them personally. An excellently rung 1272 of Norwich Surprise Minor at Bredfield was in its latter stages as we arrived and after that came round touches of Stedman and then Grandsire Doubles were rung upon this 11cwt gallery-ring six.
A gentle meander along winding lanes through beautiful countryside and quaint, isolated cottages (perfect in current circumstances I imagine) and then whilst mother-in-law Kate looked after the boys and their cousins in the church both of us rang a 1250 of Wells Surprise Minor at Brandeston which Hilary Stern rang superbly and which the band very kindly agreed to dedicate to the birthday yesterday of former ringer Aunty Marian, sister of my father.
With any good morning's ringing we took a lunch break at a pub, which on this occasion was The Lion Inn. Sat right on the A12 but in the heart of this village, this an entirely unpretentious hostelry with inexpensive, proper grub and a really lovely atmosphere. In fact, perfect for the halfway point of a day's ringing and so we continued on to an old stomping ground of mine in high spirits.
When I returned to Suffolk fifteen years ago, it was a little pink cottage in Tunstall overlooking fields and just a few hundred yards down a road with no pavement from St Michael's church. The 7cwt six there were once a regular haunt on Tuesday nights and occasionally Sunday mornings with Richard Wilson leading a band with lovely characters like John Calver, Jasper Dickinson and the late Susan Dalziel who lived in the house behind me. Sadly there doesn't seem to be a band there currently, but these are still lovely bells and very enjoyable to ring on.
Not that I actually rang on them today as the general ringing was just being wrapped up as we arrived having rounded the children up from their lunch, but my wife did at least get to partake in a very well rung 1296 of Cambridge Surprise Minor here, whilst Mrs Eagle and myself attempted to keep the children relatively quiet downstairs.
On a day of ringing on familiar bells, the day was climaxed at one the most familiar to our merry band as an extremely well struck 1280 of five Surprise Major methods – Rutland, Superlative, Yorkshire, Cambridge and Lincolnshire in that order – spliced rung at Ufford, with it being my turn to ring as Mrs Munnings took all the little children back to her mother's, where Kate, myself and Mason – who very patiently sat in on our quarter – ended up for tea and Alfie and Joshua ended up spending the night for a sleepover with their cousins.
Elsewhere there were other QPs rung on the county's bells today. Well done to Rachel Waldron on ringing her first in the medium on a working bell in the 1260 of Plain Bob Doubles at Redgrave and to Ainsley Gilbert and Emily Vallow on ringing their first quarter-peal of multiple numbers of methods with six Doubles methods rung at Hinderclay following on what appears to have been a hugely successful North-West District Practice at Hopton. And across the country plenty of peals were still being rung and still roughly on par with the numbers of peals from the second Saturday of March in 2019.
Yet the effects of COVID-19 are tightening and the affects are now starting to be felt in ringing. Although I'm not aware of it being the case within our borders, some ringing events have been cancelled and one tower has stopped ringing altogether due to what seems to be tenuous following of advice from the Church of England (Links to Suffolk Guild and Central Council advice). And an email sent out to participating teams has put forward a proposal aimed at ensuring that the National Twelve-Bell Striking Competition eliminators still go ahead but with minimum risk. Currently the plan – as with all previous competitions for the Taylor Trophy since it started forty-five years ago – is for the draw to take place at 11am, much socialising to be done over several hours whilst ringing takes place, followed by the results and likely more socialising afterwards, all seeing large numbers of ringers gathered together – particularly for the draw and results – indoors. The proposal is that the draw is done ahead of the day, teams turn up to ring and go and the results are then announced online, with all the catering and drink that was going to be laid on now not happening. It will be a pity, not just for those of us looking to a day of catching up with friends not often seen, but also for the hosts, especially at Walsall where they had been extremely hospitable when we travelled over for our practice a few weeks ago and were clearly looking forward to welcoming everyone. However, although the numbers will be well short of those considered a 'mass gathering' which look likely to be banned as soon as next weekend and which are mainly being stopped to release the emergency services that the Twelve-Bell doesn't require, this seems like an eminently sensible move. Even then though, with doubts about whether the Final due to take place at Sheffield Cathedral on Saturday 20th June will be able to go ahead and a meeting of the committee planned for tomorrow and of course a quickly changing situation, it's far from certain whether even these measures will be enough to save the 2020 competition, especially with far more important considerations to take into account.
It's all very sad for so many reasons, but even if the National Twelve-Bell Contest doesn't go ahead, I pray that today isn't the last day of its kind that we can enjoy for a long time.
Please post any comments on the
facebook page.
Top
Friday 13th March 2020
Until yesterday, coronavirus wasn't really having much impact on life in the UK. The odd closure, the occasional cancellation or postponement. Even that new guidance from the government twenty-four hours ago appeared to maintain normality to a large extent.
However, today professional football – mercifully including Ipswich Town given their current miserable form – was suspended until 4th April and most other sports followed suit, if they hadn't already, as participants begin catching the bug and concerns about the policing and protection of mass gatherings in the near future were voiced. With the perceived wisdom apparently questioning whether football or anything similar will be back as soon as three weeks time, it is conceivable that there won't be any major sports here and in much of the world for a couple of months at least.
Quite where this will leave ringing over the next few weeks is unknown, but I wholeheartedly agree with Suffolk Guild Chairman Rowan Wilson's message sent out to members today which reiterated that there is still only one confirmed case in the county – even on a day when nationwide the numbers of new cases grew by more than two hundred - and not to panic. As she points out, a good number in the SGR may be considered to fall in the 'at risk' group when it comes to the most serious reaction to catching COVID-19, but she also encourages ringers to follow the guidance given out and adapted it for ringing too. Try to avoid swapping ropes too much, wash hands before and after going to ringing and don't spit on your hands before grabbing hold.
Obviously everyone needs to make their own choices – especially those who feel particularly at risk of serious health issues from catching this – and ultimately we will all have to go by official guidance (or even instructions), but I really hope that we are all offered the opportunity to attend ringing events such as Saturday's North-West District Practice at Hopton or the North-East District Quarterly Meeting at Yoxford, the Helmingham Monthly Practice in a week or the South-West District Practice on the afternoon of Saturday 28th March.
I'm glad to see that others were doing just that today, with Rowan leading by example in a peal of Ealing Surprise Major over the Cambridgeshire border at Fulbourn and the FNQPC were successful at Henley, but particularly at Worlingham where Rona Sporle was ringing a quarter-peal of Norwich Surprise Minor as conductor for the first time. Well done Rona!
For us though, it was a quiet evening in, contemplating how much more I might enjoy my Saturday afternoons' ringing without any football to ruin it. If we're allowed to do any soon that is.
Please post any comments on the
facebook page.
Top
Thursday 12th March 2020
I don't mind admitting that I have done much eye-rolling in recent days as coronavirus has begun spreading through the UK. Some people appear absolutely desperate to be seen to be involved with the big news story of the moment, much like when a flake of snow falls. People have demanded that schools close, despite children seemingly being relatively – on the basis of evidence collected thus far – robust in their reaction to the bug. That sporting events, concerts and other mass gatherings be cancelled, despite the fact it won't stop many of those people still gathering together elsewhere (although admittedly would take some pressure off the stretched emergency services in theory). That businesses shut down, even though that action would be financially crippling to a large number of small companies and the self-employed. An increasing number are sporting face masks, despite the fact that they are more effective as a fashion accessory in the current climate than protection against COVID-19. Others have been selfishly stockpiling hand sanitiser, toilet rolls - even though that end is not affected by the illness - and huge amounts of non-perishable food, leaving supermarket shelves empty for those less well off and/or in greater need. That despite it being easier than ever before in human history to have shopping delivered to your doorstep.
However, despite this being an affliction that for the vast majority of those who catch it – and that number is still only a tiny percentage of the total population – will only present mild symptoms, I'm not entirely dismissive of its seriousness. There are elderly members of my family with underlying health issues, so extra care needs to be taken around them. However, as with most things it seems common sense, much hand-washing and increased hygiene would be far better than stopping everything and like many I have been washing my hands more aggressively (often humming 'Happy Birthday' twice at the same time!) and more regularly.
Events may overtake us all, whatever our personal opinions as we have to follow the expert medical advice. Today the government changed their approach from 'containment' to 'delay'. Mercifully that hasn't signalled anything too drastic at the moment. Schools will remain open for now, much to the disappointment of many children. Football matches won't be played behind closed doors for the time being either. Much to the disappointment of what's left of the Ipswich Town fanbase. Instead, it will be much more difficult to see your doctor if you need to and anyone with a new "persistent" cough or a high temperature will be expected to self-isolate. Closer to home, at John Catt Educational we were asked how feasible it would be to work from home if needed. In my case it is pretty straightforward with very little disruption, although it is getting harder to speak with schools about what in the circumstances may seem the trivial matter of advertising, especially those around the world such as in China and Italy where places of education are already closed down.
So for now life goes on, albeit with greater caution and more thought than is usually needed, which includes ringing. That was particularly the case at Worlingham where there were a brace of first quarter-pealers to celebrate, as well as at Redgrave where a third was ringing their first QP. Well done to Kate Bungay on making her debut by bonging behind to Grandsire Doubles and to Dave Goldstone on making his knocking behind to Plain Bob Doubles at the former tower and to Alison Colchester on entering the world of quarter-peals at the latter.
The fear though is that ringing – like everything else – will end up being severely curtailed if and when tougher measures are brought in. Whilst not many ringing events will reach the required numbers to be banned (500-1,000 seems to be where the line has been drawn in other countries), when jumble sales are being cancelled it seems hard to envisage that at least some ringing events in the coming weeks won't fall victim. Most immediate concerns lie with the National Twelve Striking Contest eliminators on 28th March, with hundreds of ringers gathering together from around the UK, including at Walsall where Ipswich are due to enter the contest for the first time for thirteen years in sixteen days time. An email was sent out earlier in the week by the organisers with the kind of guidelines that most of us will be familiar with by now, but reiterating for now that it is still going ahead, but if greater restrictions are applied it is easy to imagine that this will be revisited. Although today's government announcement suggested that the reason for cancelling mass gatherings is less to do with any medical benefits which would apparently be negligible and more to do with freeing up emergency services, which wouldn't be an issue for this or any ringing events.
It has been pointed out that ringing appears to be the ideal breeding ground for this bug to spread, with people gathered together in confined spaces taking it in turn to grab hold of the same ropes, but of course it has always been that way and we're not constantly succumbing to illnesses. If we aren't instructed to stay at home collectively then hopefully the best way forward will be for people to continue coming out to support ringing, although people – especially those classed as vulnerable – should make their own choice as they see fit and those who do come out should carry out all the suggested hygiene guidelines, as the Central Council have now advised.
I can imagine doubt creeping into members' minds as to whether they should attend the Suffolk Guild AGM at Woolpit and Drinkstone on Saturday 18th April or even the Mitson Shield and Lester Brett Trophy Striking Competitions at Yoxford on Saturday 16th May, but God willing the weather will be warmer, the pressures less on the NHS and the peak reached. Unless it becomes completely impractical or impossible to hold them though, my humble opinion – and only mine with no medical expertise it should be noted – is that they should be held to give people the choice and if anyone feels it is safer for them personally not to go then they shouldn't go.
For all the worries and fears, the sombre press conference with the Prime Minister and the country's medical experts and Coronavirus now officially being pronounced a pandemic (whatever difference that makes practically), life was going on today, in our household at least. Although that didn't involve any ringing on this occasion as Ruthie went to her two choir practices this evening, in the process discovering that it is planned for the Revd Nigel Prior to be installed as rector of St Mary-the-Virgin in Woodbridge on Tuesday 9th June, God willing with the 25cwt eight ringing out in celebration. Providing we're not all quarantined by then!
Please post any comments on the
facebook page.
Top
Wednesday 11th March 2020
As excitement and anticipation builds towards our planned entry (coronavirus permitting) into this year's National Twelve-Bell Striking Contest in our eliminator at Walsall on Saturday 28th March, it is worth noting that the competition's website today confirmed on its Future Contests section that which has been common knowledge for a while – that one of the eliminators for next year's Contest will God willing be held at The Norman Tower on Saturday 27th March 2021. Even without the current uncertainty around travelling in the coming weeks I can appreciate travelling to the West Midlands to soak in the atmosphere of the biggest competition in ringing and showing support to only the second entry from Suffolk of the twenty-first century (although your presence would be much appreciated, especially in the current circumstances!) may not be appealing, but I hope that bringing this famous contest to our doorstep will encourage Guild members of all abilities to enjoy the day. Therefore, please keep the day free.
For now, Ruthie was brushing up on her six-bell ringing on the bells of her home tower Pettistree at its weekly practice, which was preceded as usual by a quarter-peal as this ground-floor six maintains its 100% record for pre-practice QPs in 2020!
Exciting times there at the moment.
Please post any comments on the
facebook page.
Top
Tuesday 10th March 2020
The 1250 of Superlative Surprise Major I partook in at Ufford this evening was primarily arranged to remember George Pipe at the tower where he rang his first peal, almost seventy-five years ago on 1st December 1945 and very pleased we were with our efforts as we rang the musical Richard Allton extremely well. We hope George would've approved.
However, it is also the start of a change on this 13cwt eight. Since practices were held on a Tuesday here, it hasn't been possible to hold one on the second Tuesday of the month as that was when the Women's Institute held their meetings at the hall across the peaceful churchyard. In more recent times Mike Whitby has run a Surprise Major Practice on the second Thursday of the month (although of course the second Tuesdays and Thursdays weren't always in the same week!) which have been very useful for a good number of people, although with parenthood and Ruthie's choir practices on the same night we haven't been able to take full advantage of them over the last five years or so.
The cessation of the WI's meetings have freed up those second Tuesdays though and seems a natural point at which to stop the Surprise Major practices and instead attempt a quarter-peal on those second Tuesdays. God willing they will be a very helpful progression from the practices and tonight's effort is hopefully a sign of good things to come.
Our performance wasn't the only dedicated to George of course, with more from across the country and another QP before the practice at Offton rung for him.
It was pleasing to ring a quarter for him today, but also to start something new that we pray upholds and progresses the art he so loved.
Please post any comments on the
facebook page.
Top
Monday 9th March 2020
We haven't had the privilege of George Pipe's presence at a Monday night St Mary-le-Tower practice for a long, long time. Yet at the first one since his passing his presence felt reassuringly close as we rang - and recorded in the tower book and on BellBoard - an entire course of one his favourite methods, London (No.3) Surprise Royal to climax the session.
He would have been livid at our first attempt and indeed the three or four attempts at Stedman Cinques but I imagine the perfect gentleman afterwards. And I imagine he would've enjoyed Sue Williamson ringing some Stedman Caters and Karina Wiseman ringing the treble to some 'Bisto' of the Caters and Cinques variety on a pretty productive night topped with a convivial drink in The Cricketers, all in the company of Diana who it was lovely to see.
George would've enjoyed it.
Please post any comments on the
facebook page.
Top
Sunday 8th March 2020
Even by my standards I was running late for ringing at St Mary-le-Tower this morning, not helped by having to turn back for Joshua's potty. Such is our life at the moment!
Still, once there I nonetheless contributed to a couple of pieces of ringing, including some superb Yorkshire Surprise Royal.
It was lovely to be greeted by some returning regulars who for one reason or another have been missing recently. Immediate Past South-East Ringing Master Jonathan Williamson - clearly encouraged by ringing at nearby St Margaret's yesterday - was back ringing at SMLT for the first time since he was put in plaster. Amanda Richmond continued her return to the art. Most pleasing of all though, was the presence of Diana Pipe after a trying few weeks and of course a tough week. She seemed understandably tired, but after some ringing and a drink with us at Costa Coffee afterwards she appeared to be regaining some of her sparkle, which was lovely to see.
She was also able to tell us that George's funeral is planned to take place at St Mary-le-Tower at 1.30pm on Friday 27th March. Judging by ringing's response alone - and the affection for him goes far beyond the exercise - then there will be a lot of people there. There were many more performances dedicated to him today from across the world, including here in Suffolk with a quarter-peal at The Norman Tower and some call-changes on eight by the local band at Woodbridge.
Meanwhile, the second Sunday peal at Aldeburgh was also successful and as usual a first in the method for the band and Guild, with the method on this occasion being Watercress Line Surprise Major.
On this sunny Sunday (nice not to be blown about by the wind at the weekend for once!) I made it up the park with the boys, but the only other ringing I partook in was service ringing at Grundisburgh where we managed call-changes on ten with numbers boosted by the visiting Martin Cansdale and also the returning Ruth Symington. Ruth was once a regular ringer round these parts when I was learning, but it is many years since I last saw her.
It was well worth getting out this morning, however late I was.
Please post any comments on the
facebook page.
Top
Saturday 7th March 2020
The first Saturday of March used to be the day for the first South-East District Quarterly Meeting of the year. They're unfashionable now of course, but I enjoyed them with a sense of occasion and more opportunities to socialise than at a practice. And of course plenty of food!
However, the meetings seemed to put off many and so apart from the ADM in December the District abandoned the format a few years ago.
This afternoon's SE gathering at St Margaret's in Ipswich felt a little like a halfway house between a practice and full blown meeting as around forty members met for about an hour-and-a-half's ringing on this wonderful gallery ring eight, with cakes, biscuits and hot drinks downstairs in the church, before Chairman Mark Ogden led a short meeting.
Ringing Master Jenny Scase ran things superbly with much catered for from call-changes to Surprise Major rung. It was nice to ring with a different Salter as I rang in some Plain Hunt on Seven with David and Katharine's youngest son Henry and nice to ring with Jonathan Williamson again as he did his first ringing since his recent injury, with a boot giving him the support to do so.
The meeting remembered George Pipe of course as did ringing with more performances dedicated to him across the world.
Meanwhile, although a peal attempt at Beccles appears to have been lost, there were successes within our borders, with a peal rung at nearby Worlingham and a quarter-peal rung at Rougham in the west of the county.
A first Saturday of March well used me thinks!
Please post any comments on the
facebook page.
Top
Friday 6th March 2020
There was a slight feeling of déjà vu this evening, as Ruthie and I rang seven and eight at Woodbridge to a quarter-peal of Yorkshire Surprise Major to mark the retirement of the Rev'd Canon Kevan McCormack as Rector of St Mary-the-Virgin, less than a month after Ruthie and I rang seven and eight at Woodbridge to a quarter-peal of Yorkshire Surprise Major to mark the retirement of the Rev'd Canon Kevan McCormack as Rector of St Mary-the-Virgin.
One crucial difference was present this time though, as the purpose of our ringing came to listen, took in Ron playing the bagpipes in the church, had a photo with the band and then bought us a drink each in The King's Head across the Market Hill. He appeared genuinely moved by all our efforts and was in fine form in the busy hostelry afterwards as he got an insight into bell ringing organising and spoke of his friendship with George Pipe, another indication of how GWP went far beyond his incredible achievements in ringing.
Talking of George, a touch of 84 changes of Grandsire Triples – a change for each year of his life – was rung immediately after our QP came round and was rung in his memory and along with the bells being half-muffled for Lent was another more sombre difference to our previous success here.
Of course, our efforts were not the only rung to remember him and celebrate his life from across the country and world, but also here in Suffolk with the 1260 of Grandsire Doubles at Earl Stonham which was Matt Newson's first in the method. Well done Matt!
Meanwhile, word came through that the programme for which filming of ringing at Kersey was recently carried out – Hilary Mantel: Return to Wolf Hall – is due to be broadcast on Saturday night at 9pm on BBC2, so do look out for that. Although as Neal Dodge points out and is often the case when ringing appears in such things, it is impossible to say how much it will feature.
Still, it ought to be an interesting watch and God willing we should be at home to watch it. For this this evening though, we were grateful to my wife's gran for looking after her great grandsons whilst we went out ringing and then socialising, as she did when we last rang a quarter-peal at Woodbridge. It was déjà vu for her too!
Please post any comments on the
facebook page.
Top
Thursday 5th March 2020
With the usual caveat that I'm aware it isn't an exciting read (and sub-caveat that it isn't meant to be!), every year I look forward to seeing the new Guild Annual Report and the majority of time that I have been an SGR member I and the majority of my peers have had to wait until it was printed and Deanery Reps and other volunteers have managed to distribute it to every corner of the county, usually in a mad dash before the AGM!
Now though, technology allows us to see it before it even gets to the printers and today I got to read Mark Ogden's superb debut as Report Editor – with gratefully received from his predecessor Michelle Rolph alongside the many others such as David Salter and Brian Whiting – as he emailed it to the membership to read online.
Of course, so much of it is pre-empted online, but yet again there are snippets of useful information that I wasn't aware of, such as plans to restore the 13cwt five of Hoxne that is already seeing a local band being taught at nearby Bacton and Oakley and the consideration being given the augment the gallery-ring of six at Buxhall to an eight. Meanwhile, it is interesting to note that all four Districts took advantage of the wonderful Mancroft Ringing Discovery Centre in Norwich during 2019.
I still eagerly await my hard copy, which is always nice to hold and flick through and easier for the boys to look through as they take an increased interest. Indeed Alfie was using the 2017 Annual Report only yesterday morning as a distraction from getting ready for school!
Whether as a PDF or in print, please do acquaint yourself with its content before the Guild AGM is due to be held at Woolpit and Drinkstone on Saturday 18th April and get motivated to join your fellow members in that beautiful part of the world!
It seemed quite poignant reading the Annual Report in the week that George Pipe dies and which features him in places, but whilst the AR was produced and recording a period before his sad death, ringing was continuing to remember him today, with a touch of Grandsire Triples rung at the Roman Catholic Cathedral at Sydney in Australia where he is fondly recalled rung in memory of him, as were the quarter-peals at the aforementioned MRDC in Norwich and on handbells in Wedmore in Somerset and the peal of Stedman Cinques at South Croydon. And here in Suffolk the 1260 of Double Oxford Bob Minor at Tostock was rung in memory of him.
And thank you to George Vant for sharing a couple of videos from YouTube of GWP, one of him blessing young Mr Vant's handbells, the other of him speaking at the inaugural George W Pipe Twelve-Bell Striking Competition at Bury St Edmunds. Lovely to hear the great man's voice again.
No opportunity for us to remember him through ringing though, as Ruthie's new two-choir Thursday evening left no time for ringing for either of us whilst I looked after the children at home.
At least it gave me the chance to have a proper read of the new Annual Report!
Please post any comments on the
facebook page.
Top
Wednesday 4th March 2020
Expected but sad, sad news came out today as it was announced that the great George W Pipe died yesterday. The last decade or so has marked a gradual but sorry decline in his health, not helped by the sudden death of his brother Rod in 2011. His last peal was a 5010 of Stedman Cinques at Great St Mary in Cambridge in December 2012, his last quarter was a 1385 of Grandsire Caters at Leek on Brian Whiting's Quarter-Peal Tour of 2016, it has been some years since we have had the privilege of ringing with him and indeed now some time since he was last able to join us in the ringing chamber at St Mary-le-Tower where he was more synonymous with than anyone else, until he was sadly not even able to come out to meet us at all. He was particularly missed at the Twelve-Bell Striking Competition named after him last month.
There was much said today and there will be much more said in the coming days about him from across the world and if I were to go into depth of all he has achieved there would be about a year's worth of blog in this one entry! And yet on this Guild website it is important to stress just how much he did for ringing locally, nationwide and globally and what a gem we had in our midst.
At SMLT he took a band that was apparently just ringing Plain Bob Doubles, led the project to get the bells rehung and many of them recast in 1976 and turned them into a band ringing local peals of Bristol Surprise Maximus and reaching the National Twelve-Bell Final on multiple occasions.
For the Suffolk Guild he was the Ringing Master from 1964-69 (incredibly only the third RM in its history!) and Chairman from 1974-77 and was a driving force behind its success over many years.
Nationally he was hugely respected, in part exhibited by the peal boards across Suffolk that record how many of the biggest names in the exercise were willing to travel here to ring in peals with him and saw him a part of the country's ringing 'elite'.
Internationally he was best known and most fondly remembered for being instrumental in forming the Australian and New Zealand Association of Bellringers (ANZAB), but he also rang in the first peal at Washington Cathedral in the USA in 1964, which in those days was a huge deal and contributed to his status as a ringing superstar.
Quite simply, he was one of the most well known and most loved ringers on the planet. Countless stories abound of ringers from within our borders travelling the country and indeed the world and once their hosts realised where they were from would be met with the questions "Do you know George Pipe? How is he?"
He was gently teased from time to time, particularly around the extremely rare occasions he went wrong, including most memorably with the 'Tower' entry into the 1990 Rose Trophy Eight-Bell Striking Competition at St Margaret's across the county town, when the touch of Stedman Triples was too short! He was always more than happy to laugh at himself though, once going wrong in something at SMLT and chuckling afterwards that it "will be around the county soon!" Yet he was a rock you could rely on in everything he rang, especially on higher numbers.
Personally I have wonderful memories of him, especially from my youth. Even before I started ringing he was an imposing yet kind figure and when I began ringing I aspired to be just like him. I got nowhere near of course, but through observing him, ringing with him and listening to his advice I became a far better ringer than I otherwise would have. He struck fear into the hearts of ringers, lest they went wrong in a piece he was ringing in, yet he was a gentleman when the ringing finished, always happy to guide and advise.
Beyond ringing he was also a good friend to our family. He was one of the first to phone us when the boys were born, he was Godfather to my brother Chris and he and Diana always gave the children presents at Christmas.
His artwork adorns many a ringers' walls, including ours with a drawing of St Mary-le-Tower he very kindly did for our wedding nearly eight years ago. The huge archive of information and history on ringing and churches both physically and from his mind and which were frequently recounted to captivated audiences are invaluable to ringing and beyond, with the exhibition at the 2015 SGR AGM in Felixstowe absorbing. Although it is sad he won't be there with us at its launch on 30th May, thank God for John Loveless' biography of him which immortalised a man who at times appeared immortal. Sadly it wasn't so and thoughts are with his family and especially Diana. They say that behind every great man is a great woman and rarely has this been more the case than here!
Ringing reacted in its droves to the news today. Social media was awash with heartfelt messages and footnotes began appearing on BellBoard to his memory. Four were here in Suffolk, with the QPs of Double Norwich Court Bob Major at Bardwell and Elveden dedicated to him, as were the 120s of Grandsire Doubles at St Lawrence – the rehanging of which and subsequent regular ringing of is another achievement of his – and Ipswich Surprise Minor at Pettistree, whilst beyond our borders he was remembered with the 1344 of eight Major methods spliced at Our Lady and the English Martyrs in Cambridge and the handbell peal of Lessness Surprise Major rung at Lower Broadheath in Worcestershire. I imagine much more will be rung for him in the coming days and arrangements are already underway for a peal attempt at St Mary-le-Tower.
I imagine that Pettistree – where George played a big part in getting the very successful band up and running in the 1980s – will be ringing a quarter-peal for him on another occasion, as tonight's pre-practice quarter was already clearly earmarked for the Silver Wedding anniversary today of one-time local ringers Iain and Jayne Mitchell ahead of a session which Ruthie joined her mother on a night where again much was rung from Grandsire and Stedman Doubles to Wells and Morpeth Surprise Minor before retiring to The Greyhound and after we'd been to Joshua's parents' evening at nursery.
However, it was George and Diana on our minds today with this expected but sad news.
RIP George W Pipe.
Please post any comments on the
facebook page.
Top
Tuesday 3rd March 2020
The theft of a 300-year-old bell from Bremilham Church – purportedly the smallest church in Britain – in Wiltshire made the news today. Although not one hung for change-ringing, the stealing of this nearly 2cwt bell from the oak beam it was mounted on is a reminder of how closely we must watch bells, including those which are displayed on church floors in between being removed and rehung.
It also came on a slow news day for Suffolk change-ringing, with no performances recorded upon the county's bells on BellBoard, including at Offton where indeed there was no practice at all due to a lack of "human resources".
It is always a disappointment when a weekly session can't go ahead, but at least they still have all their bells. As much as a long-shot as it might be, here's hoping the church of Bremilham will have their bell back soon.
Please post any comments on the
facebook page.
Top
Monday 2nd March 2020
On the way into Ipswich for ringing on a Monday evening, I usually have BBC Radio Suffolk on in the car and the show that is usually on is one called Belongings, typically focused on certain subjects in regards to belonging to the cultures and communities in the county. Tonight's was about the sense of belonging generally and how important it is to belong to groups of people with something in common, whether that be a friendship of two or something larger, such as a dog-walking group. It wasn't mentioned whilst I was listening and I couldn't text or call in myself of course as I was driving, but it struck me that ringing deserved a mention. This is a wide family where close and special friendships are formed over county and country borders and across the globe to an extent that very few hobbies of a similar ilk can lay claim to. All sorts of diverse personalities from all sorts of backgrounds and across class bonded by a shared enjoyment of ringing means that ringers can usually rely on much support in their times of trouble.
There was plenty of that in evidence at St Mary-le-Tower's weekly practice tonight. Since her accident over Christmas and the New Year, Past Guild Ringing Master Amanda Richmond has made a remarkably quick recovery, no doubt aided by visits from ringing friends, messages of support from throughout the exercise and a couple of handbell quarter-peals and I have been asked by many beyond SMLT how she is getting on. Well this evening, very well as she came to her first practice and did her first towerbell ringing since her accident, including some Plain Hunt on Eleven which climaxed the session on this occasion.
Although not present tonight, Nigel Newton has also been helped in his recovery through ringing friendships and the actual act of ringing, but we are also now missing Ipswich Area Rep Jonathan Williamson and Sonia Docherty as they recover from their injuries and in the case of the latter family illness too. They did apparently make it out to post-ringing refreshments yesterday morning and in notices we got messages from them saying how much that get-together and the support of ringers means to them. The funeral of 105-year-old Lilian Caudle a week tomorrow (2pm at SMLT on 10th March) was a reminder of how much the sound of bells and the friendship of bellringers helped her and her daughter Rosemary over the last few tough years in particular. And of course there was much support in this famous ringing chamber for Diana Pipe with her husband George back home but really very unwell and in need of carers.
The ringing itself was a mixed bag, but useful nonetheless. Stedman Caters took four attempts to get started, Yorkshire Surprise Royal didn't go very well, Little Bob Maximus struggled, yet Karina rang the treble really well to it and we rang London (No.3) Surprise Royal better than most provincial bands could hope to ring it on a night when quite a few regular Surprise Royal and Maximus ringers were away.
It was all topped off with a drink in The Cricketers afterwards, the fellowship of ringing giving us all belonging.
Please post any comments on the
facebook page.
Top
Sunday 1st March 2020
Twelve-bell ringing in rural counties such as ours takes a certain amount of dedication, commitment and willingness. The miles needed by most to reach a twelve-bell tower is considerable, but necessary as twelve ringers are obviously a bare minimum, unless we have some especially talented double-handlers!
Naturally – as with most ringing in Suffolk and similar areas – that ebbs and flows. Around the late 1980s and early 1990s for example, a number of peals were rung on twelve – often far – beyond our borders and the St Mary-le-Tower band regularly entered the National Twelve-Bell Striking Competition, even featuring in three finals. Over the last twenty years though, twelve-bell ringing has diminished somewhat in these parts, with fewer peals and the difficulty of getting a band together to consistently ring well on such numbers has increased.
Things do seem to be heading back in the right direction though. The introduction of the George W Pipe Striking Competition has really encouraged bands and individuals and we have benefited from the return and influx of young ringers who have been regularly ringing on twelve at a high standard such as Laura Davies, Colin Salter, Louis Suggett and Alex Tatlow has injected new enthusiasm. And the entry of an Ipswich band into the National Twelve-Bell Competition for only the second time in twenty-two years has brought some much needed focus.
Striking is important of course, but method repertoire is also, in part because I believe it helps with striking in methods that suddenly seem much more familiar and even simpler, but also because it helps draw in more of the best ringers more regularly.
At SMLT we have been trying to do just that. One can never say we have Cambridge and Yorkshire Surprise Maximus licked, but generally we ring them very well, as we showed at Walsall a week ago, but there is always a danger that if that was all that we rang then boredom sets in, we get stale and the quality goes in the opposite direction. We have been ringing Lincolnshire in recent weeks and this is a natural and achievable progression, but I hope in the near future we may be able to throw Bristol into the Max mix.
That is easier said then done of course and so Ruthie and I immensely enjoyed our opportunity to ring it this afternoon in a quarter-peal at The Norman Tower. It has to be said that it was understandably unsettled to begin with, but improved and although it was done with the help of ringers from across East Anglia and Messrs Suggett and Tatlow who we shall both be losing shortly as they embark upon the next exciting chapters of their lives, it was overall a useful exercise for a number of resident Guild members. Hopefully it will transfer to more in the county.
There was no twelve-bell ringing for us this morning though, as I rang at Woodbridge prior to attending the service downstairs. Only the front six were rung on this occasion despite eight ringers being available, but that was due to the late arrival of many regulars, including myself and Susanne Eddis as we entered the churchyard with some half-muffled ringing on four already underway.
The bells are half-muffled for Lent, as they typically are on this 25cwt eight and from a ringing perspective it is a reminder that Holy Week is on its way and falls on the week beginning 6th April. As usual that will mean some towers (St Mary-le-Tower included) won't be holding their weekly practices, whilst others may hold theirs elsewhere and others will continue as they usually do. Either way, it is best – as it usually is, but especially that week – to check before attending a session you don't normally go to or indeed before not joining one that you regularly attend!
It is also a reminder that the Saturday – 18th April - after Easter, the Guild AGM is due to be held at Woolpit and Drinkstone. Personally I am delighted after years of holding it in urban centres that it is going somewhere that will show off the beautiful countryside we have here, God willing in lovely spring weather. It will be more challenging to get there, especially by public transport, but carsharing may be an option for some and of course these picturesque villages are only just off the A14 and in a central location between Bury St Edmunds and Stowmarket. Get planning your way in now!
I hope that Alan Mayle gets a mention in dispatches during proceedings in forty-eight days time as he deserves it for reaching his two thousandth peal, rung today, appropriately at Clare. After twenty years as the SGR's Peal Secretary he has certainly served the organisation impressively and through his peal-ringing here has benefitted many Suffolk ringers over the years, myself included. Congratulations to Alan on reaching this landmark and on his 750th as conductor!
Our own meagre efforts today were made possible by the generosity of mother-in-law Kate and Grandad Ron for looking after the boys whilst we went of ringing – thank you guys! We now have a huge rocket made from cardboard taking up much space in our living room in exchange. Such is the dedication needed for twelve-bell ringing.
Please post any comments on the
facebook page.
Top
Saturday 29th February 2020
Previous 29th Februarys offer a snapshot of life's evolution. In 2000 I partook in a peal of Bristol Surprise Maximus on the back twelve of the Bullring in Birmingham, one of eighteen peals in the method that I rang within a three-and-a-half year period. In 2008 I was doing temp jobs and going to job interviews. In 2012 we were in a position to go out for a drink to watch football after ringing at Pettistree. And in 2016 a late shift at work meant I didn't make it to St Mary-le-Tower's weekly practice but I did take a pleasant call in my role as Guild Public Relations Officer.
2020's 29/2 won't go down as a particularly memorable one, but it again gave a pleasant snapshot of our current circumstances. I was invited into a peal being attempted today, but with much ringing being done at the moment by us both, time spent with the children was willingly taken and so instead we spent the afternoon shepherding three boys as we visited my parents to deliver some flowers for her recent birthday and then popped in to see my father's sister and one-time ringer Aunty Marian.
Of course it is the rarest of dates and unsurprisingly there were plenty of quarters and peals rung as people took the four-yearly opportunity to 'grab' a date for their records, as well ringing appropriately named methods, with five peals of Leap Day Delight Major alone rung today.
Our day didn't involve any ringing on this occasion, but for others in Suffolk this leap day did. Well done to all who rang their first quarter-peals of Carisbrooke Delight Minor, Wath Delight Minor and Leap Year Surprise Minor at Kettleburgh, Parham and Tunstall respectively and to David and Lesley Steed and conductor Stephen Dawson on ringing their most methods in the 1440 of forty-two Doubles methods spliced at Campsea Ashe. Also, congratulations to Stephen on making Parham his two hundredth different tower to ring a quarter at.
Meanwhile a 1328 of Double Norwich Court Bob Major was rung at the ground-floor eight of Offton, with congratulations to Alex Tatlow!
Hopefully it makes for a memorable 29th February for him to look back on.
Please post any comments on the
facebook page.
Top
Friday 28th February 2020
Friday nights have always been my favourite night of a typical week. The end of a school or working week, it was once an opportunity to go out with friends for a few drinks. That isn't possible currently and I dare say I would enjoy doing that again if and when circumstances allowed, but I have to admit that I love my Friday evenings as they are at the moment. The entire family – including Mason – is gathered for the weekend and two days of freedom from the time constraints that comes with most jobs ahead of us God willing. A couple of leisurely drinks and a spot of escapism TV such as Doc Martin (we've really got into that in recent times). Not exciting, but involving much contentment.
It has to be said that it is laced heavily with routine, but that was changed slightly today as Alfie went to Colchester Zoo on a school trip. Not that this itself impacted upon our Friday evening, as it was all due to take place during school hours. Rather that the coach that took them there wouldn't start when they came to leave and eventually they got back at 5.30. It's good job I hadn't got to get to a peal this evening!
Still, he had a fun day and we were lucky to have mother-in-law Kate available to help out, especially as she and Ron have only just returned from a trip to Poland and hearing about their exploits over a cuppa was a bonus of our change of plans.
Mercifully other ringers in Suffolk didn't have their plans disrupted by such issues as there were three peals and a quarter-peal rung within our borders today. Well done to Kate Gill, Sal Jenkinson, Chrissie Pickup, Sarah Plummer and conductor Philip Gorrod on ringing their first QP of Norfolk Surprise Minor at Blythburgh and to Stephen Pettman, Christine Knight, Joan Garrett, Brian Whiting, Jed Flatters, Julian Colman and Rowan Wilson on ringing their first peal of Kenninghall Surprise Major in the 5120 at Horringer and to SDP on (finally!) completing the Surprise Major alphabet as conductor, which means that for every letter of the alphabet there is a Surprise Major method that begins with that letter which the twice Past Guild Ringing Master has called a peal of, from Armistice to Zelah.
It was a busy day of peal-ringing in the county in fact, ironically perhaps just five days after the end of Suffolk Guild Peal Week 2020, with a further brace of peals rung on the county's bells – one of seven Surprise Minor methods at Metfield and one of seven Treble Dodging methods at Rumburgh.
I hope they all enjoyed their Friday night afterwards too!
Please post any comments on the
facebook page.
Top
Thursday 27th February 2020
Barring us all being quarantined with coronavirus (and it is worth noting that even with the trio of additional cases announced today, there is still just enough sufferers in the UK to ring all sixteen bells at the Bullring if they wanted to and could) or any other currently unforeseen circumstances, there should be much opportunity to get out and about ringing in Suffolk over March, once the four-yearly leap day has been negotiated on Saturday.
Starting with the Beccles Ten-Bell Practice on the evening of Wednesday 4th, the plan is that the South-East District will hold their monthly Practice between 2-4pm on Saturday 7th at St Margaret in Ipswich (with tea and biscuits too!), there will be an Eight-Bell Practice at Bungay from 7.30-9pm on Monday 9th, Second Tuesday Ringing will be at Long Melford and Cavendish the following day, Saturday 14th will see the North-West District hold a Practice at Hopton in the morning and the North-East District hold their Quarterly Meeting with a bring and share tea at Yoxford in the afternoon and the Helmingham Monthly Practice will run from 7.30-9pm on Friday 20th, before the South-West District Practice is held at Bures on Saturday 28th to round the Guild's ringing programme off for the month.
Providing nothing dramatic happens in the meantime, we shan't be able to join the ringing at Bures as we are due to be partaking in the National Twelve-Bell Striking Contest for Ipswich at Walsall on that day. It is a long way to travel and admittedly the West Midlands won't be everybody's idea of a destination for a day out or weekend away, but if anyone would like to cheer us on (don't worry, you won't be made to ring if we meet short as we can only use those already named in our squad!) then it would be much appreciated. It is an easy place to get to by road and rail and the church is sat on top of a hill overlooking the town so is easy to spot and reach! Beer and other refreshments will be laid on in the church by the locals, who we have already discovered to be extremely hospitable, so you would be made most welcome. And regardless of what we do, you are pretty much assured of hearing some superb twelve-bell ringing, especially with teams like Birmingham, Cambridge and St Paul's Cathedral taking part.
For all that there is much due to be going on next month, Thursdays are usually quiet from a personal ringing perspective and now appears to likely be the case for the foreseeable future as this evening Ruthie joined another choir! In addition to singing with St Mary-the-Virgin choir in Woodbridge on the evening of the penultimate working day of the week, she will follow that up by joining the Illuminati choir which she had an audition with tonight before they welcomed her in with open arms! Anyone who has heard my wife sing will know what a wonderful voice she has and she enjoys it immensely, so I am very pleased she has been able to expand upon her participation.
However, it is a good job there is plenty more ringing planned for March!
Please post any comments on the
facebook page.
Top
Wednesday 26th February 2020
Happy Birthday to my mother Sally.
Quite apart from being a wonderful mother and now nana, she was the one responsible for teaching my brother Chris and me to ring and is well known in the Peterborough Diocesan Guild for her teaching exploits on the 14cwt eight of Thrapston, the town where she was born and bred and where incidentally she also gave her two sons their first handling lessons on visits to our maternal grandparents at the ages of seven and nine.
However, she is well known beyond her homeland too, such as on Rambling Ringers since we as a family went on our first Tour in 1994 and for whom she was Secretary for a few years. Here in Suffolk she and my father Alan are a regular, familiar and welcome sight at pretty much every Guild and South-East District event, the latter of which she was also Secretary for and they have been great supporters of ringing at St Mary-le-Tower, Offton, Debenham, Sproughton and Grundisburgh. The art could do with more like them.
It has been a rough year or two health wise for my parents, but that situation appears to be improving slightly and so hopefully they both had a lovely day, especially Mater.
Sadly we didn't get a chance to see her today and although I tried to call the birthday girl I didn't speak to her, so I was all the more delighted to be able – and grateful to my fellow participants - to dedicate the pre-practice quarter-peal I rang in at Pettistree this evening to the anniversary of her birth.
The benefit of ringing methods like Cambridge and Ipswich Surprise Minor spliced (and one of the reasons that John Warboys' popular compositions of many-spliced Surprise Minor methods sees blocks of methods with the same above work put together) is that you have at least half a lead to work out what you need to do next before it changes from what you are already doing. For example in this, regardless of whether you are ringing Cambridge or Ipswich, at a change of method you just carry on ringing the method you were ringing until the treble lays at the back.
That doesn't mean it is easy though and Chris McArthur seemed anxious beforehand as he contemplated going out of his comfort zone ringing something he was quite unfamiliar with. Yet after a shaky start this 1440 evolved into a very decent quarter at quite a slow pace. Whilst that slower pace made putting the fifth in the right place that much harder (and hence why I usually tend to race off on it like a dog after a cat!), I think it helped Chris to settle into the ringing and was therefore well worth the extra pulling!
Not bad from a personal perspective either as I only knew I was ringing twenty minutes beforehand as an exhausting day looking after Joshua meant that Ruthie handed over the Munnings ringing representation to me at the last moment. I was glad though, as I immensely enjoyed the QP and the session that followed and which included an eclectic repertoire from Grandsire Doubles and Plain Bob Minor for Hollesley ringers Sam Shannon and Margaret respectively and Cambridge Surprise and Munden Surprise Minor for fellow Hollesleyites Jenny Lloyd and Jane Harper, to Wells Surprise Minor for Elaine Townsend, whilst there was also some Stedman Doubles and spliced Doubles and Minor.
It was topped off with refreshment in The Greyhound, although – bar a cameo from Ray Lewis who hadn't made it to practice – Sam and myself were the only ones who made it to what I personally find an essential part of a good evening out of ringing.
Meanwhile, there was other quarter-pealing success within our borders, with a 1280 of Ashtead, Lindum, Uxbridge and Yorkshire Surprise Major spliced at Grundisburgh and a 1260 of Plain Bob Minor on the back six at Bardwell, the latter of which was Joanne Crouch's first in the method inside. Well done Joanne.
And Happy Birthday Mum!
Please post any comments on the
facebook page.
Top
Tuesday 25th February 2020
During our hour-and-a-half practice at Walsall on Sunday, our ringing was recorded. This evening, with no ringing, Ruthie and I had a listen to the five half-courses of Cambridge Surprise Maximus that we rang upon the 25cwt twelve on that blustery Sabbath afternoon in the West Midlands. As I understand it, we have the option to have up to three of those pieces marked by Hawkear, but for now there is none of the analysis accompanying it that has been of such use and interest with recent sessions at St Mary-le-Tower and The Norman Tower.
Still, it was useful to listen to, as with the extensive sound piping at the tower we are due to compete at on 28th March, we suspected the sound would differ on the recordings made from microphones amongst the bells to that we experienced just over forty-eight hours ago in the ringing chamber and so it proved. In one piece a bell appears to be clipping quite consistently throughout a lead or two and yet I don't recall experiencing that at the time. My ringing seems much slower than I recall. We could tie ourselves up in knots trying to adjust the sound that Hawkear and the judges will hear, but there are elements that we could adjust accordingly, further adding to the usefulness of our 300 mile round trip at the weekend.
Meanwhile, it was a quiet day on BellBoard for Suffolk ringing generally, bar what must have been an emotional family touch for the Gale's for the funeral of Elisabet Lynn at Polstead.
Elsewhere in the county, hopefully the usual Tuesday evening practices went ahead and were useful and productive for all concerned, recorded or not.
Please post any comments on the
facebook page.
Top
Monday 24th February 2020
Until a few years ago, we and anyone else at St Mary-le-Tower on church business had use of the car park outside the old social services opposite this famous landmark of Ipswich. Despite the spaces being too small for modern cars, it was a useful place for ringers to park in the midst of a town centre full of time-restricted and/or paid parking, especially on Sunday mornings and Monday nights when let's be honest it is impractical, if not impossible for most to travel in and out on public transport.
However, it was used by chancers popping into town for shopping and the like and sensibly it was decided that something needed doing. Quite rightly that took the form of permits and saw us using the adjacent car park behind the Citizens Advice Bureau and – for service ringing on the Sabbath morn – in the car park for the Ipswich & Suffolk Club across the road. Sadly though, it also saw us having to pay for the permits, albeit only £5 for a year and instead of just making the spaces a little bigger in the 'social services' car park, they reduced the number of spaces to just a handful, some reserved for people holding certain roles in the church, in the process wasting a huge amount of space. Done for the right reasons, but personally I believe in the wrong way.
However, in the main it hasn't been as much of an issue as I thought it might. There's usually space available and we can be assured that spaces aren't going to be nicked by people with nothing to do with the church. On occasion though, something else might be held at the church on a Monday night and that was the case tonight. Frustrating, but fair enough. Just because we practice on a Monday night and have done for decades, it doesn't mean that it is ours alone on that night and nor should it be. Indeed, there won't be a practice on 26th April due to a planned concert in the church. It was annoying this evening though not to have any advance warning that our usual parking was going to be filled up by other permit holders for something else on the church's grounds. Personally I would have perhaps taken a different route in or passed some parental duties to Ruthie to get out earlier.
Instead, I spent half-an-hour driving around the town looking for parking. That also meant I missed out on half-an-hour's ringing and the practice missed out on my 'help', for better or worse. Similarly with my parents. And I saw at least one ringer also driving around in search of a space who didn't appear in the ringing chamber and so presumably gave up and went home.
Whether it was connected or not, the ringing suffered a little tonight, with fewer ringers than usual present and some of us exhausted after our extensive searching for somewhere to legally rest our car! Nonetheless, we still managed a repertoire that included Stedman Caters and London (No.3) Surprise Royal before the bells were lowered (the back ten in peal) ahead of an inspection from Taylor's tomorrow.
It was all happily topped off by a drink in The Cricketers afterwards as our trip to Walsall yesterday was recounted with a degree of understandable satisfaction.
Meanwhile, a peal of seven Minor methods was rung at Polstead in memory of Nigel Gale's mother-in-law and Associate Member of the Suffolk Guild Elisabet Lynn ahead of her funeral tomorrow, whilst Alastair McArthur rang his first quarter-peal of Grandsire in the 1260 of the Doubles version at Woolpit. Well done Alastair! I hope you didn't have any problems parking beforehand.
Please post any comments on the
facebook page.
Top
Sunday 23rd February 2020
After years of being a near pipedream, there are a number of events that are making Ipswich's entry into the National Twelve-Bell Contest feel increasingly real. One was putting in our application in the first place. The next was the draw being made including our name. Today has made it feel more real than ever though, as fourteen of us travelled from East Anglia to deep within the industrial West Midlands to practice upon the bells of St Matthew in Walsall, where we are due to compete on Saturday 28th March against Cambridge, Hursley, Southwark, St Paul's Cathedral and the competition's favourites and winner of the Taylor Trophy more than anyone else by miles, Birmingham.
It was this visit that gave us the first opportunity to get a feel for our surroundings on the day, from the exposed windswept position on top of a hill overlooking the town to what I imagine might be the pub where us and our fellow participants, hangers-on and 'spectators' might gather for the social element of proceedings. Most importantly though, it gave us a feel for the bells, both individually and as a band, to get a feeling of the right kind of speed to ring this 25cwt twelve and of the nature of any oddstruckness.
Very successful it was as an exercise too. We rang five half courses of the test piece Cambridge Surprise Maximus and from the off handled this easy-going twelve extremely well, almost as if we rang there every week. On the day I imagine the standard of ringing will be extremely high, especially from the Brummies who will be more familiar with these bells than most partaking, but with our ambitions set modestly at putting on a good show, we would have been happy with any of these pieces on the day, barring the odd method mistake that naturally occurred across the hour-and-a-half session.
Quite apart the ringing itself though, it was a jolly nice day out. With my Mum and Dad very kindly looking after the boys from after morning ringing at St Mary-le-Tower (where the fare was decent, despite Diana Pipe wanting to ring the third from the second's spot where I was about to ring in an amusing incident!) right through to our arrival back at my parents' abode at 7.30pm, we were responsible for ferrying Laura Davies and Colin Salter from Suffolk's county town to the north West Midlands and back. And that we did with much laughter, chatter about ringing (but also much else too) and stop-offs at Corley service station for lunch and The Black Country Arms a few hundred yards down a steep hill from the church for liquid refreshment either side of the practice, which is a marvellous hostelry that I expect a number of ringers may find themselves in at some point in just over a month's time! The local ringers are also to be congratulated on their superb hospitality – which bodes well for the eliminator itself – as they welcomed us with tea, coffee and biscuits and joined us for a drink in the pub afterwards. As the first of the teams to practice here for the competition, there is a lot of hospitality to be given out!
On the way there our journey was shortened somewhat by the wonderful new stretch of the A14 after Cambridge which meant that we didn't need to turn off from the Whitehouse junction until we came off at junction seven of the M6. That said, the trip back was longer with work still ongoing on the rest of the new road meaning it was shut coming home and meant a convoluted diversion along country lanes with hundreds of other cars – well done Laura on guiding us through it!
Meanwhile back in the homeland, Suffolk Guild Peal Week 2020 came to a close with a 5040 of Yorkshire Surprise Royal at Grundisburgh which was a first of Royal for Abby Antrobus – well done Abby!
Well done also to SGR Ringing Master Tom Scase too on a successful week which saw nine peals scored at eight venues by thirty-seven different ringers achieving twenty-three firsts, a hundredth peal and a most methods rung. It seems to have succeeded in its main aim of getting members trying something new in the medium and hopefully in progressing their ringing and that of the Guild generally.
Not to be outdone though, quarter-pealing was also doing its bit within our borders. Although rung at Norwich Diocesan Association tower Lowestoft by an NDA band, credit is still due to them all on ringing their first blows of St Barnabas Triples, but in the SGR's territory well done to Carl Munford on ringing his first on eight and Ben Keating on ringing his first in the method in the 1288 of Little Bob Major on the front eight at the Norman Tower, whilst a 1260 of St Clement's College and Plain Bob Minor was rung at Kersey.
Ringing's rich tapestry all on display in one day, both here and in Walsall.
Please post any comments on the
facebook page.
Top
Saturday 22nd February 2020
It was a day that started with sadness but ended with laughter.
The death of BBC Radio Suffolk's Simon Warr this morning has very little to do with ringing, bar tenuously as a familiar voice on the radio as we have travelled the county ringing on Saturday afternoons over recent years and an employee of an organisation that has given the art much invaluable support and publicity locally, but it was a subdued way to start the day as I listened to the station as I usually do.
We finished it rolling in the aisles though, as we used a pair of tickets that mother-in-law Kate very kindly got us at Christmas and went to see Ardal O'Hanlon at The Corn Exchange in Ipswich, performing on his The Showing Off Must Go On tour. He is best known to many as Dougal in Father Ted, the hilarious sitcom of the late 1990s, but he is also an incredibly funny comedian and we thoroughly enjoyed an evening preceded with a drink in the Swan & Hedgehog opposite the venue and followed by a return home to relieve Ruthie's sister Clare who had very kindly looked after the boys whilst we were out.
In between the start and end of our day, we spent a pretty mundane though pleasant and productive day pottering around the house doing some much needed jobs and giving the car a spring-clean ahead of it being pencilled in as a taxi service tomorrow. We even found some time to play in the garden with Alfie and Joshua before the weekly wind drove us indoors.
However, elsewhere ringers within our borders were more active in the exercise as Suffolk Guild Peal Week 2020 picked up again after a couple of barren days. Well done to Robert Scase on ringing his most methods to a peal in the 5040 of seven Minor methods at Monewden today. And Happy sixtieth Birthday Tuesday Robert!
It is a happy note to end a day of sadness and laughter.
Please post any comments on the
facebook page.
Top
Friday 21st February 2020
When I used to do regular early shifts for the international campaigns at work, quite apart from fulfilling their main purpose of me being able to contact schools on the far side of the world whose working day is drawing to a close as many of us here in the UK are only just stirring, they had the added benefit of having time in the afternoon to do other things, including ringing.
I have stopped doing those shifts now, mainly because my body couldn't cope with the constant one-week-early-one-week-late shift pattern for months on end, but also because it is not really necessary these days with much of my work now done by email anyway. However, it does limit opportunities for ringing, which would've come in particularly handy with Suffolk Guild Peal Week 2020!
This morning though, I did go in for a slightly early shift at John Catt Educational. Nothing drastic mind. No pre-dawn start as I have done previously, but early enough to reach some of those schools a few hours ahead of us. And early enough on this occasion to take in a bit of parenting.
During this half-term, Alfie has been going to holiday club on the days when both Ruthie has been at work and this afternoon it climaxed with a performance with his chums. This mainly consisted of some pretty nifty robot dancing that myself and his Granny Kate enjoyed immensely.
There wasn't any time for peal-ringing though and indeed that may have been the case on a wider basis across the county on another blank day for SGRPW20, although elsewhere others found the time for a handbell quarter-peal in Ipswich as Amanda Richmond continues her recovery. Well done to Colin Salter on ringing his first of Oxford Treble Bob Major in the 1312.
No such opportunities for me though. There wasn't enough time left after work and parenting.
Please post any comments on the
facebook page.
Top
Thursday 20th February 2020
Thus far on Suffolk Guild Peal Week 2020 seven peals have been rung in a pretty decent start, but it had its first blank since Saturday, although a quarter-peal of six Surprise Minor methods spliced rung at Tostock is worthy of mention.
However, more was happening beyond our borders on the peal-ringing front, most particularly in London where the same band rang a brace of peals of twenty-three Surprise Major methods spliced – one at St James Garlickhythe of Chandler's composition and one at Spitalfields of Smith's composition. Primarily they appear to centre around the former being Alan Regin's fiftieth of the composition and the latter his one hundredth of that composition, but even taking into account the familiarity that those partaking must have with the compositions and the methods, it is still a staggering achievement to ring both in a day, featuring forty-one different methods across the 10304 changes and precisely six hours of ringing over the two peals. Nice to see Past St Mary-le-Tower Ringing Master Simon Rudd ringing and indeed conducting Norman Smith's composition, in amongst a band that also featured the likes of David Brown, Central Council President Simon Linford (a reminder to catch his blog on the CCCBR website to see how such a thing should really be written!) and Paul Mounsey, who of course was one of the judges at Saturday's George W Pipe Striking Competition in Ipswich. Impressive stuff.
No such exertions for us unfortunately (a peal of twenty-three spliced Surprise Major methods remains one of my ringing ambitions) as instead Ruthie went to choir practice, whilst I looked after the boys as I eagerly awaited news of the next SGRPW20 peal!
Please post any comments on the
facebook page.
Top
Wednesday 19th February 2020
Ringing at The Wolery does draw some disparaging remarks from time to time, albeit often in jest, but I've always maintained that when the ringing goes well there, it is probably the very best ringing that I partake in currently. Brisk, flowing and hypnotic, you can easily drift away floating on a cloud of effortless striking, although that can be dangerous of course!
We may have all struggled to remember the name of it beforehand, but Elmore Surprise Major – the method for this evening's 5056 – was a musical construction and rung to a musical composition it certainly induced some of the dreamy ringing described above, although as also alluded to, a near handling malfunction close to the end of our 2hrs3mins of ringing caused everyone to wake up from their trance and led to a slightly unsettled finish! It wasn't enough to spoil what was an extremely enjoyable performance to ring in, all topped off by cake, tea and news of Colin Salter's plans now he has a job!
And our success meant that I have contributed to Suffolk Guild Peal Week 2020, even if it is only a little bit. With my decision to mainly work regular daytime hours at John Catt for our latest international campaign, busy weekends either end of the 'week' and the usual logistical challenges when trying to arrange peals around parenthood, this was going to be my one and only shot at helping out on SGPW20, so I am delighted to have scored this!
Two members of tonight's band – Mary Dunbavin and SGR Ringing Master Tom Scase – were earlier in another success for this event that I am so glad I reintroduced in 2007 and has since given opportunities to many ringers, much to my pleasure. That includes Louis Suggett who called today's 5120 of Superlative Surprise Major at Ixworth and Barry Dixon, for whom this was his first in the method. Interestingly, the 5186 of Cambridge Surprise Major rung at Dalham during SGRPW07 an incredible thirteen years ago also featured Mary Dunbavin, as well as Barry ringing his first in the method and a young(er) Louis ringing his first of Surprise Major altogether. Fair to say he's done a fair bit since! Well done to Barry on his most recent achievement!
Sadly someone who isn't going to be partaking in peal-ringing or indeed any ringing anytime soon is Ipswich Deanery representative and immediate Past South-East District Ringing Master Jonathan Williamson whose pursuit of a shoplifter at his business Wines of Interest on Monday saw him rupture an Achillies tendon. Impressively he made it out to St Mary-le-Tower practice on Monday night, but after his diagnosis yesterday and subsequent plastering of his foot, it looks like we will be missing his ringing skills for the time being and following injuries to Amanda Richmond and Nigel Newton in recent months has prompted conspiracy theories that one of our rivals at Walsall on 28th March is trying to nobble Ipswich's entry into the National Twelve-Bell Striking Contest!
God willing there doesn't appear to be such bad luck at Pettistree, where the practice was preceded by a quarter-peal, maintaining a 100% record on Wednesdays before the sessions thus far this year.
Whilst her mother Kate rang in that, there was no opportunity for Ruthie to do any ringing as instead she found herself looking after four children as the boys' cousins came round for the day during this half-term. I think she quite enjoyed it, but I can imagine there may have been moments where she imagined herself floating on a cloud of effortless striking...
Please post any comments on the
facebook page.
Top
Tuesday 18th February 2020
Suffolk Guild Peal Week 2020 had its best day thus far, with a brace of peals rung for it today. Both were of Surprise Major, with a 5088 of Cornwall rung at Bardwell and 5280 of Lincolnshire rung at Henley. Well done to Nikki Thomas, Ruth Suggett and Mark Ogden on ringing their first of the method in the former and to David Everett on ringing his first of the method in the latter.
They weren't the only performances in the county recorded on BellBoard today. Indeed, they weren't the only peals as a 5152 of twenty-three Surprise Major methods spliced was rung at Ixworth for the Ely Diocesan Association.
Meanwhile, there were also three quarter-peals rung within our borders, as a 1312 of Glasgow Surprise Major was rung at Gislingham, a 1250 of Ealing Surprise Major was rung at Hopton and before the weekly practice at Offton, a 1296 of Oxford Treble Bob and Cambridge Surprise Minor was successfully rung on the back six.
No such activity for us though, with the extent of the excitement for us being Ruthie's sudden urge to make a banana cake!
Thank goodness the SGPW20 is more active!
Please post any comments on the
facebook page.
Top
Monday 17th February 2020
I have commented before that the National Twelve-Bell Contest is the closest that ringing comes to professional sport. Expansive PR, its own website, Facebook, Twitter and even YouTube channel and its live broadcast at the final, a set of guidelines for hosting an eliminator or final, the extensive history and stats that are almost akin to Sky Sports, all following some incredible ringing excellence.
However, this evening there was a pleasant reminder that it is still a friendly ringing competition though, as at St Mary-le-Tower's weekly session we were joined by Jonathan Spencer, part of Southwark's squad in the contest and therefore due to be in direct competition with us at Walsall on 28th March.
Of course he was made more than welcome in the ringing chamber – even helping us practice the test piece of Cambridge Surprise Maximus – and then afterwards in The Cricketers.
Quite apart from this demonstration of the close ringing family in action, it was nice to get out tonight after a day cooped up in the house with a poorly Joshua as I had to take a day off work to look after him. It was quite nice to spend some unexpected extra time with him, even making it to the garage at one point for something minor on the car to be fixed, which enthralled the three-year-old, but it was lovely to make it out later!
Meanwhile, Suffolk Guild Peal Week 2020 notched up another success, this time with Hilary Stearn ringing her first peal on eight in the 5152 of Plain Bob Major at Grundisburgh – well done Hilary! Another reminder of what a friendly family ringing is!

Please post any comments on the
facebook page.
Top
Sunday 16th February 2020
Yesterday's George W Pipe Striking Competition done and dusted and now reflected upon with much satisfaction, focus returns to Ipswich's planned participation in the National Twelve-Bell Striking Contest at Walsall on Saturday 28th March.
Therefore, twenty-four hours after the GWP ended for this year, Ruthie and I were back at St Mary-le-Tower for our latest practice for next month's event, switching from the Kent Treble Bob Maximus that was the test piece for the East Anglian competition to Cambridge Surprise Maximus, which is the test piece for forty days time (according to the competition's website's countdown clock) in the West Midlands. For the first time for such a session on our own bells, we were able to refer to Hawkear for three of the four half-courses we rang this afternoon (it only failed to record our final piece!) and we tried to use it to maximum effect. There can be a tendency to take on too much information from the abundance of data the system gives and of course the intricacies of our own 35cwt twelve bares little resemblance to the completely different intricacies we are due to face with the 25cwt twelve we are planning to compete upon, but Hawkear is growing on me more and more, offering useful guidance and even motivation, as we push ourselves to better each performance by the results that the computer gives us. And there is much confidence gained when there is definitive evidence that we are improving, as was the case on this occasion.
It all seems to be getting very real now and any practice we can get of the test piece is invaluable, but arguably the most important practice will be the one we are pencilled in to have at Walsall itself next week and this afternoon arrangements for car-sharing and even ringing at an additional tower were being made for our trip out there. God willing we have a more productive trip than our friends from Norwich did this afternoon, as they made the 300miles+ roundtrip to Aston – where they are due to compete on 28th March – to the twelve there in an area already heaving with over 40,000 Villa fans watching their team lose to Spurs at the football stadium just a few yards away, only to have the tenor rope break on them! Earlier the Guildford band had also been there to practice and apparently questioned how long the offending rope was going to last, but it seems odd that a tower selected for ringing's most prestigious contest should suffer a malfunction such as this which should be so easily avoided. There will be much nervousness that such an occurrence won't happen on competition day, but for now it must be most galling for our chums north of the Waveney that their invaluable practice has been lost and an entire afternoon and much travelling wasted.
Our travelling was less expansive today, as apart from our relatively short journey into Suffolk's county town after lunch, we merely travelled into Woodbridge, where we again rang all eight before a service that Ruthie sang for, the boys and I joined and the Revd Canon Kevan McCormack's successor as rector at St Mary-the-Virgin was announced as Nigel Prior. Nigel is currently at Mayfield in East Sussex, whose ringers - by their own admission - struggle to man their 19cwt eight for method-ringing in a situation not too dissimilar to where he is due to take charge in later this year, so hopefully he will be familiar with the needs of the ringers amongst everything else. Indeed, when I spoke with him at the 'meet-and-greet' a few weeks ago he seemed very amenable to bells and ringers. We pray for a rector-ringers relationship as successful as that of the last twenty years here!
Elsewhere in the county he will be gearing himself up to move to, it was a busy day of ringing beyond our own exploits. As is the norm, the monthly peal at Aldeburgh was a first in the method for the band and the Guild, which was a Cambridge/Yorkshire-above-the-treble construction called Dylan Surprise Major. On this occasion though, it was moved from its usual second-Sunday slot to this third Sunday of the month to kick-off Suffolk Guild Peal Week 2020. Hopefully the next few days will see firsts of all sorts, as well as the number-crunching that also maintains interest amongst peal-ringers and ultimately – directly or indirectly – helps to progress the art.
That said, quarter-peal ringing is also a very important component of pushing the exercise forward and offering ringing opportunities and today there was plenty of that too, with the 1260s of Tillington Bob Minor and Number Of The Beast Bob Minor rung at Buxhall and Great Barton respectively being the first blows in the methods for all those taking part. Well done to them all!
Meanwhile, mother-in-law Kate was ringing a QP of Plain Bob Minor on the back six at Hollesley as a farewell to the departing Reverends Ruth and the Michael Hatchett, with the former also being a ringer. Happy Birthday to Jenny Lloyd too!
Mrs Eagle then returned to her abode where we met her after our own ringing and where Grandad Ron had prepared a roast dinner for our consumption whilst also keeping an eye on the boys as I rang at SMLT – thank you Ron and Kate! It was a lovely way to end the day as we took a break from striking competitions.
Please post any comments on the
facebook page.
Top
Saturday 15th February 2020
Last week it was Storm Ciara, this weekend Storm Dennis is visiting the UK. Cue much disruption, with the Orwell Bridge closed again, public transport timetables out of the window and various events cancelled or postponed.
Other things did go ahead though, including Ipswich Town's match against Burton Albion, which they won 4-1, an incredible result by recent standards. And about a mile across the town centre at St Mary-le-Tower, the third annual George W Pipe Twelve-Bell Competition was already underway, as a record turnout of six teams partook for the increasingly sought-after shield. When Ian Culham – who devised the contest and has magnificently organised it since – first set this up in 2018, its main purpose was to encourage teams and ringers who didn't feel able to commit to the National Twelve-Bell Contest and so he sensibly initially restricted entry to teams from Essex and Suffolk who may have been put off by entries from Cambridge and Norwich who are well-established entrants to the contest for the Taylor Trophy nationally. Such has been its success though, that the ringers of St Peter Mancroft were keen to get involved and with the likes of Chelmsford, The Norman Tower, Saffron Walden and Waltham Abbey now confidently producing superb ringing over the last two contests, the time seemed right to introduce our friends in Great Yarmouth and Norwich in Norfolk, with the latter accepting.
Thus we gathered for the draw in the church at 10am and half an hour later our team photo had been taken and we were in this famous ringing chamber ready to ring. Having taken the plunge by putting an entry into the national competition, we felt that we shouldn't be asking all the squad planning to ring in that (and thus due to be making two trips to Walsall in the next few weeks amongst other practices) to also commit to this, although some of us are ringing in both. Besides, it was also a good opportunity to give some of the lesser experienced twelve-bell ringers such as Sue Williamson and Abby Antrobus and it felt in the spirit of the contest.
However, there were a few worried looks as we struggled through the practice piece. Being on our own bells, we were keen to put on a good show, but a lot of nerves were on display. Often, doing well in striking competitions is getting nerves under control as much as the actual striking itself.
We needn't have worried. The metaphorical butterflies were got under control, a pep talk given by conductor David Potts and the test piece of 288 changes of Kent Treble Bob Maximus – six leads with a bob at each lead-end apart from at half-way and the end where a single is made by five and six in 5-6 – was completed in a very decent fashion, with Sue and Abby coming out of it with much credit.
From there, we turned from participants to hosts. Ruthie and I were at the ready to help if needed to serve tea, coffee and cake in the church and we aided in money collection and moving furniture, but frankly our meagre efforts were dwarfed by those of others, especially Tessa Earey and Claire Potts on the aforementioned tea and cake table, the still-injured Amanda Richmond and band-member Abby on the sausage and bacon butty counter in Church House, Tessa's husband Ralph on providing the invaluable signage, Peter Davies on taking team photos, whilst Stephen Cheek, David Potts and Jonathan Williamson did much directing of proceedings in the lead-up to, during and after.
As for the ringing itself, I was impressed by what I heard and the general opinion seemed to be that all the bands acquitted themselves splendidly. Ultimately it was The Norman Tower – the band can be found on BellBoard - who won in a close result, the first team to win the shield twice, but everyone can be pleased with the standard produced.
Pretty much everything about the day was a success, with a huge attendance enjoying each other's company, the refreshments from beer to butties were just plentiful enough as the numbers were estimated perfectly and there were lots of smiles on a day that we were very grateful to the church for the use of the facilities.
Well done Ian on his continued organising of what has become a real highlight of the ringing calendar in these parts. To get judges of the quality of Alban Forster (who along with his father Chris also judged the Mitson Shield and Lester Brett Call-Change Trophy competitions at Hasketon in 2010) and Past College Youths Ringing Master (1981) Paul Mounsey was a masterstroke and due to work commitments he already has a couple of superb judges lined up for next year, which is due to be held at Waltham Abbey. However, generally the feedback from everyone I spoke with was that this has been a marvellous innovation.
The only downside to the occasion was that George W Pipe himself couldn't be present. Indeed, he isn't very well at all, even by the standards of ill-health he has suffered over the last decade or so. He is now back in hospital, struggling to swallow and apparently unable to talk, a dreadful thing for someone who even in his frailty of recent years has held entire halls and churches captivated with his speeches. It was wonderful that his wife Diana could be there today, but it was sobering news on this day of celebration of East Anglian twelve-bell ringing which he has done more than anyone to progress. We all hope for a recovery that enables George to return home soon and maybe even out and about.
Still, I am sure that he will be pleased to hear of how well today went and that it put one over Storm Dennis!
Please post any comments on the
facebook page.
Top
Friday 14th February 2020
Valentine's Day. The fourteenth 14th February that Ruthie and I have spent together and we've never gone particularly overboard on celebrating it. No grand gestures, although occasionally we have got each other presents. Indeed, we have rarely gone out for the occasion, especially in recent years with children to look after and with lots of child-sitting credits being used up currently for peals, quarter-peals and twelve-bell practices tonight was never going to be one where we bucked that trend!
Still, we enjoyed ourselves with a three course meal at home in between getting the children to bed and my wife baking a cake for consumption at tomorrow's George W Pipe Twelve-Bell Striking Competition at St Mary-le-Tower.
Talking of which, there was a great bit of PR for local ringing on BBC Radio Suffolk over my lunchbreak as Ipswich Deanery Representative Jonathan Williamson spoke to friend-of-ringing Lesley Dolphin about the competition. It is nearly ten minutes of glorious publicity just over half-an-hour into her show and also touches upon the technicalities of ringing itself and an appeal for more ringers across Suffolk.
Meanwhile, ringing also features in a video about the project to refurbish St Peter's church in Sudbury, home of a 20cwt ten that are a big part of the plans. The ringing that appears on the video is from last Friday which George Reynolds had asked for ringers for and although brief it is nice that the efforts of those who could help out has contributed to a professional looking video.
Beyond our borders, congratulations to Guild Chairman Rowan Wilson on ringing her one hundredth peal in the 5100 Valentine's Day Surprise Major – appropriate in both length and method name -rung at Toppesfield for the SGR in Essex. Not bad at all considering she took a twenty-five year gap in the medium between 1991 and 2016!
What a lovely way to spend Valentine's Day.
Please post any comments on the
facebook page.
Top
Thursday 13th February 2020
It is a big week for the Revd Canon Kevan McCormack as his time as Rector at St Mary-the-Virgin in Woodbridge – and indeed his life as a priest – draws to a close.
On Sunday he presided over his final morning service, followed by a farewell meal. On Monday, a quarter-peal was rung on the 25cwt eight at the church where he has spent the last twenty years in charge. On Tuesday there was an article on the East Anglian Daily Times website about him. And tonight, on the occasion of his seventieth birthday – and therefore his very last day before his retirement – eight of us rang another QP for him. As with our efforts three days ago, we again rang Yorkshire Surprise Major as a nod to his county of birth, but this time we were at Ufford ringing an appropriate length of 1270 changes which required a different start to usual. This initially caught us out and we had to restart immediately, but after that a very decent performance was produced and having only replaced a tired Ruthie just beforehand, I was delighted to have been able to take part, especially for Kev the Rev's big week.
Please post any comments on the
facebook page.
Top
Wednesday 12th February 2020
Ruthie was out at Pettistree this evening, ringing Chester Surprise Minor, Wells Surprise Minor, spliced and much else after singing at a funeral at St Mary-the-Virgin in Woodbridge earlier in the day, but for me it was a quiet night in.
The practice that was attended by my wife was preceded by a 1296 of London Surprise Minor and was dedicated to the ninetieth birthday on 9th February of Don Price. Sadly family circumstances and ill-health mean that many of us haven't seen Don much for a couple of years or so, but up until then he had travelled the considerable distance from his home in Reydon to Grundisburgh twice-weekly to support the ringing there on Sunday mornings and Thursday nights and was often willing to come out to support ringing miles from home as well as in the Southwold area. It wasn't just his dedication and loyalty that we appreciated though. He brought with himself his considerable ringing skills (his peal history and lengthy membership of the College Youths over many decades is very impressive!) and occasionally his carpentry skills too. Happy Birthday for Sunday Don – we all hope to see you again soon!
That quarter-peal wasn't the only ringing success on bells in Suffolk recorded on BellBoard today, with a peal of twenty-three Treble Dodging Minor methods rung on handbells in Bacton, as others were enjoying time out ringing!
Please post any comments on the
facebook page.
Top
Tuesday 11th February 2020
Following our busy evening of ringing last night, neither of us touched a bellrope today, with the main focus post-work being Alfie's parents' evening at school, where he seems to be doing well on writing, words and – encouragingly for any potential ringing ambitions – numbers, although as one would expect at this stage of his education with room for improvement. I imagine his academic skills come from his mother, although I can't think where his "little bit of cheekiness" that sometimes threatens to go too far comes from...
Elsewhere in Suffolk, other ringers were ringing, with the pre-practice quarter-peal at Offton successful – on this occasion with a 1296 of Cambridge Surprise Minor on the back six – whilst we returned home to another ringer as we showed our gratitude to Ruthie's mater Kate with a cuppa and took our time with no ringing to get to.
Please post any comments on the
facebook page.
Top
Monday 10th February 2020
Like Coca-Cola with Lemon, tonight was familiar but with a twist.
Joshua was collected from nursery, but in darkness as they suffered a power-cut (mercifully at the end of the day!) and then we returned home where we were met by Ruthie's gran for an evening of child-sitting of the boys as their parents were unusually going out ringing together.
From here our evening was in two parts.
First up, a quarter-peal at Woodbridge to mark the Revd. Canon Kevan McCormack's retirement this week. Sadly, due to complaints over the 5040 of Grandsire Triples in June, we are unable to ring a peal for the occasion, which would have been most appropriate. Personally I believe it would've been perfectly fine to ring a peal at this time of year, with windows shut and the sound of bells drowned out by wind, rain and the indoor noises of TV and radio sets, as opposed to last summer's efforts where windows would've been open, residents in their gardens and the sound of the bells audible across the town in the stiller conditions. However, Kevan was understandably wary of causing upset to the church's neighbours before he left and we must always be considerate of those who live and work within earshot of the bells. Hopefully this won't be a permanent situation as this tower has a tremendous history of peal-ringing, but clearly if peal-ringing is to resume – as it should – then timing will be all-important, as will informing local residents well in advance and in the long-term sound control needs considering.
For now though, I am pleased we were able to ring something for 'Kev the Rev's' twenty years here and his support of the bells and to ring it so well, as we did. Although Yorkshire Surprise Major was appropriately requested in honour of where the retiring rector was born and bred, this band could have rung something much more complicated and so the high standard is to be expected, but on a heavy eight it isn't as straightforward as it might appear. The emphasis on ringing at the back bells' pace is even greater and whilst the temptation is to hold the little bells up and ring very slowly, on a personal level I find it immeasurably easier when I'm ringing a big bell if everything is moved on so that I haven't got to heave it right up over the balance each and every stroke. It really needs the whole band to go along with you and I was delighted that everyone did on this occasion, especially Ruthie on the seventh, which isn't easy!
Just under half an hour after Mike Whitby called stand on the 1250 changes and the rounds at the end, my wife and I were sat in the ringing chamber of St Mary-le-Tower listening to a course of Little Bob Maximus being rung, having already been greeted by Stephen Cheek and David Potts outside as they looked to consolidate their thoughts on where best to sit the judges at Saturday's George W Pipe Twelve-Bell Striking Competition being held here.
I really would encourage people to come along and take in the atmosphere and ringing at this contest which is really settling down into a tremendous event. There will be beer and other refreshments, good ringing and plenty of ringers with a record entry of six teams as teams from Norfolk have been invited to join their counterparts from Essex and Suffolk for the first time.
It is as preparation for ringing at this which brought Mrs Munnings out with me to a practice night that is familiar to me, but not usually with my better half accompanying. Most particularly we were there to run through the test piece of six leads of Kent Treble Bob Maximus, but of course we also partook in other ringing there, including some Grandsire Cinques and Cambridge Surprise Maximus, on a night where the attendance was boosted by the visit of Alex Tatlow.
Elsewhere in the county meanwhile, I was sorry to see they were short on numbers at Hopton for their practice night, although pleased that they used the occasion to ring a QP as a 1260 of Grandsire and Plain Bob Doubles was rung with the only six ringers who made it to this eight in the north of the Guild.
Perhaps they went for a drink afterwards, but we didn't, as we returned home to relieve my wife's grandmother of her duties of looking after her great-grandsons for which we were most grateful, as my familiar Monday night ended with an unfamiliar twist.
Please post any comments on the
facebook page.
Top
Sunday 9th February 2020
There was a real end of an era today. The Revd Canon Kevan McCormack – affectionately known as 'Kev the Rev' – isn't officially retiring until his seventieth birthday on Thursday and even has a funeral to take before that, but today was his final Sunday morning service at St Mary-the-Virgin in Woodbridge after twenty years as rector at this landmark of the town and indeed area. And it was marked in style.
Including by the bellringers, with all eight rung and rung well, although a mishearing did lead to an amusing conversation mid-ringing.
Conductor to ringer of the third; "Are you happy to ring Grandsire Triples?"

Third ringer; "Yes."

Seventh ringer; "I've never rung Grandsire Triples."

Conductor; "Go Grandsire."
Cue lots of crashing (although said seventh ringer gave it a decent go with some guidance from me on the tenor!), before order was restored and the good ringing continued!
Downstairs afterwards, we were met by a packed church for a service tinged with sadness but upbeat, with applause for the retiring priest after his final sermon and as he walked down the aisle at the end of the service. And following the usual post-service tea and biscuits two hundred people headed over to The Abbey School next door (a place that holds fond memories as it was the location of our wedding reception) where a tremendous meal was held with a free bar and a 'guess the wine' competition on the 'Red Wines of the World' table (one of many tables themed on aspects from Kevan's life, with us being on a table called 'The King's Head'!), all followed by speeches, including from the star of the show recounting an amusing anecdote of a conversation with the Queen during his time as one of her chaplains!
I have already said on here about how special Kevan has been to us in marrying us and Christening Alfie and Joshua and although he made a quip in the service about not being woken by the bells in the future, he has been a big supporter of the ringers, a photo hangs prominently on the wall of the ringing chamber of him with the band from early on in his time here and there were many ringers present, including Ringing Master Bruce Wakefield and his wife Gillian and mother-in-law Kate. He will definitely be missed by the ringers.
Having walked into Storm Ciara on the way to church, we were grateful to Ruthie's mother, to Ron and to her grandmother for collectively returning us home where we rewarded them with a warming cuppa, but elsewhere, other ringers were also braving the blustery conditions, with a quarter-peal of Erin Caters rung at The Norman Tower for Evensong at the cathedral.
Back home out of the wind meanwhile, we were warmed by a video of a four leads of Bristol Surprise Maximus rung at St Mary-le-Bow in London yesterday, rung not only for the wedding of Jemma and Ben Meyer, but featuring them side-by-side in their finery. In a wider context though, it is an excellent example of how twelve-bell ringing should be done, with all ringing at the same pace, the little bells tucked in at the back, the speed brisk but not racing away, all led by the tenors. We are getting better at St Mary-le-Tower, but I hope it is a video that all in the Ipswich band for the National Twelve-Bell Striking Contest take the time to watch to inspire us to make our entry at the Walsall eliminator on 28th March the start of an era for SMLT in the competition.
Please post any comments on the
facebook page.
Top
Saturday 8th February 2020
This morning I should've been ringing in a peal of Maximus at Chelmsford Cathedral, primarily as part of preparations for Ipswich's entry into the National Twelve-Bell Striking Contest. However, earlier this week it was understandably cancelled due to injury and dropouts, highlighting the difficulty I spoke of a few days ago of getting bands together for twelve-bell peals locally. I don't get many opportunities for peal-ringing on twelve these days and so I had been looking forward to this.
It was disappointing, but it did at least have the massive upside of allowing me to spend the morning with the family and particularly to join them at Messy Church in Melton and although numbers were down it was still a highly enjoyable alternative to peal-ringing in Essex.
Afterwards we were shifting churches to St Mary the Virgin in Woodbridge where we helped set up tables and decorations in The Abbey School ahead of a meal tomorrow to mark the Revd Canon Kevan 'Kev the Rev' McCormack's final Sunday service. It looked stunning with themed tables and dozens there helping.
For this evening though, we had another meal to attend as we went to The Greyhound in Pettistree for the annual ringers' dinner. This is truly a celebration of a successful tower, home to the current holders of The Mitson Shield, where – despite a relatively poor 2019 on this front – more quarter-peals are rung than anywhere else in Suffolk and all held together by a tremendous social side. It is appropriate that it is now standard for this occasion to be held in the hub of the regular social activity of the band.
Thirty gathered in the ancient inn – reputedly the oldest in the county – for an evening of good food, good drink, good company and good (and short!) speeches as Mark Ogden was awarded Mary's 'Monthly' Plate ,which has long been awarded annually at this event! As was said by Mrs Garner and Ringing Master Mike Whitby, Mark's return to ringing a few years ago with his considerable abilities has been a great benefit to ringing at this ground-floor six, but also to the South-East District which he is currently Chairman of, the Guild and peal-ringing here and beyond our borders. A well-deserved award.
Elsewhere within our borders meanwhile, it appears to have been a successful North-West District Practice at Great Barton with twenty-eight present and a QP of St Simon's Bob Doubles rung. Well done to Sally Veal and Serena Steggles on ringing their first in the method!
It wasn't the only success in the county either, with a peal of forty-one Surprise Minor methods spliced rung at the 21cwt six of St Mary-the-Virgin in Newmarket for the Cambridge University Guild and featuring local ringer Maximillian Drinkwater and new Ringing World editor Will Bosworth.
Back beyond our borders I was also delighted to see that the wedding of Jemma Mills and Ben Meyer went well down in the capital today. Although we hadn't seen her for a few years until she and Ben joined us for a day in Norfolk on last year's tour I've known Jemma all her life, since she was brought on her first Rambling Ringers tour as a baby by her parents Andrew – well known throughout the exercise for his tenor ringing exploits and considerable ringing skills - and Sharon and it has been a delight to see her grow up into a lovely young lady who stands out in her own right for her ringing abilities, having become a member of St Paul's Cathedral Guild. Unsurprisingly, much ringing has been done for the occasion, including a family touch of Grandsire Cinques after the ceremony (some post-nuptial ringing is on YouTube) and an impressive peal of six Maximus methods spliced this morning (including two new methods named in honour of the bride and groom), both at St Mary-le-Bow where the marriage took place.
Congratulations to Ben and Jemma and also to the peal band on getting a peal of Maximus today!
Please post any comments on the
facebook page.
Top
Friday 7th February 2020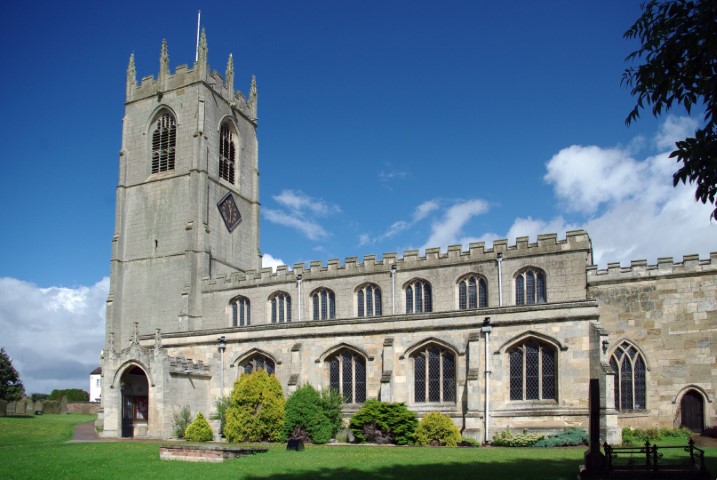 It has been interesting following the application of the ringers at Haxey in the north of Lincolnshire to augment their 18cwt six to a ten. Not because of any particular affiliation, tenuous link or memory. I don't believe I've ever been to the place, let alone rung there. Indeed, it is an area I haven't really ever explored. However, it may be a useful benchmark by which to ensure any future projects in Suffolk are successful. Or indeed not worth pushing.
The general gist is that they would like to augment to ten to allow them to have a more manageable, lighter six. I've often thought Woodbridge would benefit from something similar, whilst I imagine there is a similar thinking in augmenting Stowmarket to ten. I can therefore appreciate the benefits, although I'm slightly uncomfortable at their suggestion that the bells are unmanageable for anyone other than a man and on the face of it the application seems reasonable.
There are those who have advised against it though. Barring the apparent local politics which it has been suggested has coloured the opinion of a particularly prominent character of this episode, that includes the now sadly defunct Whitechapel Bell Foundry and those who are on this side of the debate suggest that a rehanging of the six would be better as ten bells would be too much for the tower and would involve seemingly unacceptable meddling with a carillon.
Ultimately it went to the Ecclesiastical Law Association who decided against granting a faculty and whether right or wrong it was their report on it that I spent much of my spare time digesting this evening, whilst elsewhere other ringers in the county were ringing a 1307 of St Clement's College Bob Minor at Earl Stonham and a 5094 of Yorkshire Surprise Major at Ixworth. The latter was rung in thanksgiving for the life of Ernie Bishop who recently died aged ninety-four and who learnt to ring here and seems a very fitting tribute to a man who joined the Suffolk Guild in 1949. And congratulations to Rowan Wilson on ring her fiftieth peal for the organisation she is the Chairman of.
No such interesting activity for us on this sunny Friday though, as you can probably work out from my choice of reading this evening!
Please post any comments on the
facebook page.
Top
Thursday 6th February 2020
No sooner had ringing dodged a metaphorical PR bullet over 'Bells for Brexit' and all that, then another publicity pothole has come into view as today a story appeared about the plan for the bells at Westminster Abbey to be rung for the sixtieth anniversary of Prince Andrew's birthday on 19th February. There isn't anything unusual about ringing for special Royal occasions at this Royal Peculiar and indeed the art has been viewed in a very positive light from previous peals on this 30cwt ten, but with the Duke of York having stepped back from official duties recently and rightly or wrongly being viewed in a very negative light for reasons that pretty much everyone will be aware of, this story was set to a backdrop of councils refusing to fly the Union Flag for the occasion and in a tone that suggested that the bells maybe shouldn't be ringing this time.
Of course the Queen's second son hasn't been formally accused of anything and denies everything that he has been informally accused of and it has to be noted that the ringers would only be doing as they have been instructed to do by the Abbey who in turn will have been requested to ring by the powers-that-be above them, but such is the strength of feeling amongst many – including some ringers – that this has the potential to put the exercise in a very bad light. Hopefully it won't and it'll be interesting to see what – if anything - happens next.
There was no potentially controversial ringing in Suffolk today as far as I know though and indeed nothing recorded within our borders at all.
Nor did we do any ringing personally. Instead we kept our heads down and tried to stay out of the news!
Please post any comments on the
facebook page.
Top
Wednesday 5th February 2020
When I was a resident of the Black Country, twelve-bell ringing was pretty easy to come across, even without a car. I was within a bus, train and/or tram journey of seven twelves and a sixteen within the West Midlands alone. I partook in most Monday night peals of Cinques and/or Maximus at St Philip's Cathedral for a few years and enjoyed fairly regularly trips out on Saturdays with my Midland peers to places like Bolton, Exeter, Newcastle-Under-Lyme, Peterborough, South Petherton and Leeds (although I never made it to there due to oversleeping, thus causing much asking around for the organiser to make up for my absence on the way up there!) for twelve-bell peal attempts. So it is for those in and around London and there is a large network of incredibly good ringers nationwide who meet up at twelves around the country for twelve-bell peals, most of them very complex. The likes of Louis Suggett and the Salter brothers Colin and George have successfully infiltrated that network from within our borders, but it takes an amount of time and confidence that many in Suffolk don't have and/or talent that only relative few in the country have.
Although once SGR bands travelled to ring twelve-bell peals, these days, the opportunities for twelve-bell ringing are more restricted and sporadic, with only three twelves across 1,466 square miles, a vast rural area that twelve-bell ringers – especially youngsters and those without cars – can struggle to negotiate to ring regularly on twelve. A peal of Maximus planned for Saturday at Chelmsford Cathedral has this week been cancelled, highlighting the difficulty of getting twelve peal-ringers together and in addition arranging twelve-bell peals at our twelves isn't easy. The Norman Tower is booked up for its monthly attempts some time ahead, St Mary-le-Tower's typically have to be on Saturday afternoons (which can be psychically hard and logistically difficult to get people for as it cuts right across the day) and Grundisburgh are... Well Grundisburgh are there. Although not always easy to ring on twelve, especially for inexperienced twelve-bell ringers.
The long and short of this is that the only place in Suffolk currently to regularly ring Stedman Cinques and Surprise Maximus tends to be SMLT on a Monday night. The augmentation at The Norman Tower in 2012 has helped generate more opportunities on twelve for ringers in the west of the county, but with their practice being on a Tuesday it has prevented a number of skilled and potentially skilled twelve-bell ringers at places like Debenham and Offton – who also practice on Tuesdays – from joining to help and be helped on higher numbers.
Last night's decision to move their weekly sessions to Thursdays – starting from 7th May at the start of the Bank Holiday weekend – should therefore have a beneficial effect on twelve-bell ringing in Bury St Edmunds and beyond. If this shift now enables you to go along to the 27cwt twelve when before you couldn't, then please do go along and support them.
One place where the practice is not planning on changing (as far as I know anyway!) is Pettistree and so this evening I popped along to there for a fantastic evening of ringing, from the pre-session quarter-peal of Fryerning Surprise Minor that was superbly struck and with minimal and immediately-rectified errors to the pieces afterwards ranging from Grandsire Doubles for Sam Shannon to treble to and Elaine Townsend to call to Stedman Doubles to various Surprise Minor methods such as Beverley, Cambridge, Ipswich, London and Westminster to a touch of spliced Doubles and Minor all rung really well and carried out in a jovial atmosphere in the presence of a sizeable attendance. And of course all topped off with refreshment and much catching up in The Greyhound afterwards, where we heard about the encouraging growth and progress of the Hollesley's band.
Across the evening, various topics came up and not just The Norman Tower's change of practice night. Such as Saturday night's planned ringers' dinner which as always is much anticipated, George Reynolds' request for ringers at St Peter's in Sudbury at 2pm on Friday for some filming about the £2.5m regeneration project there (which includes a new ringing gallery) and Hollesley and Ufford ringer Jenny Lloyd's attempts to learn Cambridge Surprise Minor when she was actually learning the much harder Cabmirdge Surprise Minor! It was an amusing night out.
Meanwhile our 1272 wasn't the only success within our borders recorded on BellBoard today, as two QPs of Surprise Major spliced were rung, with four methods at Ixworth and eight methods at Elveden.
On the basis of today, I'd say the opportunities for six and eight-bell ringing in Suffolk are plentiful!
Please post any comments on the
facebook page.
Top
Tuesday 4th February 2020
Following our St Mary-le-Tower practice at The Norman Tower on Sunday in preparation of next month's planned entry into the National Twelve-Bell Striking Contest eliminator at Walsall, the analysis from HawkEar of our ringing was emailed through. We did take much time looking at it in between pieces at the time, but all twelve of us were sharing a screen on the ancient walls and we did want to do some ringing too! Therefore tonight was our first opportunity to look really in depth at the results.
The point of these are certainly not to show up people's mistakes, but rather to help pinpoint areas where improvement could be made that might not have been so obvious in the actual ringing and although the intricacies of the second heaviest twelve in Suffolk will be different to those of the similarly weighted twelve of St Matthew in the West Midlands, it should highlight ringing habits to work on and points in the half-course of Cambridge Surprise Maximus that is the test piece where issues occur, such as the places or leading.
Ruthie and I weren't putting our discoveries to the test today though as there was no ringing for us, but others were, some beyond our borders, such as Louis Suggett who – along with Past SMLT Ringing Master Simon Rudd – was ringing in a peal of Bristol Surprise Major at Much Hadham in Hertfordshire. Meanwhile back here, the pre-practice quarter-peal at Offton was of Cambridge and Yorkshire Surprise Major spliced.
I'm sure if they had analysis reports afterwards they would've made very good reading!
Please post any comments on the
facebook page.
Top
Monday 3rd February 2020
There was a mixed bag at St Mary-le-Tower practice this evening. With quite a few absent due to injury, holidays and work, we were stretched, with Yorkshire Surprise Maximus a step too far on this occasion and yet we also rang some decent Cambridge and Yorkshire Surprise Royal spliced and a faultless touch of eight spliced Surprise Major methods on the front eight was coming to its conclusion on the front eight as I arrived.
Despite a smaller crowd than usual, a sizeable crowd still retired to The Cricketers for post-ringing refreshments and discussion on arrangements for the forthcoming George W Pipe Twelve-Bell Striking Competition just twelve days away. Please do come along and see what's going on at this increasing popular contest with six teams from across Essex, Suffolk and – for the first time – Norfolk.
Meanwhile, Amanda Richmond did her first ringing since her accident in the Pyrenees over Christmas – albeit on handbells – as she rang a quarter-peal of Plain Bob Major with friends, before lunch at The Swan in Westerfield.
God wiling we'll have her back on tower bells helping us at SMLT soon!
Please post any comments on the
facebook page.
Top
Sunday 2nd February 2020
Mason's sudden handling progress continued this morning at Grundisburgh, as he again rang both strokes. He needed to pull a bit more and it was very kindly pointed out to me that he needed to stretch more at backstroke (all advice gratefully received!), but taking his time with just backstrokes and taking it all in from the sidelines over the last few years has given him a good grounding.
God willing he will take to it and benefit from even just a fraction of the joy and experiences that ringing has given me and places it has taken me to. Having taken me to the beautiful rural isolation of Monewden yesterday, over the next few weeks the art is due to take me to Walsall, part of the huge industrial, urban sprawl of the West Midlands to practice for and then take part in the National Twelve-Bell Striking Contest for Ipswich.
Part of our preparations included this afternoon's session at The Norman Tower where the 27cwt twelve are much more similar in weight to the 25cwt location where we are pencilled in to compete at on Saturday 28th March. In addition, we had use of a fully established HawkEar that enabled us to get a more technical appraisal of our ringing and generally speaking we were pleased with our efforts, which improved as we went along and provided much interest in between pieces! We were grateful to my brother Chris and his wife Becky for looking after their nephews and making muffins with them whilst we were ringing in town and we enjoyed having a cuppa and a chat with them afterwards, with ringing naturally coming up in the conversation!
Of course, previous entries into the competition have been considerably enhanced by the presence and indeed leadership of George Pipe, but sadly his poor health has prevented him from doing any ringing for several years now. However, his contribution to ringing at St Mary-le-Tower, in Ipswich, across Suffolk, throughout the UK and beyond these shores remains legendary and not unsurprisingly John 'Jake' Loveless - himself a giant of the exercise – has written a biography of GWP. Ever since Jake mentioned this at last year's Twelve-Bell Striking Competition at Saffron Walden named after George, I have been eagerly awaiting its release and all being well I don't have long to wait, for on Saturday 30th May at 3pm in St Mary-le-Tower, it will be launched. I hope lots of people can come along to celebrate this great man and hopefully see him in full flow!
He wasn't well enough to join us at the county's heaviest twelve this morning as some of us carried out service ringing, nor at Costa Coffee afterwards, but we were joined by another Past Guild Ringing Master Amanda Richmond as she continues her recovery from her horrific accident at Christmas with her usual cheery disposition. Although she was horrified by my calorie-laden hot chocolate!
Elsewhere across the county, it was a busy – and significant – day of quarter-pealing. Well done to Tony Mason on ringing his first of Single Oxford Bob Minor in the success at Great Finborough, whilst there were also quarters of Doubles and Minor at Poslingford and Rougham respectively.


However, the headline act of the day was at Stowmarket where the 1260 of Plain Bob Minor on the back six was the last QP to be rung on the bells before their removal. This is a big, exciting year for the ringers of what is currently the 20cwt eight of St Peter and St Mary with the bells due to be augmented to ten in the next few months, whilst the word is that the hanging of another ring of ten just outside the town at Combs is apparently back on.
According to a bizarre article on The Times' website today though, they will both be electronically rung and we shall all be out of a hobby! An embarrassingly lazy bit of writing gives the impression that the fitting of an electronic chiming system – hardly a new development – in a Roman Catholic cathedral is a signal that all change-ringing by human beings is about to cease due to a lack of numbers. I'm looking forward to their story about the invention of the car seeing an end to horse-riding...
There is no doubt that there is a decline in numbers taking up the art, but there is much positivity, as the numerous reports of peals rung by youthful bands and university societies testifies. As indeed does Mason's newfound enthusiasm for the art.
Please post any comments on the
facebook page.
Top
Saturday 1st February 2020
This morning's South-East District Practice at Monewden was everything that one of these events should be. There were plenty of learners – encouragingly from various locations, such as nearby Cretingham, but also far off Holbrook – getting the opportunity to ring call-changes, Plain Hunt, trebling to things and inside to Plain Bob Doubles, but also lots of experienced ringers, such as James Smith, David Stanford and Guild Ringing Master Tom Scase, enabling us to ring Surprise Minor, including some superbly rung London to round the ringing off at this lovely little gallery-ring six.
That wasn't the end of the fun though, as most of us retired to the neighbouring village hall to do some biscuit tasting for this year's SE District Bake-Off. And what a treat! Thirteen plates of scrumptious biscuits were tested and although my white chocolate and raspberry offering – with our household's star baker Ruthie at work today - didn't seem to go down as well as I hoped, the contest was deservedly won by one of the learners from the Shotley Peninsula and we certainly enjoyed trying as many as possible!
Although we were ringing on one of the days we had been controversially and quite wrongly asked to ring on to celebrate Brexit, as previously mentioned our efforts had absolutely nothing to do with the event that occurred at 11pm last night and nationwide there appeared to be refreshingly little ringing even mentioning it, including the 5042 of Yorkshire Surprise Maximus rung at The Norman Tower by the Yorkshire Association.
Just as it should be.
Please post any comments on the
facebook page.
Top
Friday 31st January 2020
Whatever your thoughts on Brexit, today was a significant day in the UK's history. At 11pm we ceased to be members of the European Union after forty-seven years. At one extreme it is a point for much celebration, at the other extreme a time for much sorrow, even to grieve. For others such as ourselves, it was a time of much ambivalence though with some curiosity.
Mercifully, ringing doesn't appear to have become part of the divided narrative as was threatened recently. Big Ben didn't bong (at least not in reality) and despite fearing a flurry of political footnotes from both sides of the debate, there was nothing rung today stating either support or opposition to detachment from the EU on BellBoard as far as I could see.
Personally I thought it was wrong and even cruel that Leave.eu thrust the art onto any particular side, with ringers as divided on the subject as society generally and I think much planned ringing has actually been cancelled today and tomorrow at the bequest of understandably jittery incumbents keen not to let their bells and therefore their church be dragged into the debate.
That's not to say there wasn't ringing in Suffolk today. A 1260 of Plain Bob Minor was rung at Mendham following the funeral of Michael Allen who led the project to restore this lovely gallery-ring 10cwt six in 2002. RIP Michael.
For Ruthie and me there was no ringing as instead I attempted to make biscuits in anticipation of tomorrow's Bake-Off at Monewden for the South-East District Practice. Where the ringing is definitely not for or against Brexit.
Please post any comments on the
facebook page.
Top
Thursday 30th January 2020
In just a couple of weeks time, The Revd Canon Kevan McCormack – or Kev the Rev as he is affectionately known – is due to retire as Rector of St Mary the Virgin in Woodbridge after twenty years in the role. In that time he has married Ruthie and me, Christened Alfie and Joshua, has been a big reason behind us become regulars at the church and been extremely supportive of the bellringers. We are sad at the thought of him leaving.
However, his departure leaves an opening for someone new and this evening I – and many other parishioners from here and Great Bealings with the two churches having recently linked up – had the opportunity to meet the three candidates hoping to take up the post in the summer. It was very interesting too, with a relatively diverse selection of experienced, young and/or female and frankly any of them would do a good job judging by the brief conversations we were allowed to have with them over a buffet and glass of wine in something akin to speed dating!
Earlier they had met the tower captain of the 25cwt eight here Bruce Wakefield as they had more in-depth chats with people representing various elements of the church, but I was keen to also chat ringing with them. This I managed to varying degrees, but at least none of them seem to violently disagree with bells, with two of them currently at churches with bells, so that is encouraging!
Also encouraging is the considerable amount of ringing done on Suffolk's bells today, with four quarter-peals rung in the county. A 1280 of Cassiobury Surprise Major was rung at Gislingham, and the same number of changes of Superlative Surprise Major and Double Norwich Bob Major were successfully negotiated at Hopton and Ixworth respectively, whilst some of them also rang a 1296 of Alnwick Surprise Minor (London below the treble, Carlisle above) at Walsham-le-Willows.

There are no signs of ringing retirement from this band!

Wednesday 29th January 2020
It was a day of mild illness in our household, at least amongst the children. After having a cough for the last few days and then coming home from school yesterday looking utterly drained, Alfie forsook a day of his education to recover, whilst his younger brother Joshua was taken to the doctor's with what we thought may have been an ear infection but proved to be nothing as bad as that.
Ruthie was well enough to go out this evening though, first to choir practice – moved due to an event pencilled in at St Mary's Church Centre tomorrow – and then to Pettistree's weekly practice and afterwards to The Greyhound next door for the first time since it reopened this week. A session that included Allendale and Fryerning Surprise Minor and homemade chocolate cake for Chris McArthur's birthday was preceded by a quarter-peal of spliced Plain Minor which was – amongst birthday felicitations to Joan Peck, the one and only Robert Beavis and the aforementioned Chris McArthur – very kindly dedicated to Mason's recent thirteenth birthday. Thank you guys!
Meanwhile, elsewhere in the county a handbell peal was rung in Bacton in fourteen Surprise Minor methods, whilst there was also some great PR for the art locally on friend-of-ringing Lesley Dolphin's BBC Radio Suffolk show this afternoon as she interviewed Nicola Currie who is learning to ring in readiness to help man the new bells at Hitcham, which are due to be ready to ring in June. Nicola was talking about the ringing sequence that was discovered when knocking through the old doorway to what is planned to be the ringing gallery. Most of us experienced ringers almost instantly recognised it as Double Court Bob Minor, but I think it is wonderful how the locals have used it to generate extra interest in the project to a wider audience.
Just the ticket to overcome any mild illnesses.
Please post any comments on the
facebook page.
Top
Tuesday 28th January 2020
January is due to come to an end in three days, unusually with almost as much fanfare as it started, although in much more controversial circumstances. As far as I am aware there is no definitive list of those ringing for or against Brexit or indeed not ringing, but it was noticeable from a Facebook thread on the subject that a peal that Brian Whiting was booked in for on 1st February has been cancelled and Paul Sharples appeared to suggest that Rushmere St Andrew's weekly Friday night practice won't be happening, though I would check with Paul before you do or don't go!
However, there is much ringing planned for next month, including on Saturday where the South-East District Practice is (unless something else unforeseen occurs in the meantime) going ahead at Monewden between 10am and noon and is not being rung for or against Brexit, but is planned to feature a Bake-Off along similar lines to that held last year at Coddenham, only with biscuits this time!
This is due then to be followed by the Beccles Ten-Bell Practice from 7.30-9pm on Wednesday next week, the North-West District Practice at Great Barton precisely one week on from proceedings at Monewden, the Bungay Eight-Bell Practice on the evening of Monday 10th, Second Tuesday Ringing at Debenham & Cretingham the following day, the George W Pipe Twelve-Bell Striking Competition at St Mary-le-Tower on Saturday 15th, Helmingham Monthly Practice on Friday 21st on the night before the South-West District Practice at Glemsford from 3-4.30 the following afternoon. And don't forget the Guild Peal Week from 15th-23rd where if you can help or would like to be helped, SGR Ringing Master Tom Scase is sure to be pleased to hear from you.
For us though it was a typically quiet Tuesday night in, but elsewhere in Suffolk there was a quarter-peal of Single Oxford Bob Triples rung before the practice at Offton. And not – it would appear – rung for or against what is due to happen at the end of the week.
Please post any comments on the
facebook page.
Top
Monday 27th January 2020
When people talk of their life going in a blink of an eye, it can have negative connotations and is a little exaggerated, but I can understand where they are coming from on days like today. For today, I became the father of a teenager as Mason turned thirteen. I can vividly recall being that age and my mind is clearly taken back to those days and the typical weekly routine of English, Geography, History and Science lessons interspersed with trips out to ringing on Monday nights at St Mary-le-Tower, every other Tuesday night at Offton, Wednesdays at Sproughton and then alternate Thursdays (in weeks when we didn't go to Offton) at Grundisburgh, as well as monthly trips to Thrapston in Northamptonshire to visit mine and my brother Chris' maternal grandfather where more ringing was carried out, often with the Peterborough Diocesan Guild on the Saturday and always on Sunday mornings at the town's 14cwt eight.
Much has of course happened in the intervening near-thirty years. Lots of growing up, mistakes made and learned from (on and off the end of bellropes) and I'm happy to report many more happy memories than sad and yet in the blink of an eye I went from my teenage self to pater of a teenager. It comes as quite a shock when I look at it that way!
Hopefully those terrible teenage years aren't as bad as they are (rightly or wrongly) perceived as my eldest son has thus far grown into a kind and considerate young man, now ringing both strokes and always keen to please. He's not perfect, but who is? He probably spends far too much time on his phone and computer and winds his younger brothers up in infuriating fashion, but we're glad to have him in our lives.
Of course we did celebrating over the weekend with that 5013 of Bristol Surprise Major, a trip to the Turks Head in Hasketon and family gathering yesterday, but we didn't actually see him today, though I did speak with him on the phone to learn that apart from having to go to school he'd had a good day with more presents and more pizza!
I had a pint for him (his claim that he will never drink beer is God willing still a few years off being tested) at The Cricketers after attending the weekly practice at SMLT in a rare bit of continuity between my thirteen-year-old and forty-one-year-old lifestyles. It was interesting to note that there were actually only a handful present tonight that would've been regularly ringing in this famous ringing chamber back in the early 1990s, such as my Mum and Dad (now grandparents to a teenager of course!) and Diana Pipe, but whilst that is partly a positive sign of regeneration at the county's heaviest twelve, there were some away for a session that was quite low on attendance generally, with only fourteen there on this occasion due to injury, illness and holiday.
Nonetheless, as is usually the case in such circumstances that gives opportunities to our learners and so it was this time as Sue Williamson got some concerted focus on Stedman Caters and Cinques, whilst Karina Wiseman rang some Plain Hunt on Eleven and trebled to some more 'Bisto', this week of the Caters variety. We also rang some Bristol Surprise Major on the back eight (with singles in fourths and fifths to get some 8765s for a change), Yorkshire Surprise Royal and Kent Treble Bob Maximus as preparations for the George W Pipe Trophy Striking Competition next month continue.
Elsewhere in Suffolk, 180 changes of Plain Bob Doubles marked Holocaust Memorial Day seventy-five years after the liberation of Auschwitz, a reminder of some incomprehensible horrors that should never be forgotten.
There was also a sad note – though in a celebratory tone – to the quarter-peal of Grandsire Triples at Lowestoft involving various resident SGR members as June Leach – mother-in-law to Diana and grandmother to Andrew and Craig, talented local ringers – was remembered following her passing a couple of months ago.
It certainly seems to have been a day for reflecting and remembering, for both bad and good reasons.
Happy Birthday Mason!
Please post any comments on the
facebook page.
Top
Sunday 26th January 2020
It has always been slightly difficult celebrating Mason's birthday. As we don't have him during the week when he goes to his mother's, most years it doesn't fall when we have him. Also, unlike his younger brothers Alfie and Joshua, he hasn't had any peers amongst our friendship circles and so we've never really been able to hold parties for him and his friends, although we have jointly held celebrations with his mother some years.
However, we have always tried to do something, typically round our house and involving his relatives – which he includes Ruthie's family amongst – and Godparents and this afternoon we did similar. Of course he has got too old for jelly and ice cream and feels a bit too cool for parties at this point, but we still had a convivial few hours as my parents, mother-in-law Kate and Grandad Ron joined us at ours for present and card opening (thank you to the Pettistree ringers for their card!) and a steady supply of cups of tea. Importantly, the star of the show enjoyed it.
Whilst we were enjoying that, other ringers were ringing, with a trio of quarter-peals on Suffolk's bells recorded on BellBoard today, as the same band rang 1260s of Plain Bob and Grandsire Triples at Bardwell and Ixworth and six others partook in a 1320 of Bourne Surprise Minor at Chediston.
Earlier I had rung at Woodbridge ahead of attending the 10am service where a crowd of ten prompted jocular calls for augmentation, but at least enabled us to ring all eight of the current bells to a couple of pieces of call-changes.
It was a nice way to start a nice day of celebration.
Please post any comments on the
facebook page.
Top
Saturday 25th January 2020
It is that time of year again when my efforts to arrange a peal to celebrate the anniversary of Mason's birth on 27th January, typically with a composition of a suitable length and/or methods depending on his age. Such as the 5003 changes of Yorkshire Surprise Royal we rang for his third birthday a decade ago or the eight Surprise Major methods spliced we rang for his eighth birthday in 2015.
This year, with my eldest son due to become a teenager on Monday and aiming for an eight-bell peal, I thought thirteen-spliced might be a stretch to find a band for, especially as I didn't get round to starting to organise it until over Christmas. Therefore, I plumped for a 5013 of Bristol Surprise Major.
Finding ringers became even harder when I discovered that a simultaneous attempt was already arranged at St Margaret in Ipswich, but eventually an octet gathered this morning at Grundisburgh (once one member – not me for once – had made it after oversleeping!) and set about a very decent 2hrs 44mins of ringing. Thank you to all the band for coming out for the occasion!
Likewise in Suffolk's county town they were successful with a 5008 of Double Norwich Court Bob Major in ten minutes more than we completed our peal. Many thanks to them for their footnote – Mason was beaming from ear-to-ear when he saw that on BellBoard!
I imagine their efforts were rewarded with a trip to a pub afterwards and so was ours, as I picked up the star of the show, his brothers and Ruthie for refreshment in The Turks Head, before settling down for a relaxing evening – with takeaway pizza as a birthday treat - without having to stress about organising a peal in the near future!
Please post any comments on the
facebook page.
Top
Friday 24th January 2020
The ongoing saga over the future of Whitechapel Bell Foundry looks set to rumble on with news that a public inquiry into what happens next is now to take place. This famous site seemed earmarked to become a bell-themed 'boutique' hotel, but this appears to reintroduce the possibility of casting returning to this corner of the capital. It'll be interesting to see how it all pans out.
Meanwhile, the FNQPC were successful with a 1260 of five Doubles methods at the isolated ground-floor six of Ashbocking whose future is currently assured. Long may it continue.
Please post any comments on the
facebook page.
Top
Thursday 23rd January 2020
There were two heart-warming ringing tales that caught my attention today.
One was the chance discovery by a ringer of Geoff Dodds' ringing records – which seem to feature a peal he called of Plain Bob Caters at Mildenhall in 1949 and is recorded in that year's SGR Annual Report (No. 1676, p28. Also rang a handbell peal - No. 1697, p33) - on a Facebook 're-use' site. A vast and meticulously made recording of a well-known ringer could've ended up in the hands of someone not exactly realising what they had or worse still perished, but instead will be going to the St Albans Cathedral Society with whom he rang. I didn't really know Geoff – who sadly passed away in 2011 – but I know his daughter Fran well from my days ringing with her in Birmingham and along with Andrew Ellis she very kindly came and judged the Guild Striking Competitions at Sweffling and Rendham in 2008, so I am delighted that these important records are going to a safe place as suggested by Fran.
Also catching my eye though was the entry on BellBoard recording Matthew Atkinson's first rounds rung unassisted at Benfieldside in County Durham. Matthew has Down's syndrome with additional learning difficulties and so this is a tremendous achievement quite rightly rising up through the BellBoard leaderboard. Hopefully it will get very far up there amongst the performances of young ringers, foreign change-ringing exploits, four-in-hand handbell ringing and long lengths.
Unlikely to reach those dizzy heights but also worthy of mention is today's quarter-peal of Berwick Surprise Minor rung at Tostock, which was Andrea Alderton's first in the method – well done Andrea!
There was no ringing for us though. Instead we were warmed by many heart-warming ringing tales!
Please post any comments on the
facebook page.
Top
Wednesday 22nd January 2020
The Greyhound in Pettistree is due to be open again by this time next week and so anyone whose ringing doesn't feel complete without a trip to a nearby tavern should be able to follow a session at the neighbouring ground-floor six with a tipple alcoholic or otherwise next Wednesday. For tonight though, Ruthie was back not long after I got the boys to bed and attended to my various household chores, following a practice night that included a range of methods, including of the Surprise Minor variety in the forms of Surfleet and Caithness (Bourne with a different frontwork) and was preceded by a successful quarter-peal of Cambridge Surprise, St Clement's College Bob and Plain Bob Minor spliced.
However, I did find time to have a read of Simon Linford's first blog entry as President of the Central Council of Church Bellringers. Although I can't say I know Simon very well, we have rung and socialised together and I am in awe of what he and his peers on the national ringing scene achieve on what seems an almost weekly basis and so it is interesting to hear his thoughts at length, especially in light of this week's press for ringing!
Meanwhile, the 5152 of eight Surprise Major methods spliced on the front octave at St Mary-le-Tower was Michael Cowling's one hundredth peal. Since his return to ringing four years ago, Mike has been a Godsend to ringing in the county. Social and intelligent, a very good ringer and enthusiastically contributing to the art here, from supporting practices and Sunday ringing at various places, to taking on roles in the North-East District to helping out in quarters and peals, always saying yes if he is able! Congratulations Mike!
I can't say if he did, but it is an achievement certainly worthy of a drink in a nearby pub afterwards!
Please post any comments on the
facebook page.
Top
Tuesday 21st January 2020
On the day when the ten-ton bell called Little John at Nottingham's Council House made the news for keeping many of the city's residents awake due to the clock mechanism malfunctioning, I'm hoping that the impressive quarter-peal of eight Surprise Major methods – Malpas, Chertsey, Lessness, Chesterfield, Ashtead and Essex added to London and Bristol from the 'standard' eight – rung on the 17cwt eight of the isolated detached tower at Elveden didn't cause the same kind of discord. Indeed, it was hopefully quite a pleasant backdrop to anyone who may have found themselves walking in and around the grounds of the nearby Hall.
There will have been no complaints or plaudits for mine and Ruthie's ringing today, mainly because we didn't do any! Instead, it was a quiet evening in, hoping that the local clock chime doesn't go crazy overnight!
Please post any comments on the
facebook page.
Top
Monday 20th January 2020
There was positive PR for ringing in the local media today.
Such as the delightful story on the Eastern Daily Press website of 80-year-old Pauline Peters learning to ring in Norwich and how much good it has been for her mentally and physically. It is the type of angle that I wish ringing would make more of, especially these days with mental well-being and healthy lifestyles quite rightly becoming increasingly important.
Meanwhile here in Suffolk, the work being done to restore and rehang the bells at Hitcham after more than a century's silence saw an old doorway reopened to the old musicians' gallery which is due to be reinstated as the floor to the new ringing chamber. In the process they revealed a "bell ringing sequence", which as Past Guild Chairman Philip Gorrod comments below the article is Double Court Bob Minor. Although just after the second half-lead end they appear to splice it in with Quarr Bob Minor (which incidentally was quartered for the North-West District Quarter-Peal Week in 2011) in an innovative touch for rural nineteenth century ringing.
We were also being relatively innovative at a St Mary-le-Tower practice again supported by Molly Waterson on her latest return to the county, as we rang some 'Bisto' Cinques – which sees the treble lead and then make seconds whilst the four pairs of bells above dodge and the final one makes four blows in elevenths – and we started using HawkEar to record a touch of Grandsire Cinques and then analyse the stats in The Cricketers afterwards as Stephen Cheek gave us the lowdown. It provided much interest as a novelty over a pint, but ultimately this will hopefully prove a useful tool to improve our ringing.
It was a positive evening overall, with some Stedman Cinques and Yorkshire Surprise Maximus rung in the company of a lovely couple of non-ringers who took a great interest in what we were doing and even joined us in the pub post-ringing!
Of course it wasn't the only ringing within our borders today with other practices across the county, but there was a special bit of ringing at Halesworth for what must have been an emotional occasion as they rang a 1260 of Plain Bob Triples before a Requiem Mass for Revd Edward Rennard who recently passed away unexpectedly.
Although for a sad occasion, it is lovely to see ringing being used in such a positive way, as well as making positive news in the media.
Please post any comments on the
facebook page.
Top
Sunday 19th January 2020
If all goes well, the next few weeks should be a busy time for those of us who ring at St Mary-le-Tower as we aim to partake in two twelve-bell striking competitions before the first quarter of 2020 ends, with the George W Pipe Competition pencilled in for Saturday 15th February on home soil and our presence expected in Walsall for the National Twelve-Bell Contest eliminator on Saturday 28th March. In preparation a lot of the next few Sundays are booked up with practices for both contests, with sessions at The Norman Tower and at the 25cwt twelve of St Matthew in the West Midlands lined up alongside those at SMLT itself.
With a squad of around twenty collectively involved in the competitions and so many practices it is taking quite some organising between Amanda Richmond and David Potts and with the former's accident in the Pyrenees disrupting plans it perhaps wasn't surprising that there was a little confusion when we gathered at Suffolk's heaviest ring of bells this afternoon. Initially for Ruthie and myself as having misheard the meeting time I was responsible for the pair of us being stood in the cold with no one else in sight, the boys already dropped off at my parents' abode with them very kindly looking after the trio of brothers.
Eventually Nigel Newton arrived and gradually others came in dribs and drabs as it became apparent we had got there half-an-hour early! However, as the actual start time came and went, only eleven were gathered and Ralph Earey was heard to comment that if he wasn't the last to arrive then it was a bad sign... David seemed unsure looking back through the email thread - which had been disrupted by Amanda's accident – who was supposed to be there and so we launched into six leads of Kent Treble Bob Royal, with six leads of the Maximus with a single made in 56 the planned touch for the GWP Trophy in just under a month.
Just after that, Diana Pipe saved the day with her arrival and we began what turned into a surprisingly – given the circumstances – productive and useful hour and a bit of concerted focus on Kent TB Max as the team for the first competition picked itself through circumstance and some extremely good ringing.
Earlier in the day the boys and I had been to service ringing at the same tower where I initially stood behind Karina whilst she trebled to some Little Bob Maximus (and then rang in the rerun after it collapsed – though not due to our learner on the treble) and rang in some Grandsire Cinques before we retired to Costa Coffee for refreshment and to meet up with the aforementioned Past Guild Ringing Master Amanda for the first time – for most of us – since her accident. She was in a wheelchair, but considering the severity of her fall less than a month ago she seemed in remarkably good shape and was her usual bubbly self. It was great to see her. Although at the same time we were sorry to hear that one of our learners Sonia is now in hospital with a virus. Get well soon Sonia!
We then continued on our way – the sound of St Margaret's bells being rung up for morning ringing at this gallery-ring serenading us as we returned to the car – to Grundisburgh where the ringing included a brief handling malfunction amongst the reasonable ringing on five, six and (yuck!) seven. Not from Mason though as he had a very decent go ringing both strokes.
Meanwhile, there was a good bit of ringing PR at a national level as Central Council President (and driving force behind PPE) Simon Linford was interviewed in regards to bells ringing for Brexit. Or not ringing as the case may be. I thought a very conciliatory note was struck on an issue that has divided bellringers as much as any section of society. If there are views either way associated with any ringing on 31st January or 1st February in footnotes, I am hoping they are expressed with the permission of all the band and the incumbent of the church/owner of the bells and it may be safest to steer clear of associating any ringing for the event.
Today though, the footnotes were mercifully uncontroversial, with a quarter-peal of Doubles rung at Buxhall for Evensong, whilst the 1260 of Hall Road Bob Minor at Great Barton was a first in the method for Andrea Alderton, Ben Keating and Neal Dodge and the same number of changes of Double Ashford Chart Leacon Bob Minor at Pakenham was also a first in that line for the latter pairing. Well done Andrea, Ben and Neal!
We aren't the only busy bellringers in the county!
Please post any comments on the
facebook page.
Top
Saturday 18th January 2020
Personally there was nothing of a ringing interest to note today, at least from a personal perspective, although it was a perfectly pleasant day. Indeed, bar a brief shopping trip in Woodbridge we were completely holed up at home, with a rare lay-in and relaxed evening with a glass or two of red wine bookending some necessary domestic chores and finding out that playing Harry Potter Cluedo with a five-year-old whilst also trying to cook a roast dinner and listening to the commentary of an Ipswich Town match isn't very easy.
Other Suffolk ringers were more active in the art, albeit not within our borders, as a band from the county rang (a) quarter-peal(s) at Whittlesey in Cambridgeshire for the village's forty-first Straw Bear Festival, thus repeating a performance there from last year, whilst ironically a visiting band representing the Cumberland Youths was ringing a peal of Stedman Cinques in the county at St Mary-le-Tower.
At least they have something of ringing interest to note today!
Friday 17th January 2020
Really not much to report from today in any respect, ringing or otherwise, unless you count the continued rumblings about ringing for Brexit in a fortnight and – linked to that – getting Big Ben chiming for the occasion despite it currently being out of action during extensive, meticulously planned and already expensive works.
Thus I found myself in a quiet moment doing my usual thing of flicking through the 'Random' section of BellBoard and in the first performance I came across on this occasion I found a 5184 of Grandsire Caters featuring former Suffolk ringer Molly Waterson.
It instantly brought back memories of my trips to this atmospheric three mile long lump of rock in the Bristol Channel, all primarily due to ringing as four peals and numerous quarter-peals testify. Much drink was involved, especially when I went with Messrs Wilby Andrew and Michael et al. – including another former Suffolk ringer Barrie Hendry - in 1999 when the clock ticked over to my twenty-first birthday whilst we sat in the Marisco Tavern. Unsurprisingly a peal attempt of Belfast Surprise Major actually on my birthday before we departed the island that required an early start following that early morning drinking was unsuccessful....
I also enjoyed our brace of trips taken with Suffolk ringers in the summers of 2007 and 2008, even though the ringing was equally unsuccessful! Even without the ringing it is a wonderful place to visit and I'd love to go back when the boys are old enough to hopefully appreciate it (or at least look after themselves whilst we go!), especially as I'm still keen – especially as following our last trip – to ring a peal on the ten.
It all seemed a long way from the rather mundane – albeit relaxed, eventually – evening we had.
Thursday 16th January 2020
We're used to group meals with ringing, from the informal annual Pettistree and St Mary-le-Tower dinners to the more formal five-yearly Suffolk Guild Dinner (I imagine the big showpiece centenary dinner in just three years time will be upon us before we can raise a glass) and – although not for a while now – the posh College Youths Anniversary Dinner. Tonight though, Ruthie and I – thanks to her mother Kate generously looking after the boys at ours – took in a very enjoyable meal with my wife's choral colleagues at the Coach & Horses round the corner from us in Melton.

Its main purpose was to use some of the surplus funds the choir have accrued, but it also served as a farewell from the church's singers to the Revd. Canon Kevan McCormack – or 'Kev the Rev' as many who know him affectionately refer to him – who next month is due to retire after twenty years as Rector at St Mary the Virgin in Woodbridge.
And it was a nice opportunity to catch-up with people we don't always get the chance to chat with on a Sunday morning. A bit like a ringers' dinner.
Please post any comments on the
facebook page.
Top
Wednesday 15th January 2020
I am not going to lie and say the prospect of a peal attempt of Kent Treble Bob Major excited me today. It may sound snobbish – and I suppose it is – but with all the exciting stuff being rung around the country currently, the boredom threshold was likely to be pushed to its limit and therefore raise the possibility of mistakes.
However, there were a number of reasons I was more than happy to partake at The Wolery tonight. One being that opportunities to ring 147 Treble Dodging Minor methods, 23 spliced Surprise Major methods or David Pipe's cyclic compositions of Maximus are limited round here, but also because this was useful prolonged practice for Neal Dodge in particular at a method that is a stepping stone for many to more complicated treble-dodging lines.
And it was good to get my peal-ringing for the month, year and decade up and running and especially here after the delayed start to our peal-ringing here in 2019. Indeed, it's good for the Suffolk Guild too as after our two hours of ringing our host and conductor David Salter pointed out that in recent years fees from peals in the little blue shed in Old Stoke have contributed more than £3,000 to SGR coffers.
In the end I rang the treble, which kept me out of trouble and hopefully offered a reassuring presence, although at first we struggled to settle to the extent that we had a very early restart. However, the band grew into it and at times there was some really smart ringing and I think we earned our post-peal refreshments!
Ours wasn't the only ringing success within our borders either as elsewhere a 1250 of Cambridge Surprise Major was rung on the simulator at The Norman Tower, a 1260 of the Minor variation of the same method was rung at Redgrave and the pre-practice quarter-peal at Pettistree was the third Wednesday score in a row at the this ground-floor six already this year! Meanwhile, well done to Mancroft Ringing Discovery Centre Manager Nikki Thomas on ringing her most methods as conductor in the Doubles at Euston.
Hopefully they all enjoyed their ringing as much as I ended up enjoying mine, whatever their preconceptions beforehand!
Please post any comments on the
facebook page.
Top
Tuesday 14th January 2020
The weather was causing considerable disruption across the country, including with Ipswich Town's match in Oxford which was stopped for a quarter of an hour whilst waiting for a monsoon to die down, in Slough as a roof was blown off a block of flats and here in Suffolk the Orwell Bridge was closed for the second day running.
Not that it disrupted our modest plans with Ruthie's best friend Fergie popping round on a visit to the town she grew up in, bringing with her Harry Potter sweets and tales of mushroom ice cream whilst she was on holiday, as being a Tuesday we had no plans for ringing anyway.
Whether the conditions were the reason behind the lack of ringing from within our borders recorded on BellBoard I can't say, although it would be understandable if they did with trees down and roads closed due to the high winds.
Therefore it was uplifting to read the report on the appeal to "repair and regenerate" St Peter's church in Sudbury that includes plans to introduce a new, wheelchair accessible ringing platform from which to ring the 20cwt ten. Sometimes bells can be an afterthought (if thought about at all) in such circumstances, so it is lovely to see them included in the original ambitions of this project, especially in such a ground-breaking fashion!
God willing the weather shouldn't overly disrupt it either!
Please post any comments on the
facebook page.
Top
Monday 16th January 2020
It may be old age, perhaps my largely sedentary position for hours a day in my office desk job or it could be the amount of picking up and carrying around of the rapidly growing Alfie and Joshua, but over the weekend I experienced considerable twinges in my lower back. Not painful so much as uncomfortable and not all the time. Nor particularly restrictive. I can walk and run as normal and as I discovered this evening at St Mary-le-Tower, I seem to be able to ring as normal too, whether you consider that a good or a bad thing! Not that I asked to be tested – indeed I didn't raise it nor did I intend to unless it became prohibitive – but I put my back through ringing the 35cwt tenor to some Lincolnshire Surprise Maximus, the 25cwt eleventh to Yorkshire Surprise Maximus and then the 4cwt treble to a touch of Stedman Cinques on a pretty pain-free and productive session.
My mind was also taken off the discomfort by the laptop in the corner that was taking samples and recordings in preparation for a Hawkear – or similar – system to be installed and our efforts culminated in all thirteen bells being rung individually for two whole pulls to get some recordings of each bell at the end of a lively practice.
There was also good news about Amanda Richmond following her recent accident in the Pyrenees, as we were told that the blood transfusion she had needed had been done and she was now back in Ipswich and happy to receive visits, providing you give her prior warning!
With that news and a decent night of ringing, another big crowd retired to The Cricketers in high spirits, including myself. It'll take more than a spot of back trouble to stop me enjoying my post-ringing refreshment!
Please post any comments on the
facebook page.
Top
Sunday 12th January 2020
With George Campling this afternoon becoming the twenty-fifth to ring his 4000th peal (congratulations to George on his success at Skipton!), it got me having a quick look at the wonderful Pealbase's 'Crystal Ball' section to see who – based on how many peals they have rung in the past twelve months – from Suffolk is due to reach a significant landmark in their totals next. As it happens, it appears that Alan Mayle is due to reach his two thousandth peal on 25th February of this year, although I am not due to reach that total until another ninety-eight years tomorrow to get that number under my belt at current rates! Interesting also to note that Robert Crocker and Peter Ellis are due to reach the once extraordinary (but still incredible) total of five thousands peals before the year is out, Peter Randall his six thousandth ahead of 2021 and even at his reduced rate of the last couple of years, Colin Turner is on course to reach a staggering eight thousand peals in about eighteen months. Which incidentally I am on course to reach on 12th August 2546, if I'm not too hung over from celebrating mine and Ruthie's 534th wedding anniversary the day before!
Others were adding to their totals today and in impressive style on another bumper day of twelve-bell peal-ringing, with three peals on that number, this time featuring between them eight different Maximus methods and Stedman Cinques and more connections from our county, with another David Pipe composition and one-time Ipswich ringer George Salter partaking in the 5040 at St Martin's in Birmingham. Meanwhile, here in Suffolk his father David was ringing in the second Sunday peal at Aldeburgh where Alan was taking his total to 1994 and the entire band were ringing their first of Dingley Delight Major, which was also rung in the Guild's name for the first time. Well done to them all.
And well done to Worlingham ringer Rona Sporle on ringing her first quarter-peal of Cambridge Surprise Royal in the 1282 rung over the Norfolk border at Loddon which featured a number of ringers from south of the Waveney.
There was no adding to any ringing totals for us though as neither of us did any ringing at all. Not unusual for my wife who typically spends the Sabbath morn singing in the choir at St Mary the Virgin in Woodbridge, but even though I was present at said place of worship I was unable to join those upstairs on this occasion as I was on hand to help Mason, Alfie and (briefly before he again decided against it) Joshua in rehearsing for the Junior Church Epiphany play which was essentially a delightful rehash of the Nativity play of three weeks ago, just without a real baby playing Jesus as they were busy being baptised in a busy service!
That all preceded an afternoon that saw a chance meeting with Kettleburgh ringer Persephone Booth whilst shopping for ingredients for homebrew but still no ringing.
I'm not sure I'm going to be catching George Campling up somehow. Or indeed Alan Mayle for that matter!
Please post any comments on the
facebook page.
Top
Saturday 11th January 2020
It was an impressive day of peal-ringing on twelve, with six peals on a dozen bells involving fourteen Maximus methods and Stedman Cinques and some Suffolk connections, with one-time Reydon ringer Philip Moyse trebling to the 5090 of Zanussi and Bristol Surprise Maximus spliced at Kidderminster in Worcestershire and a couple of the successes composed by nephew of George and Diana Pipe, David.
Back within our borders the ringing was perhaps less exciting but still notable with Alex Brett-Holt's first quarter-peal of St Simon's Bob Doubles rung at Woolpit. Well done Alex!
And it was more significant than our ringing efforts today, which amounted to nothing as instead we spent the morning learning about baptism at Messy Church in Melton followed by lunch. Enjoyable and even educational, but not as impressive as the efforts of other ringers today!
Please post any comments on the
facebook page.
Top
Friday 10th January 2020
On 31st January at 11pm, the UK is due to leave the European Union. Much has been said on Brexit, but not much on ringing's reaction to it. Until today, when an invitation was sent out to ringers to celebrate the occasion. Of course for some this is something to celebrate, for others something to mourn. Whatever the point of view though, it would be prudent that if anyone attaches political messages to ringing in relation to this – or indeed anything – from either perspective that they check that those responsible for the bells (which in most cases will be the church of course) are happy for that. Indeed, the Central Council of Church Bell Ringers has said as much, having received enquiries about it.
A more traditional ringing subject is tips for knowing whether you are going in quick or slow in Stedman and that was reignited tonight with mention online from Simon Linford of a method. To quote:
Finish your 4-5 dodges down, still oblivious as to how you are going in. When you put your handstroke in 3rds place, watch the person who is doing a handstroke lead. If that person starts to look up as they pull their handstroke, or if they pull the handstroke with the amount of effort that looks like they are going up, then they are going to put their backstroke in 2nds place, which means it is a Slow six, so you make thirds and go in Slow. If the person leading doesn't look up, then they are going to lead full, which means it is a Quick six, so you need to get your backstroke in sharpish and lead after them, i.e. in Quick.
Many will be familiar with this and many of the other ways that people suggested in the ensuing thread!
Meanwhile, there was some reassuringly straightforward ringing for straightforward reasons on Suffolk's bells, as a peal of London Surprise Major was rung at Henley in memory of Stephen Ivin and a quarter-peal of Plain Bob Minor at Tannington was rung for the FNQPC.
No ringing for us again, but it sounds like some will be doing some ringing In precisely three weeks time.
Please post any comments on the
facebook page.
Top
Thursday 9th January 2020
Added to a decent haul of ringing successes in Suffolk reported yesterday, well done to the band who rang a quarter-peal of eight Surprise Major methods (and not entirely the 'standard' eight, with Rutland replaced by Cassiobury) at Elveden, whilst today on the county's bells a quarter-peal of York Surprise Minor was rung at Worlingham and a peal of eleven Doubles was rung at Great Livermere. Well done to Kate Gill, Chrissie Pickup and Sarah Plummer on ringing their first in the method in the former. And Happy 339th Birthday to the ladder at the latter...
Meanwhile, I was sad to learn of the death of Stutton ringer Eric Bull, who was Guild Treasurer between 2000 and 2005, rang three peals for the SGR and was ringing at least up until November 2018 when he was recorded on BellBoard as participating in the Ringing for Peace: Armistice 100 at his home tower, where his funeral is due to take place on Saturday at 1pm. Rest In Peace Eric.
Today though, there was no ringing for either of us, with the second-Thursday Surprise Major Practice at Ufford cancelled.
Still, it was another decent haul of ringing successes in Suffolk nonetheless.
Please post any comments on the
facebook page.
Top
Wednesday 8th January 2020
Kudos to Ruthie, who after a day of supervising – remarkably successful – potty training for Joshua, managed to partake in the pre-practice quarter-peal at Pettistree this evening. The boys and I dropped her off for it, with her busy reciting the intended method Morpeth Surprise Minor, my favourite of the forty-one. Sadly, that was lost, but a QP of Cambridge was rung instead to celebrate the multitude of birthdays of this time of year.
With The Greyhound closed for its customary New Year break, my wife was kindly brought back by her mother Kate earlier than she usually is, but it was an apparently useful and enjoyable session.
As I'm sure the quarter of Bristol Surprise Major at Horringer and peal of twenty-six Surprise Minor on handbells in Bacton were on a decent day of ringing in Suffolk.
Meanwhile, having happened across the second-Sunday January 2005 peal at Aldeburgh that celebrated the ninth birthday of a certain George Salter, it is a sign of time marching on that almost precisely fifteen years later he impressively celebrated tomorrow's twenty-fourth anniversary of his birth with a 5760 of one hundred and forty-seven Treble Dodging Minor methods at St John on the Wall in what is now his city of residence, Bristol.
Happy Birthday for tomorrow George and good work on the 3hrs 13mins of top-class ringing, but I imagine your preparation wasn't quite as trying – though delightful – as Ruthie's!
Please post any comments on the
facebook page.
Top
Tuesday 7th January 2020
More Lincolnshire for some of those who rang the Royal and Maximus variants at St Mary-le-Tower last night, as a proportion partook in the pre-practice quarter-peal of the Major version at Offton tonight.
That should go into the 2020 figures for QPs in Suffolk that God willing we'll get to view in about a year, but for now I enjoyed having a look at the 2019 stats produced by Neal Dodge and released this evening. I hadn't really noticed until I read this that I had rung seventeen quarters in the county during the year, which despite not starting until April was more than my totals of the previous two years combined, but still only as many as fellow Rambling Ringer Richard Shere from Devon had rung in our beautiful county in 2019!
Despite a lower total than usual, Pettistree was still well ahead of the second place tower, which this year was The Norman Tower where the medium seems in very good health. For at least the fifth year running, husband and wife team Lesley and David Steed occupied the top two spots of those who rang the most quarters within our borders across the twelve months (and interestingly have alternated between first and second each year!), whilst for the first time across that period, Mike Whitby was knocked off top spot of the conductor's leaderboard by Brian Whiting.
Encouragingly there were more QPs rung last year in Suffolk than for four years, with roughly the same number of ringers taking part as over the last few years, including ten who were ringing their first which was up on 2018 and with more conductors than the previous year too. Nice also to see a return to the QP columns of a number of towers, especially Stoke by Clare and Stoke by Nayland seventeen and fifteen years respectively after their previous entries. All very positive and thank you and well done to Guild PR Officer Neal on putting it together and sharing it with us all.
Meanwhile, I'm sure that I wasn't the only one who smiled as the infamous Stephen Ivin "clock incident" was brought up again in regards to a peal rung at St Thomas the-Martyr in Oxford today a decade to the day since he passed away.
London Surprise was very much associated with him, but I don't know what his thoughts on Lincolnshire were!
Please post any comments on the
facebook page.
Top
Monday 6th January 2020
At the start of the first full working week of 2020, the short, cold, dark days no longer offset by bright lights and the anticipation of Christmas and New Year celebrations, midsummer seems an extremely long way away. However, this morning Mark Murphy on our local BBC radio station launched this year's Suffolk Day. For those not aware of this annual day of celebrating the county since it was first marked three years ago, it is held on 21st June and of course offers a chance for good PR for local ringing. With it being on a Sunday and therefore the occasion being turned into a weekend of celebration, the opportunities for peals, quarters and open ringing – especially at towers not regularly rung are plentiful. If you are in a position to arrange something, then please do and let's make sure that bells are a big part of the proceedings.
They were a big part of proceedings this evening at St Mary-le-Tower where the first practice of the 2020s wasn't quite as well attended as the last of the 2010s a week ago, but still saw nineteen there and a method repertoire of spliced Surprise Royal and Lincolnshire Maximus (reverting between the latter and its ten-bell variation was a bit testing and I don't think I passed!) during a session run superbly by Stephen Cheek in the absence of our poorly Ringing Master David Potts – get well soon David!
An incident at Great St Mary in Cambridge that saw a ringer taken ill (though ultimately not seriously) at service ringing yesterday morning brought conversation in The Cricketers post ringing at SMLT tonight turned to the increasingly popular What3Words. Although initially brought up as a useful point of reference for emergencies in – particularly rural – ringing chambers, it soon turned into a search for the codes of familiar locations. We're hoping that 'slick.clips.shirt' which hovers you over the back two bells of the county's heaviest twelve isn't a comment on our output, we wondered if 'rope.grabs.bared' might start a trend of naked ringing at St Lawrence ('edges.gentle.ears' in the north-east corner of this ancient five might be a more appropriate one if one was guiding people here!), whilst we were amused that 'passing.thousands.pavilions' sits on the entrance to the facilities at Offton church. And for those who know where the bells of The Wolery are may be amused by the name on the square there! One member of the household was...
Otherwise though, there was no ringing recorded from within our borders on BellBoard today. God willing there will be more over midsummer.
Please post any comments on the
facebook page.
Top
Sunday 5th January 2020
Just over a fortnight ago, we watched a very interesting documentary titled A Merry Tudor Christmas with Lucy Worsley that explored how the Tudors fully celebrated the twelve days of the festival, culminating in a lavish feast, dancing and performing following on from nearly two weeks of downing tools and drinking. Although the same period these days is still a more relaxed time than during most of the rest of the year, it isn't quite the same as back in the sixteenth century. Indeed, many seem to get their decorations up closer to October than December and then decree Christmas over and pull them down on Boxing Day! The majority of us will have returned to work already too.
However, tonight was Twelfth Night, traditionally when the tinsel and tree come down and thus it was in our household, albeit this afternoon, along with the removal of the seasonal songs CD in the car which had been popular with the boys for the last month. As usual on this occasion, the living room looks very bare all of a sudden.
It was also Epiphany Sunday and hence I found myself accompanied by Joshua taking a sizeable model of a camel down the aisle at church for the beginning of a service where former Bishop of St Edmundsbury and Ipswich – and therefore Past President of the Suffolk Guild – the Right Reverend John Waine was licensing six Lay Elders.
Beforehand I was upstairs where the crowds weren't quite as big as at the South-East District Practice in the same tower yesterday, but there were still enough to ring all eight with others sitting out in a pleasing start to this year's Sabbath ringing.
Later in the day elsewhere in the county, a peal was rung at Kettleburgh, whilst across in the west a quarter-peal of Corse Bob Minor at Great Finborough was a first in the method for North-West District Ringing Master Maureen Gardiner and SGR Public Relations Officer Neal Dodge – well done Maureen and Neal!
And a very Merry Christmas. Or what is left of it.
Please post any comments on the
facebook page.
Top
Saturday 4th January 2020
The South-East District started its ringing in the 2010s with a practice at Woodbridge. This afternoon it started its ringing in the 2020s at exactly the same venue and if the SE's events continue in a similar vein then God willing we're in for a good year and fantastic decade! Forty to fifty members climbed the many stairs to ring on the 25cwt, including new faces (encouraging to see learners from Holbrook there for example), ringing things from call-changes to Plain Bob Major to Stedman Triples to Yorkshire Surprise Major, all under the guidance of Jenny Scase who was running things as District Ringing Master for the first time following her election at last month's ADM. She did superbly with an eclectic range of abilities from across the District and beyond, such as the visits of David and Lesley Steed.
Our participation followed on immediately from attending the sixth birthday party of my Goddaughter Maddie at 4 Fun Play Centre in Saxmundham with the boys, but other ringers in the county were peal-ringing with a 5030 of Plain Bob Major specially arranged for the forthcoming thirtieth anniversary of the birth of Robert Beavis and starring himself at the tower he learnt to ring at, Debenham.
Meanwhile, elsewhere in the country, other Suffolk ringers past and present were also peal-ringing. Most impressively of all were – not for the first time – the Salter brothers Colin and George, who were ringing in – and in the case of the latter, calling it – six Maximus methods spliced in the 5016 at St Magnus the Martyr in London, whilst across the capital, another ringer from within our borders was also conducting as Exning youngster Jimmy Yeoman led a band featuring Simon Rudd and Louis Suggett in a 5152 of eight Surprise Major methods (and not the 'standard' ones at that) at St Lawrence Jewry. Further south and Maggie Ross was partaking in a 5082 of Sgurr A'Chaorachain Surprise Royal at Basingstoke in Hampshire and then to the west Barrie Hendry was ringing in a 5088 of Kenninghall Surprise Major at Shepton Beauchamp in Somerset.
If they all continue their ringing in a similar vein, they should have a good decade of ringing!
Please post any comments on the
facebook page.
Top
Friday 3rd January 2020
The logistics of what to do with Alfie over the school holidays on days when we are working today took us to Ruthie's sister's this morning, then took my wife to her Gran's after work and ultimately saw our nieces come to ours before their mother picked them up.
It didn't allow any time for us to ring, but there was ringing in Suffolk as a 1296 of Norwich Surprise Minor was rung at Earl Stonham. Ten years to the day since I partook in the Guild's first peal of the 2010s though, we still appear to be awaiting the SGR's first peal of the 2020s.
Perhaps the first Saturday of the decade tomorrow will see us get underway. Logistics allowing.
Please post any comments on the
facebook page.
Top
Thursday 2nd January 2020
There was some interest in a social media photo from Matthew Higby of what is due to be the first complete ring of Italian-cast bells in the UK, bound – once Matthew has tuned them – for Stoke St Milborough in Shropshire and weighing in at about 12cwt. They seem to have been cast by Fonderia Allanconi who appear to have a good reputation and indeed Matthew says that he already has orders for another octave in this mould, the front six of the ten going in at Dordrecht and possibly another smaller eight. How soon before we see Italian cast bells in Suffolk?
The eight of Halesworth were all cast in the UK and most of them very locally and I always enjoy having a ring on them, but sadly they were ringing mournfully today in memory of the Rector of Blyth Valley Team Benefice Edward Rennard, who very suddenly and sadly passed away on Monday. Whenever I met him and spoke with him he was very polite and extremely supportive of the active ringing scene on his doorstep and so it was entirely appropriate that at a time when most bells are ringing out joyfully for a new year that the 1260 of Plain Bob Triples was rung half-muffled to mourn his passing. May he Rest In Peace.
This sobering news came to my attention on what was already a sobering day as I and many others returned to work after the break for Christmas and the New Year. I am blessed to have a short walk to work rather than a lengthy and contrived commute that would make it even more depressing and fortunately in my role in sales dealing with independent schools who are still largely on holiday, I was reintroduced to my workload gently, so I can't complain! However, it felt very dark waking up this morning to begin the return of the daily routine of getting the boys ready before we go to work and the Christmas CD in the car that Alfred insists on listening to at every opportunity at the moment is slightly dispiriting as Mariah Carey warbles All I Want For Christmas Is You for what is a multiple of the umpteenth time in the last month when – despite it still only being the ninth day of Christmas – the festivities are pretty much over for another year! We were grateful to our friends Charlotte and Gregory for looking after AJM as his education continues its festive break though, before Ruthie's return to choir practice and a shopping trip for the youngest sons and me in pursuit of presents, tea and returns.
Meanwhile, well done to all bar the treble ringer – including Blaxhall ringer Mike Cowling – on ringing their first peal of Glasgow Surprise Major in yesterday's 5021 at Loddon in Norfolk. Of which none of the eight were cast in Italy.
Please post any comments on the
facebook page.
Top
New Year's Day 2020
The new year and decade began with some extremely bad news and some extremely good news.
On the former, it was a shock to hear that our St Mary-le-Tower ringing colleague and Past Suffolk Guild Ringing Master Amanda Richmond has suffered a fall whilst in the Pyrenees and although she is lucky it wasn't more serious, she has still come away with multiple fractures of the femur and badly bruised hand and face. Having recovered so quickly from the car accident she had a couple of years ago, we pray that her recovery from this is equally swift.
However, balancing that out was word that Claire Roe – once Claire Monk, a ringer at Walsham-le-Willows and along with her sister Sarah the driving force behind the very successful Young Ringers Practices at Tostock which were running when I became SGR RM in 2006 – gave birth to her and her husband Tom's second child yesterday, a daughter named Bethany and an event already marked by a 5000 of Bristol Surprise Royal in Sheffield. Congratulations Claire and Tom!
I imagine the hopes of Amanda for 2020 will be to recover as soon as possible from her injuries, whilst for the Roes it will be the good health of their children, especially Bethany (and I expect pretty soon, to be able to get some sleep!), but for most of us – apart from the good health of loved ones – our hopes for the year ahead are rather more straightforward. Personally we hope for the boys' education to continue on a positive trajectory, especially Joshua as we hope he takes to school when he is due to start in September. We hope for a lovely Rambling Ringers Tour which this year is due to cover unusually new ground in Leicestershire. I hope that Ipswich Town start winning again soon (their 1-1 draw at Wycombe Wanderers today means that they haven't been victorious in a league match for two months) and gain promotion to make up for the relegation of last year. And we hope for an enjoyable and progressive year of ringing.
God willing that will take in a successful Guild AGM at Woolpit and Drinkstone on Saturday 18th April and the Guild Six-Bell Striking Competitions on Saturday 16th May. Although you may notice that the Eight-Bell Competition for the Rose Trophy is included in the details on What's On as plans are – I believe – afoot to hold that on a separate date in the hope that this will get a bigger entry and reduce the length of the striking competition day, which can be hard work, especially for the judges!
There are other striking competitions that I am keenly anticipating. The third annual George W Pipe Striking Competition is due to take place at SMLT on Saturday 15th February as the hosts look to retain the trophy we won in Saffron Walden last year and we are hoping that we can put in a good showing for our first entry into the National Twelve-Bell Contest since 2007 in the eliminator at Walsall on 28th March. Although Amanda's injuries are a blow to that as she is an integral part of our team.
Our hopes for the decade as a whole are vaguer of course, although dreams of the Tractor Boys winning the Champions League and us being millionaires by 2030 may figure in my fantasy decade! And one wonders what impact the proposed plans for bells at Combs, Higham and Stowmarket will have on Suffolk ringing and if Colin Turner will reach his 10,000th peal. Seriously though, all I pray for is good health and contentment for myself and more importantly loved ones.
Certainly the contentment aspect has been fulfilled thus far on the first day. I awoke at Kate's – who had very kindly put us up for the night – with a thumping hangover but Ruthie and the boys with me, a cuppa and a couple of croissants and some lunch kept me sustained and we then went along to the weekly practice at Pettistree that on this occasion was being held this afternoon as my ringing in the 2020s began unspectacularly with some rounds on the third, but was generally a nice way to blow away some cobwebs after the excesses of last night! It was obviously a view shared by many as a big crowd turned up!
Although held earlier in the day, the session was still preceded by a quarter-peal, with a 1365 of Bourne Surprise Minor, but with the boys flagging after a late night last night and an afternoon dashing about the church, we passed on the kind offer of a cuppa at the Garners' afterwards.
Elsewhere in the county, there was also a 2020 of Double Norwich Court Bob Major at Offton to welcome in the New Year and further afield traditional peals were rung at the cathedrals of St Paul's, Liverpool and Winchester as well as the annual 1st January quarter-peal rung at Westminster Abbey by a 'provincial' band, which this year was from Guildford Cathedral.
It is a good start to a new year and a new decade. For most of us anyway. We all hope it gets better fast for Amanda Richmond.
Please post any comments on the
facebook page.
Top